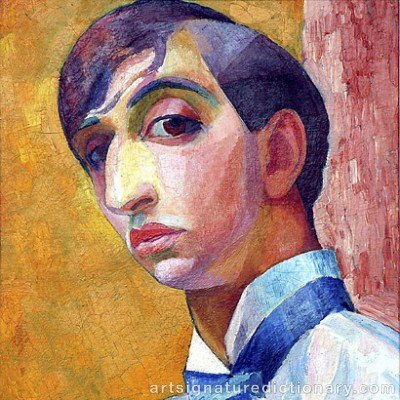 Isaac GRÜNEWALD

1889–1946, Sweden/Norway
Also known as: IG

Verdict of guilty
0201-K324153-10
Oil on panel, still life with amaryllis, signed "Grünewald", ca 50x47 cm. The painting was submitted to a major auction house in Stockholm for sale. The painting was never cataloged. The auction house was suspicious as to the authenticity and contacted the police for further investigation. The owner (submitter) has owned the painting for many years and are not suspected of any crime. How the painting was produced or who signed it is not known. The investigation has determined that the painting is not an original work of Isaac Grünewald, nor signed by him.
Oljemålning på pannå, stilleben med amaryllis, signerad "Grünewald", ca. 50x47 cm. Målningen lämnades till ett stort auktionshus i Stockholm för försäljning. Målningen blev aldrig katalogiserad. Auktionshuset blev misstänksam beträffande äktheten och kontaktade polis för vidare utredning. Ägaren (inlämnaren) har ägt tavlan i många år och är ej misstänkt för brott. Hur målningen tillkommit eller av vem den signerats är ej känt. Utredningen har fastställt att målningen inte är ett originalverk av Isaac Grünewald, ej heller signerad av denne.

Verdict of guilty
DB 590, B 434-90. (int.nr.PHM3804)
Oil painting. Seizure of an auction house in Stockholm 1988. The painting was authenticated certificate dated "14/11-87" and signed "Ivan". Isaac Grünevalds son was named Ivan. He says that the painting is not done by the father and that he had not confirmed this.
Oljemålning. Beslag hos ett auktionshus i Stockholm 1988. Målningen var försedd med äkthetsintyg daterat "14/11-87" och undertecknat "Ivan". Isaac Grünevalds son heter Ivan och vid kontroll med denne uppger han att målningen inte utförs av pappan och att han heller inte har intygat detta.

Verdict of guilty
1400-K69930-04/Beslag nr.1400-04-4121-5 (int.nr.PHM 3841)
Oil on canvas, 45x37 cm, motive still life with fruit, painted wood frame. Signed Grünewald in the lower right corner. Estimate 14.000 SEK for sale in December 2003. (Loan amount 18.600 SEK). The painting, along with eight other works of art, has been pledged at the "Svensk Pantbelåning AB" in Gothenburg, Sweden. They were later sent to an auction house in Stockholm for sale. All the artwork in the was fakes. They have been pledged by Mr. J. W. who has been the subject of investigation regarding aggravated embezzlement and convicted of this. A painting that was kept at the Svensk Pantbelåning AB for Mr. J.W. has been submitted to an auction house in Stockholm. Although this painting has proven to be counterfeit. It is signed Toulouse Lautrec
Olja på duk, 45x37 cm, motiv stilleben med frukter, målad träram. Signerad "Grünewald" i nedre högra hörnet. Utropspris 14.000 kr på auktion december 2003. (Lånebelopp 18.600 kr). Målningen, tillsammans med åtta andra konstverk, har varit pantsatt hos Svensk Pantbelåning AB i Göteborg. De har lämnats till ett auktionshus i Stockholm för försäljning. Samtliga konstverk i utredningen är förfalskningar. De har pantsatts av J.W. som har varit föremål för utredning angående grov förskingring och är även dömd för detta. En tavla som förvarades hos Svensk Pantbelåning för J.W. räkning men inte belånats har av Svensk Pantbelåning lämnats till ett auktionshus i Stockholm. Även denna målning har visat sig vara förfalskad. Den är försedd med signaturen Toulouse Lautrec

Verdict of guilty
C02-6-48-00/K9830-00/Beslag nr.1311-03-1027 p.12 (int.nr.12)
Oil on canvas. 69,5 X99,2 cm. Motif with women in positions of repose outdoors, signed "Grünewald" dated Paris 17. The painting is badly done, too fussy and cluttered to be typical of Isaac Grünewald. The signature is not typical of Isaac. One can not find that Isaac Grünewald visited Paris 1917. That summer, when Europe was at war, he was in Denmark and returned to Paris in 1920.
Olja på duk. 69,5x99,2 cm. Motiv: Kvinna i vilande ställning utomhus, signerad "Grünewald" daterad Paris 17. Målningen är illa utförd, alltför petig och plottrig i själva pikturen för att vara typisk för Isaac Grünewald. Signaturen är inte heller typisk för Isaac. Man kan inte finna att Isaac G. besökte Paris 1917. Den sommaren, då Europa låg i krig, befann han sig i Danmark och återvände till Paris först 1920.

Verdict of guilty
K-59.927-90
Oil on canvas, naken model, signerad "Grünewald", 100x75 cm. Police Seizures from the early 1990's. Are now included in the Police Historical Museum's collection of reference materials.
Olja på duk, "Grünewald", 100x75 cm. Beslag från början av 1990-talet. Ingår numera i Polishistoriska museets samling av referensmaterial.






































Name
Isaac, Hirsche GRÜNEWALD
Lived & Active In
Sweden/France
Isaac Grünewald studied at the Artist League school, and Karl Nordstrom, later also in Paris at the Académie Matisse. He was married to artist Hjertén 1911-1937, which she also studied with Matisse in Paris at the Académie Matisse.
He painted landscapes, motifs from Stockholm, coastal pictures, swimming and beach, still life with flowers and fruits as well as portraits. Decorative Works in the Concert Hall, decorations for theaters, even costumes. Painting became in recent years, more naturalistic, virtuoso terms, often with a sophisticated features of the portraits. In later years he also made ceramic works for Rörstrand.
Represented: National Museum in Stockholm, Moderna Museet in Stockholm, Norrköping Art Museum, Borås Art Museum.
Source: Art Signature Dictionary
Isaac Grünewald est un artiste suédois né en 1889 et décédé en 1946. Il est connu pour être la figure de proue des artistes modernes suédois entre 1910 et 1946. Il quitte la Suède pour Paris, alors âgé de 19 ans. Il étudie à l'Académie Matisse. Il participe à l'exposition du groupe d'artistes scandinave : De Unga (Les Jeunes). Lors de cette exposition, Grünewald remporte un vif succès. Il expose ensuite avec sa femme : l'artiste Sigrid Hierten. Ils introduisent le modernisme en Suède. Juif, il est victime de l'antisémitisme grandissant de l'époque en Suède, dans la presse notamment. Il réalise des décors pour l'Opéra Royal de Suède, ainsi que d'autres théâtres. En 1932 devient ensuite professeur à l'Académie Royale Suédoise des Arts, et le reste pendant 10 ans. Puis il ouvre sa propre école d'art. Grünewald est l'un des artistes suédois les plus cotés parmi les artistes modernes.
Source: www.artprecium.com
Isaac Grünewald studerade vid Konstnärsförbundets skola och för Karl Nordström, senare även i Paris vid Académie Matisse. Han var gift med Konstnären Sigrid Hjertén 1911-1937 som även hon studerade för Matisse i Paris vid Académie Matisse.
Familjen reste, och bodde, växelvis i Frankrike och i Sverige. Han intog en position som det \"moderna måleriets\" ledande gestalt. En kontroversiell position som även hänger samman med att han med sin invandrarbakgrund under framför allt 1910-talet stod som den främste måltavlan för den nationalromantiska reaktionen mot den nya och unga, Parisinspirerade, \"osvenska\" konsten.
I Sverige arbetade han bl.a. tillsammans med vännen och konstnären Leander Engström. Han har utfört dekorer på Kungliga Teatern och Konserthuset i Stockholm. Han blev ledamot och professor vid Konstakademin, startade därefter privat kontskola i Stockholm.
Han målade landskap, med stockholmsmotiv, kustbilder med badhytter från Gilleleje, då gärna i tempera, samt stilleben med blommor och frukter. Han har vidare gjort dekorativa arbeten i Konserthuset, i Tändstickspalatset i Stockholm, samt slutligen fantasifulla teaterdekorationer till Oberon, Kleopatra, Sakuntala, även kostymer. Måleriet blev under senare åren mera naturalistiskt, virtuosmässigt, ofta med ett mondänt drag i porträtten. Under sista åren gjorde han även keramiska arbeten för Rörstrand.
Representerad: Nationalmuseum i Stockholm, Moderna Muséet i Stockholm, Norrköpings konstmuseum, Borås Konstmuseum.
Source: Art Signature Dictionary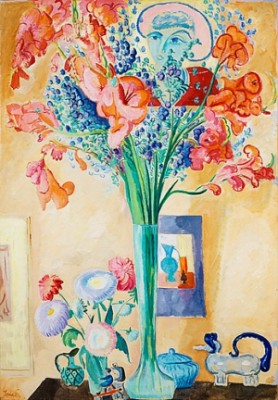 Stilleben Med Gladiolus.
(Executed in 1916-18)
Price SEK 2,834,790 (€289,290) Incl. buyer's premium
Estimated SEK 2,500,000–3,000,000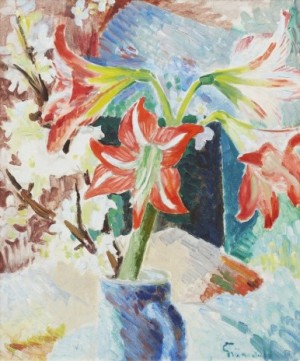 Blomsterstilleben
Price SEK 58,000 (€6,243)
Estimated SEK 50,000–60,000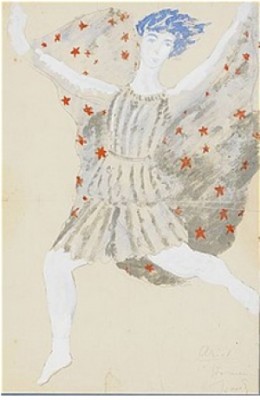 Ariel Ur "stormen
(Executed in 1921)
Price SEK 6,500 (€708)
Estimated SEK 8,000–10,000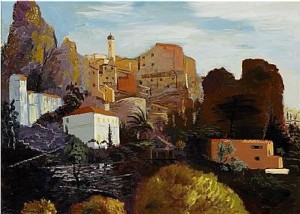 Morgonen, Roquebrune
(1931)
Price SEK 90,000 (€9,801)
Estimated SEK 100,000–125,000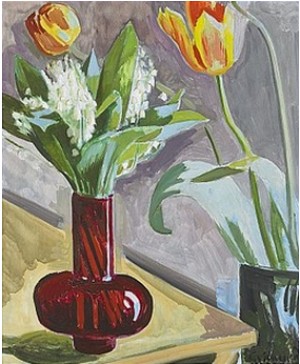 Blommor I Vas
Price SEK 50,000 (€5,445)
Estimated SEK 60,000–80,000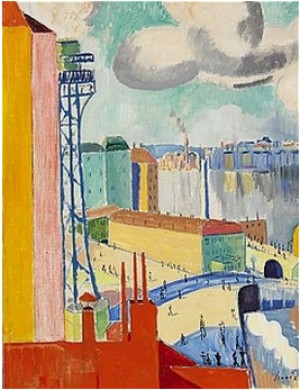 Katarinahissen
(Executed ca. 1918)
Price SEK 660,000 (€71,874)
Estimated SEK 800,000–1,000,000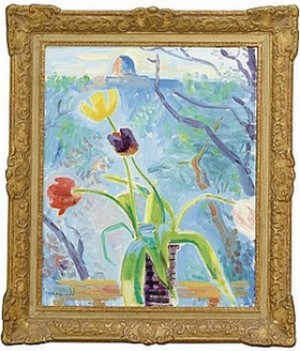 Utsikt Från Balkongen Mot Stockholms Observatorium - Saltsjöbaden
Price SEK 210,000 (€23,205)
Estimated SEK 60,000–80,000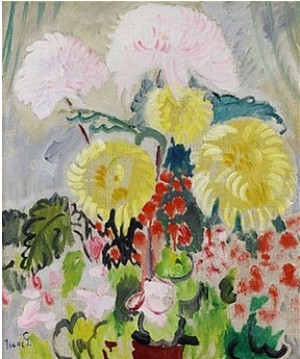 Blomsterstilleben
Price SEK 70,000 (€7,735)
Estimated SEK 80,000–100,000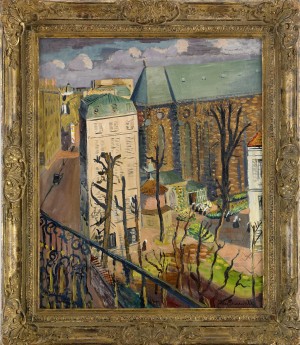 Paysage (le Couvent)
(Executed in 1930's)
Price SEK 240,000 (€27,960)
Estimated SEK 200,000–250,000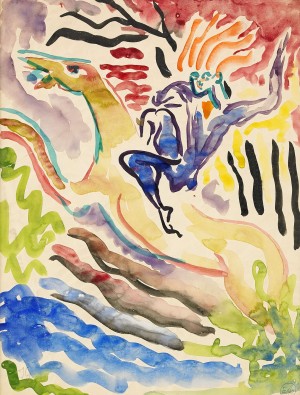 Den Flygande Hästen
Price SEK 22,000 (€2,563)
Estimated SEK 20,000–25,000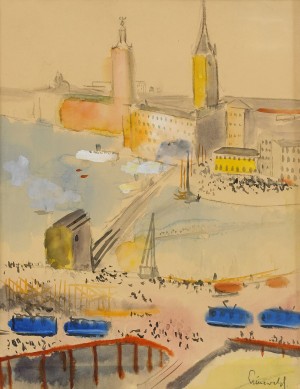 Utsikt Från Stadsgården över Riddarfjärden
Price SEK 60,000 (€6,990)
Estimated SEK 80,000–100,000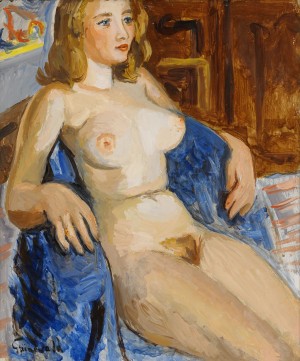 Modell I Blå Fåtölj
Price SEK 44,000 (€5,126)
Estimated SEK 30,000–40,000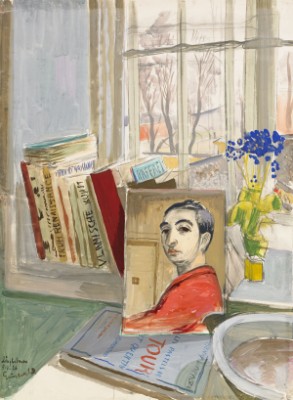 Böcker Och Självporträtt Mot Fönstret - Ur Långholmensviten
(1926)
Price SEK 70,000 (€8,155)
Estimated SEK 35,000–40,000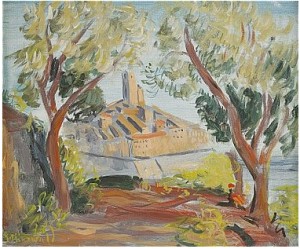 Saint Paul De Vence
Price SEK 80,000 (€8,814)
Estimated SEK 80,000–100,000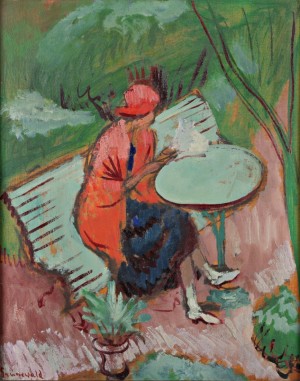 Le Châle Rouge
Price EUR 16,000
Estimated EUR 5,000–6,000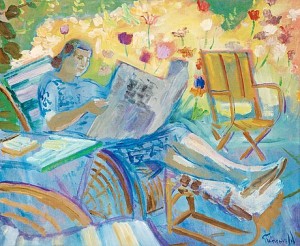 Läsande Kvinna
Price SEK 229,500 (€26,714) Incl. buyer's premium
Estimated SEK 100,000–125,000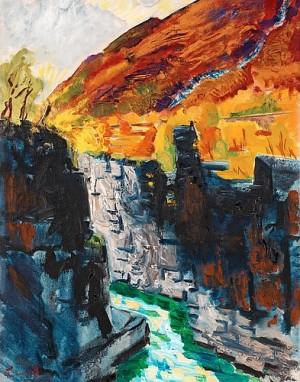 Höstlandskap Med Canjon, Abisko
(1946)
Price SEK 172,125 (€20,035) Incl. buyer's premium
Estimated SEK 150,000–175,000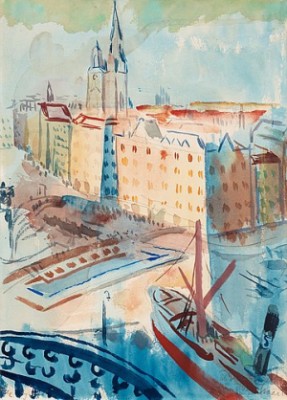 Utsikt Från Söder Mot Tyska Kyrkan Och Storkyrkan
(Executed in 1910's)
Price SEK 191,250 (€22,262) Incl. buyer's premium
Estimated SEK 100,000–125,000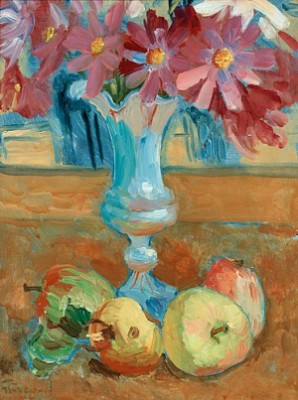 Stilleben, Blommor I Vas Och Frukter
Price SEK 76,500 (€8,905) Incl. buyer's premium
Estimated SEK 70,000–80,000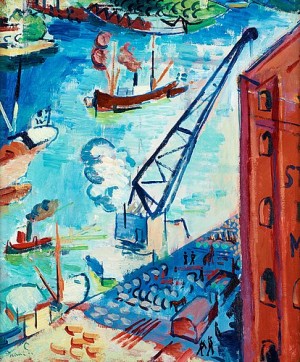 Utsikt över Stadsgården Mot Kastellholmen
(Executed in 1917)
Price SEK 949,832 (€110,560) Incl. buyer's premium
Estimated SEK 800,000–1,000,000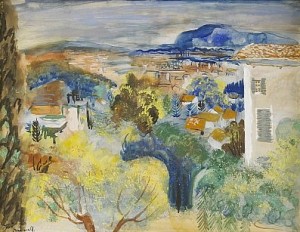 Motiv Från Sydfrankrike
Price SEK 130,000 (€14,612)
Estimated SEK 80,000–100,000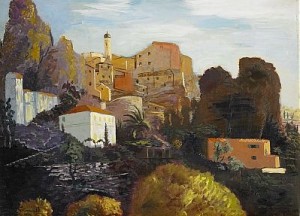 Morgonen, Roquebrune
(1931)
Price SEK 80,000 (€8,992)
Estimated SEK 60,000–70,000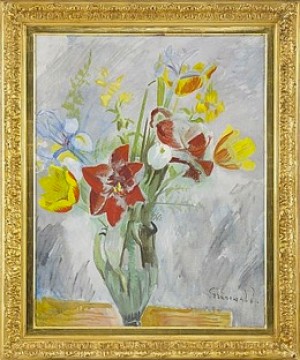 Blomsterstilleben Med Amaryllis Och Gula Tulpaner
Price SEK 230,000 (€25,852)
Estimated SEK 150,000–175,000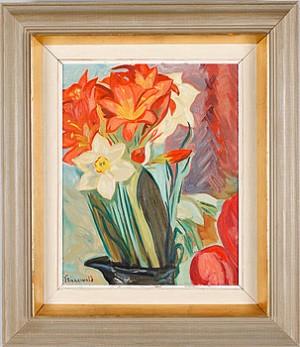 Narcisser Och Tulpaner
Price SEK 54,505 (€6,193)
Estimated SEK 30,000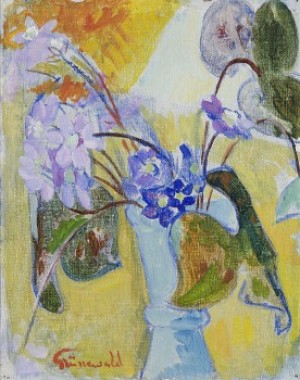 Blåsippor Och Blad
Price SEK 170,000 (€19,117)
Estimated SEK 20,000–30,000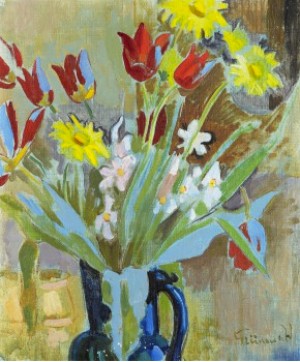 Blomsterstilleben
Price SEK 42,000 (€4,723)
Estimated SEK 40,000–50,000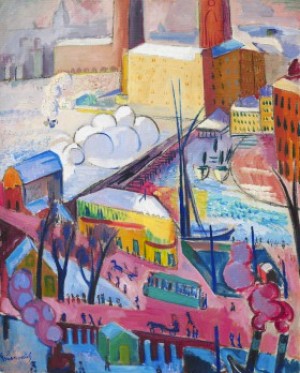 "rökar, Stockholm". Från Stadsgården - Vy över Slussen Och Riddarfjärden
(Executed 1916)
Price SEK 2,500,000 (€281,125)
Estimated SEK 800,000–1,000,000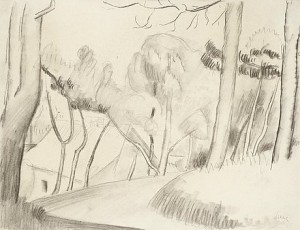 Landskap
(Executed 1912-13)
Price SEK 11,000 (€1,174)
Estimated SEK 12,000–15,000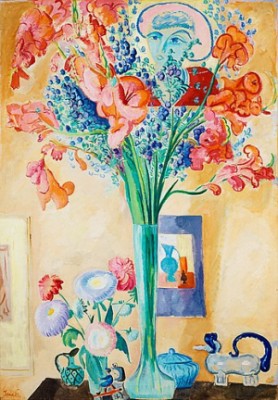 Stilleben Med Gladiolus
(Executed 1916-18)
Price SEK 2,600,000 (€277,420)
Estimated SEK 2,500,000–3,000,000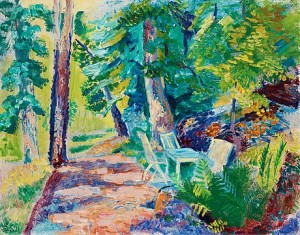 Trädgårdsgången
(Executed 1939)
Price SEK 175,000 (€18,673)
Estimated SEK 100,000–125,000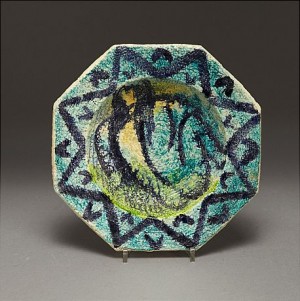 Price SEK 1,600 (€175)
Estimated SEK 2,500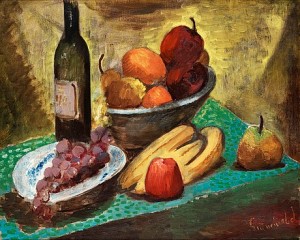 Fruktstilleben
Price SEK 110,000 (€11,880)
Estimated SEK 130,000–150,000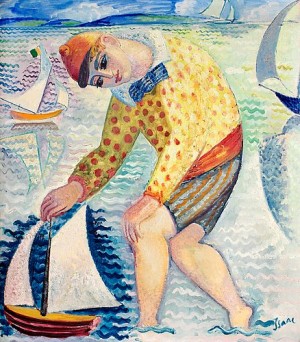 Gosse Med Segelbåt
(Executed 1918)
Price SEK 2,200,000 (€237,600)
Estimated SEK 1,300,000–1,600,000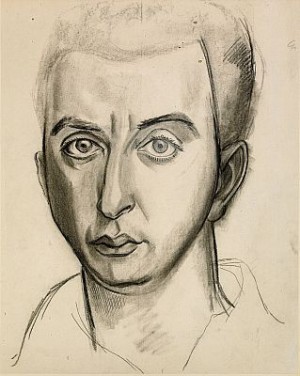 Självporträtt
Price SEK 19,000 (€2,121)
Estimated SEK 15,000–20,000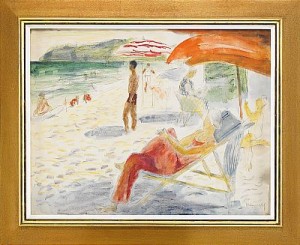 På Stranden
Price SEK 135,000 (€15,073)
Estimated SEK 100,000–125,000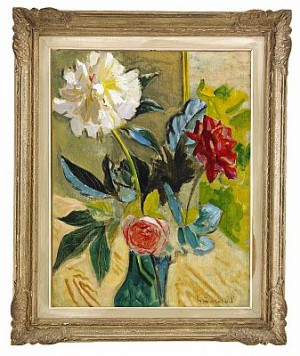 Pion Och Rosor
Price SEK 130,000 (€14,515)
Estimated SEK 80,000–100,000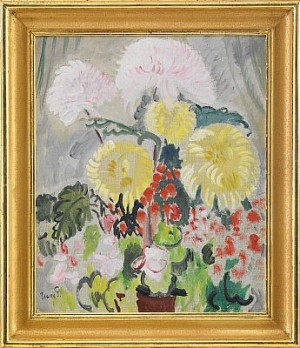 Stilleben Med Krysantemum
(Executed 1910's)
Price SEK 50,000 (€5,583)
Estimated SEK 100,000–125,000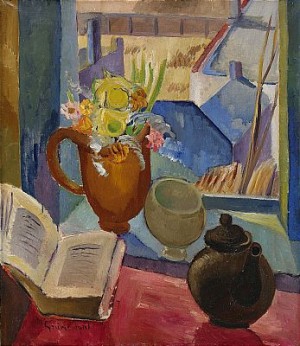 Ateljéutsikt Med Stilleben
Price SEK 120,000 (€13,033)
Estimated SEK 200,000–250,000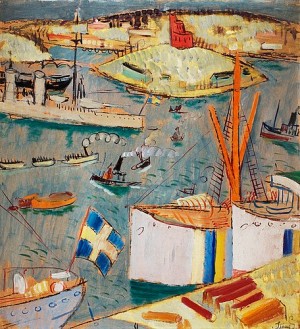 Utsikt Mot Kastellholmen
Price SEK 740,000 (€80,371)
Estimated SEK 800,000–1,000,000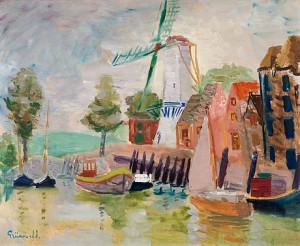 Småbåtshamnen
Price SEK 165,000 (€17,921)
Estimated SEK 80,000–100,000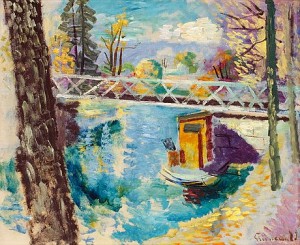 Sommardag Vid Djurgårdsbrunn
Price SEK 90,000 (€9,775)
Estimated SEK 100,000–125,000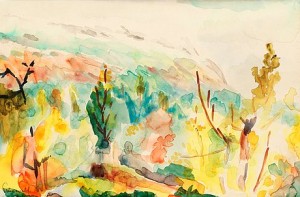 Motiv Från Norrland
Price SEK 27,000 (€2,932)
Estimated SEK 15,000–20,000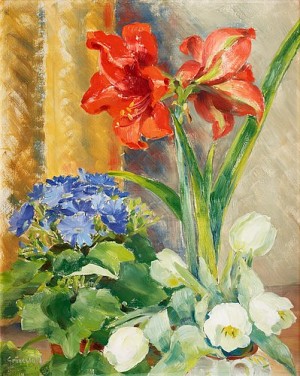 Blomsterstilleben Med Amaryllis Och Vita Tulpaner
Price SEK 84,000 (€9,123)
Estimated SEK 50,000–60,000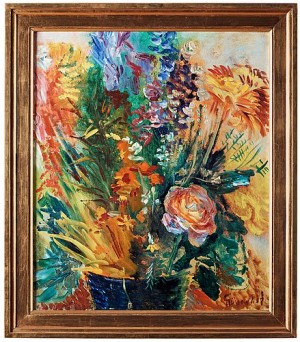 Ett Fång Blommor
Price SEK 95,000 (€10,318)
Estimated SEK 100,000–125,000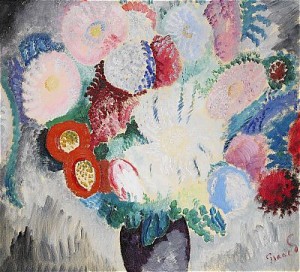 Price SEK 275,000 (€29,868)
Estimated SEK 275,000–300,000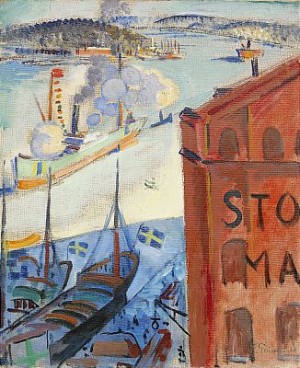 Utsikt Från Ateljén Mot Stadsgårdskajen - Stockholm
(Executed 1910)
Price SEK 500,000 (€54,305)
Estimated SEK 500,000–700,000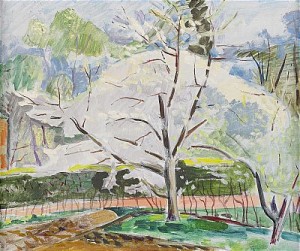 Det Blommande Fruktträdet
Price SEK 38,000 (€4,127)
Estimated SEK 20,000–25,000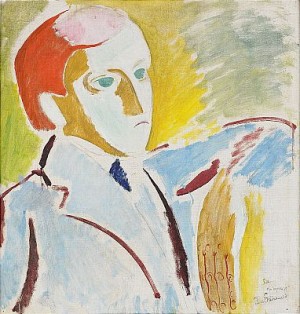 Pär Lagerkvist
Price SEK 175,000 (€19,007)
Estimated SEK 200,000–250,000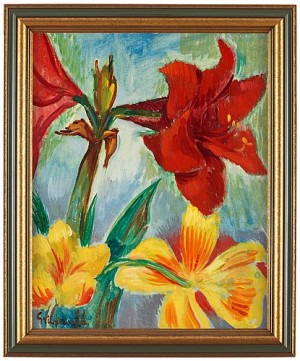 Still Life With Amaryllis
Price SEK 44,000 (€4,690)
Estimated SEK 20,000–30,000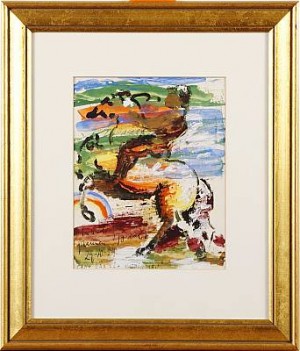 Pang, Där Låg Kubismen
(1924)
Price SEK 11,000 (€1,098)
Estimated SEK 10,000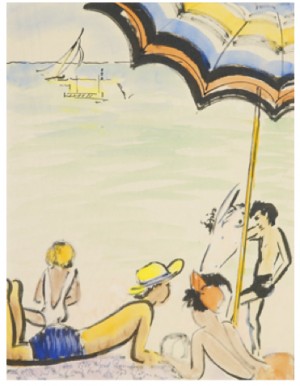 På Stranden
Price SEK 28,000 (€2,677)
Estimated SEK 15,000–20,000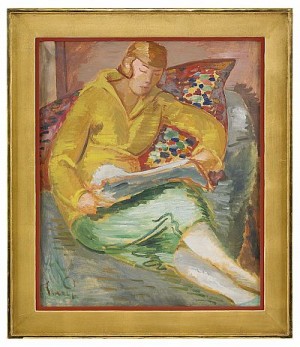 Sigrid I Gul Kofta Och Grön Kjol
(1921-23)
Price SEK 130,000 (€12,766)
Estimated SEK 150,000–200,000
Stilleben Med Frukter
Price SEK 12,000 (€1,178)
Estimated SEK 15,000–20,000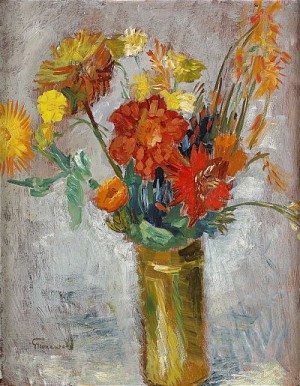 Blomsterstilleben
Price SEK 70,000 (€6,874)
Estimated SEK 80,000–100,000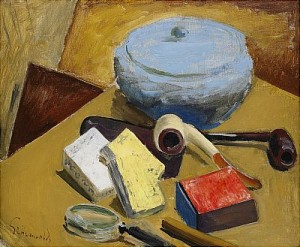 Stilleben Med Rökverk
Price SEK 38,000 (€3,732)
Estimated SEK 20,000–25,000
Sydländskt Landskap
Price SEK 36,000 (€3,535)
Estimated SEK 35,000–40,000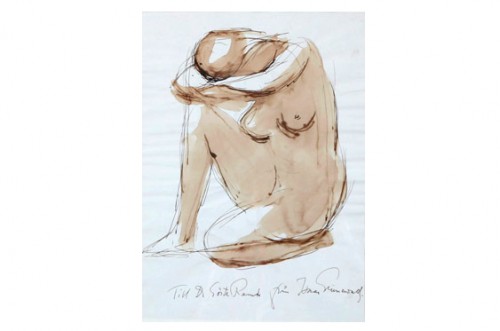 Nakenstudie
Price SEK 2,800 (€275)
Estimated SEK 800–1,000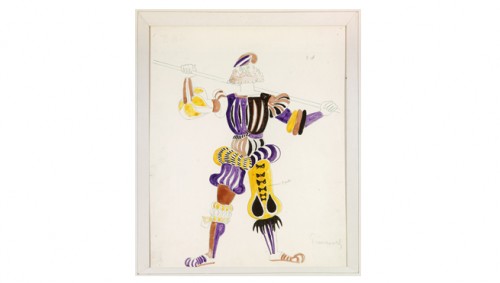 Kostymskiss
Price SEK 4,500 (€441)
Estimated SEK 6,000–8,000
Ryttare
Price SEK 2,400 (€236)
Estimated SEK 4,000–5,000
Modellstudie
Price SEK 8,000 (€785)
Estimated SEK 10,000–12,000
Stilleben Med Amaryllis
Price SEK 65,000 (€6,075)
Estimated SEK 80,000–100,000
Stilleben Med Pumpa
Price SEK 28,000 (€2,617)
Estimated SEK 35,000–40,000
Stilleben Med Amaryllis
Price SEK 120,000 (€11,215)
Estimated SEK 100,000–125,000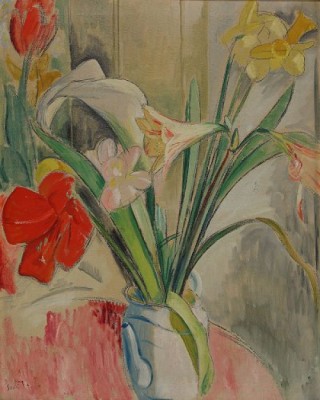 Stilleben Med Blommor
Price SEK 260,000 (€24,299)
Estimated SEK 150,000–175,000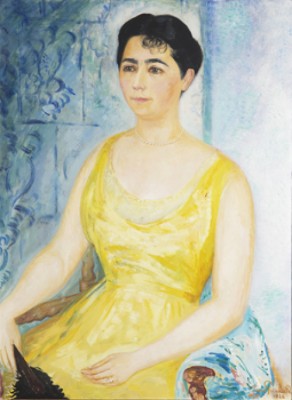 Porträtt Av Dam I Gul Klänning Mot Ljusblå Fond
(1920)
Price SEK 61,000 (€5,546)
Estimated SEK 60,000–80,000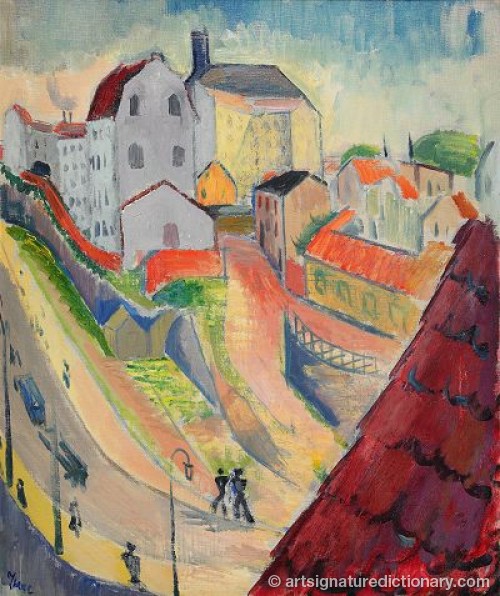 Price SEK 840,000 (€89,362)
Estimated SEK 600,000–800,000
Price SEK 750,000 (€79,787)
Estimated SEK 500,000–600,000
Pråmar Vid Kornhamnstorg - Stockholm
(1912)
Price SEK 210,000 (€22,340)
Estimated SEK 250,000–300,000