Fedot Vasilievich SYCHKOV
1870–1958, Russia
Name:
Fedot Vasilievich SYCHKOV
Sychkov was born into a peasant family, and his introduction to art was through icon painting, which he studied for a year and then took up as a full-time profession from 1887-1892. In 1892, however, he moved to St. Petersburg in order to attend drawing classes under Klavdi Lebedev, Ivan Tvorozhnikov and Jan Tsionglinsky; he completed the six year course in three years. In 1895, he continued his artistic education by attending classes at the Imperial Academy as a voluntary student and particularly enjoyed Repin s classes; in later life, he was to consider himself Repin s disciple. In 1908, he visited Italy, France and Germany, and on his return to Russia settled in his native
village. His perennial subject matter was village life, and the revolution had little effect on his art. For a while the Bolsheviks ignored him, as his canvases did not fit in with the heroic socialist avant-garde of the 1920s. Later, thanks to his peasant roots, the Soviet authorities came to admire him as one of their own, but this did not prevent one critic from remarking that his pre-Revolutionary canvases showed peasants not as they really were, but as Sychkov would like them to have been. Enormously popular both in Russia and abroad, his paintings continued to be sent to exhibitions abroad, and his better, earlier works, of which this is a fine example, are more likely to be found in foreign private collections than in Russian museums.
Source: Stockholms Auktionsverk, Stockholm Sweden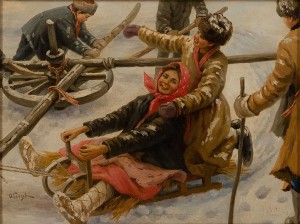 Children Playing With A Sleigh
Price EUR 6,000
Estimated EUR 8,000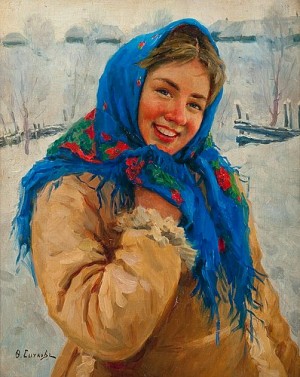 Girl With A Blue Scarf
Price EUR 17,000
Estimated EUR 10,000–12,000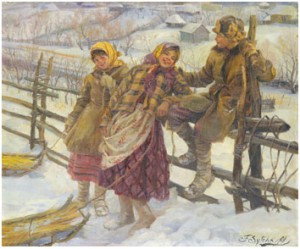 Children With Sledges. Bears Later Signature F Sytchkoff Over The Original Signature
Price SEK 460,000 (€49,790)
Estimated SEK 200,000–250,000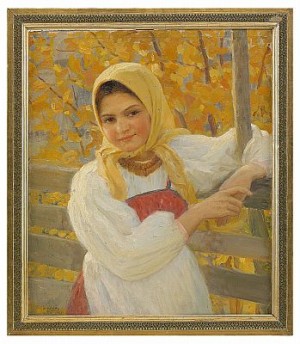 Amongst The Autumn Leaves
(1909)
Price SEK 280,000 (€29,145)
Estimated SEK 200,000–250,000