Jacques LIPCHITZ
1891–1973, Lithuania/France/USA
Also known as: JL, Lipschitz
Jacques Lipchitz (August 22, 1891 - May 16, 1973) was a Cubist sculptor. Jacques Lipchitz was born Chaim Jacob Lipchitz, son of a building contractor in Druskininkai, Lithuania, then within the Russian Empire. At first, under the influence of his father, he studied engineering, but soon after, supported by his mother he moved to Paris (1909) to study at the École des Beaux-Arts and the Académie Julian.

It was there, in the artistic communities of Montmartre and Montparnasse that he joined a group of artists that included Juan Gris and Pablo Picasso as well as where his friend, Amedeo Modigliani, painted The Sculptor Jacques Lipchitz and His Wife Berthe Lipchitz.

Living in this environment, Lipchitz soon began to create Cubist sculpture. In 1912 he exhibited at the Salon de la Société Nationale des Beaux-Arts and the Salon d\'Automne with his first solo show held at Léonce Rosenberg\'s Galerie L'Effort Moderne in Paris in 1920. In 1922 he was commissioned by the Barnes Foundation in Merion, Pennsylvania to execute five bas-reliefs.

With artistic innovation at its height, in the 1920s he experimented with abstract forms he called transparent sculptures. Later he developed a more dynamic style, which he applied with telling effect to bronze figure and animal compositions.

With the German occupation of France during World War II, and the deportation of Jews to the Nazi death camps, Jacques Lipchitz had to flee France. With the assistance of the American journalist Varian Fry in Marseille, he escaped the Nazi regime and went to the United States. There, he eventually settled in Hastings-on-Hudson, New York....
Source: From Wikipedia, the free encyclopedia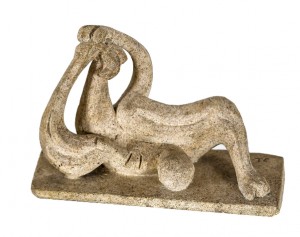 Study For Hagar: Maquette No. 2
Price CHF 8,000 (€7,349)
Estimated CHF 12,000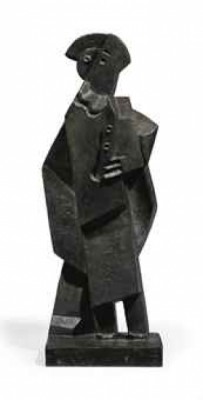 Arlequin à La Clarinette
(Conceived in 1920)
Price USD 602,500 (€470,763) Incl. buyer's premium
Estimated USD 600,000–800,000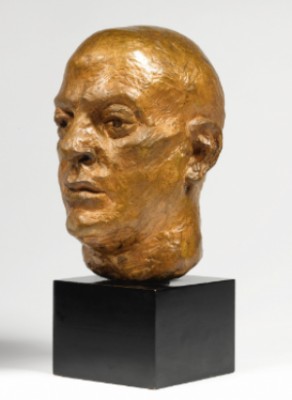 Portrait Of Curt Valentin
(Conceived ca. 1941-42)
Price USD 16,250 (€12,542)
Estimated USD 8,000–12,000