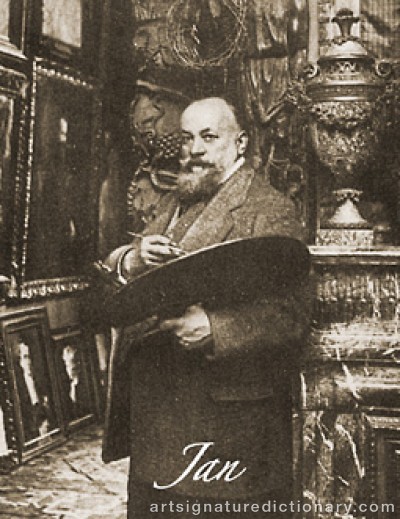 Jan STYKA
1858–1925, Poland/Italy
Jan Styka was born in Poland on April 8, 1858. He attended a secondary school run by the Bernardines in Lvov. Then he was admitted to the Academy of Fine Arts in Vienna, the most acclaimed school in fine arts of Europe at this time. He graduated from the Academy with a Golden Medal for the painting entitled "Ulysses Hunting a Boar". After being awarded the "Prix de Rome" he moved to Italy for a year, where he painted various pictures and admired works of famous Italian Masters.

Jan Styka was one of Poland's most illustrious citizens and a world famous painter. His outstanding masterpieces were four panoramas: "The Battle of Raclawice", "The Crucifixion", "Bem in Siedmiogrod" and "The Martyrdom of Christins in Nero's Circus". The first painting is in Wroclaw, Poland, the second is in Forest Lawn Memorial Park, Glendale, California, both of them are permanently displayd for the public to see. In addition there are his acknowledged paintings such as "Polonia", "Regina Poloniae" and series of paintings for "Quo Vadis" of Sienkiewicz and "Iliad" and "Odyssey" of Homer. "The Crucifixion" (also known as "Golghota") is reputed to be the world's largest and most dramatic painting on canvas. Jan Styka also painted portraits of well known personalities of his time.

He died on April 11, 1925 and was buried in Rome. In 1959 Jan Styka's remains were brought from Italy to be buried beside his son Tadeusz at the Forest Lawn Cemetery in Los Angeles, in the Immortal's Quarters, close to the amphitheater housing "The Golgotha" panorama.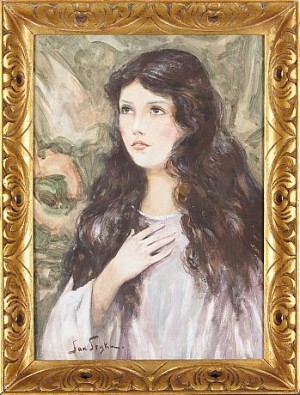 Kvinnoporträtt
Price SEK 29,000 (€3,268)
Estimated SEK 3,500