Pavel Dimitrivich SHMAROV
1874–1955, Russia
Also known as: Chmaroff, Schmaroff, Smarov
Name:
Pavel Dimitrivich SHMAROV
Pavel Shmarov, who was born in Voronezh, studied drawing in his home town before coming to St. Petersburg, where he attended classes at the Imperial Academy in Repin's faculty. In 1899 he received a silver medal and a scholarship to travel abroad. Repin wrote of him at the time: "My class is terribly oversubscribed. Shmarov is making progress: it is clear that a great artist is sitting in that stupid, uncultured little boy. Let us hope that he does not come a cropper.But what warmth, completeness, softness and plasticity there is in his studies! How many impressions and what grandiosity in his sketches! They are all nearly complete paintings.."
Shmarov spent his scholarship years in Vienna, Rome, Florence, Venice and Munich, and in 1904 accompanied Kustodiev on a journey to Spain. On his return to Russia he made a living as a portrait painter to high society, painted large battle scenes and genre pictures and decorative panneaux. In 1912, at the suggestion of Repin, Beklemishev and Vladimir Makovsky, his name was put forward to become an Academician, but he was blackballed, and finally became an Academician at the second attempt two years later. In 1923 he left Russia forever and settled in Paris. Although he continued to exhibit until at least 1939, the life in emigration of this highly regarded and talented painted Paris awaits its researcher.
Source: www.auktionsverket.se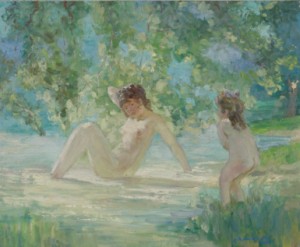 Baigneuses
Price USD 17,500 (€13,507)
Estimated USD 12,000–18,000