Aleksander KOBZDEJ

1920–1972, Poland
Aleksander KOBZDEJ, during his studies at the Architecture Faculty of the Technical University in Lwów, he took up painting under the supervision of Professor Władysław Lam. After the war he studied at the Academy of Fine Arts in Kraków under the guidance of Eugeniusz Eibisch. In 1947 he became a fellow of the State College of Arts in Sopot under Professor Józefa Wnuk, in the Department of Volume and Surface Composition. Apart from painting he was engaged at this time in sculpture and monumental architecture. In 1954 artist became a Professor at the Department of Painting of the Warsaw Academy of Fine Arts. From then Kobzdej had been elected several times the Dean of the Faculty of Painting. His paintings had been shown in many countries. He represented Poland at the Venice Biennial in 1954 and participated in the Biennial in Sao Paulo in 1959 where he was awarded the 2nd prize.


\"Kobzdej is an enthusiastic painter who knows how to put life into his subject matter, how to animate it, to agitate it, whip it, extend it, to give it subdued or brilliant colours, to make it smooth or rough, to enlarge or to contract it, to compartmentate it into cells, to pleat it by differentiating the thickness, to imprint it with the sense of tragedy.
The titles of his canvasses: Crushed, Stretched, Projected, Treacherous, Conflict - have something very striking about them. They are related to crude matter - one would say elementary.
In its substance, the painting of Kobzdej brings our perception to grandiose themes. It suggests the conflict of elements, the cutting of stone, the splintering of wood, the surging of fire. You see, all this is based on an order of the greatest simplicity and a scale of tones which make you think of Genesis, with its rusty reds, acidic greens of rock and blues of lapis lazuli. Sometimes, it is hard to say what kind of a precious stone appears framed in a burst of splinters. Biblical quotations translated from the past onto the canvasses, rolling spaces... All this is rivalry, a jet of water or a cascade.
In everything he does, Kobzdej shows an equal power. From morning till night this warrior of great tenacity is under the spell of his work. His paintings are images of action. \"In my work - he tells us - I am a new man facing a new world. I feel the urge to enlarge and to deepen my domain. I am not an \'abstractionist\'. I am not assembling forms. Painting, to me, is neither a chemical formula nor a rule of a game. I do not calculate. I create my universe, a concrete world which I feel very profoundly. Hence my landscapes, my people, my problems, my difficulties\".
And Kobzdej confides to me his dream of a marriage between the Orient and the Occident, a harmony based on the accord of two extremes. To him, each region, each culture has its moments of enlightment. The wheel is turning.
His pallet ranges from sonorous blacks, through pinks of dawn, salmon colours - to the most subtle greens. This artist has a gift of a continuous rebirth of ideas, maintaining in his painting an imposing monumentality. Every canvass is to him a new adventure. His recent stay among us has enriched still more his powers by refining his scale of nuances, through an even more moving gradation of sensitivity, and by developing an even more subtle delicacy of his means of expression\"
Source: http://www.finearts.pl/index.php?ac=100&id=10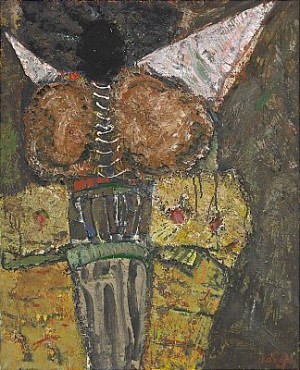 Price SEK 45,000 (€5,024)
Estimated SEK 60,000–80,000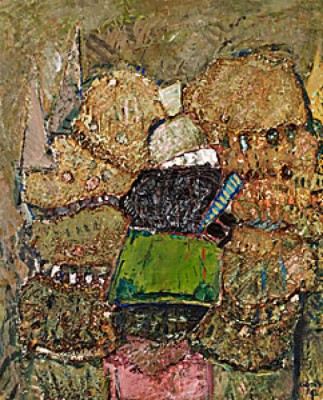 Price SEK 50,000 (€4,672)
Estimated SEK 50,000–70,000