Carl MILLES

1875–1955, Sweden
Name
Carl, Emil Wilhelm MILLES
During the first half of the 20th century, sculptor Carl Milles (1875-1955) dominated the Swedish art world. He received many public commissions in Sweden and abroad. He was a monumental sculptor who received many public art commissions at a time when many cities expanded and were modernised.

Carl Milles may be described as a traditional as well as an innovative artist. In his choice of motifs he was traditional. Ancient Greek, Roman and Christian mythology as well as Swedish history were often his sources of inspiration. His art was always figurative and often narrative. The innovation was to be found in his personal interpretation of the motifs and that he, especially in his later years, raised up the sculptures, and with the aid of hidden steel constructions had them appear to be floating in the air.

He sculpted in heavy, hard materials such as granite and bronze and paired the sculptures with the lightest of materials, water and air, by placing them in fountains and raising them up in the air so that they interacted with the sky.

Although inspired by the art of antiquity and mythology, Carl Milles' own pictorial language was often not classical. He happily borrowed stylistic features from Greek and Etruscan art and non-European cultures. Carl Milles was a very productive artist. His greatest creation was Millesgården, his life's achievement that he worked on for 50 years.
Carl Milles, 1875-1955, var under 1900-talets första hälft den skulptör som dominerade svenskt konstliv. Han utförde ett mycket stort antal offentliga uppdrag i Sverige och utomlands. Han var monumentalskulptören som fick de stora utsmyckningsuppdragen i en tid då många städer byggdes ut och moderniserades.

Carl Milles kan beskrivas som en både traditionell och nyskapande konstnär. Han var traditionell i valet av motiv. Antik och kristen mytologi och svensk historia var ofta hans inspirationskällor. Hans konst var alltid föreställande och ofta berättande. Det nyskapande låg i hans personliga tolkningar av motiven och att han, framför allt på senare år, lyfte upp skulpturerna på höga pelare och med hjälp av dolda stålkonstruktioner fick det att verka som om de svävade fria i luften.
Han skulpterade i tunga, hårda material som granit och brons och sammanförde skulpturerna med de lättaste av material, vatten och luft, genom att placera dem i fontäner eller lyfta upp dem i luften så att de samspelade med himlen.

Även om Carl Milles inspirerades av antikens konst och mytologi var hans eget formspråk oftast inte klassiskt. Han lånade gärna stildrag från grekisk arkaisk och etruskisk konst och utomeuropeiska kulturer. Carl Milles var en mycket produktiv konstnär. Hans största skapelse var Millesgården, livsverket som han arbetade med under 50 år.

1875
Carl Emil Andersson föddes den 23 juni på Örby Gård i Uppland. Föräldrar var Emil Andersson(1843-1910), officer och Walborg Tisell(1846-1879). Pappa Emils smeknamn ?Mille? inspirerade barnen Andersson att som vuxna anta familjenamnet Milles.

1879
Carl Milles mamma Walborg avlider i barnsäng. Carl hade två syskon och fick efter att hans pappa gifte om sig, tre halvsyskon. Två av Carl Milles syskon arbetade inom konstområdet, systern Ruth Milles (1873-1941) blev skulptör och halvbrodern Evert Milles (1885-1960) blev arkitekt.

1892
Sätts i snickarlära efter tidigt avslutad skolgång. Deltar på kvällarna i undervisningen i Tekniska skolan, där han även blir dagelev från 1895.

1897
Får ett stipendium på 200 kronor av Slöjdföreningen. Reser till Paris där han stannar i flera år och försörjer sig som bland annat ornamentsnidare. Utför skulpturer i litet format som han emellanåt lyckas sälja. Studier i anatomi på Ecole des Beaux-Arts. Tar starka intryck av Auguste Rodin.

1899
Gör sitt första framträdande på Parissalongen.

1900
Får hedersomnämnande på Parissalongen och silvermedalj på världsutställningen.

1901
Besöker München första gången.

1902
Vinner framgång med Sten Sturemonumentet (Uppsala)

1903
Resor i Holland och Belgien.
Tar intryck av skulptören Constantin Meunier.

1904
Bosätter sig i München för studier.

1905
Gifter sig med den österrikiska porträttmålaren Olga Granner (1874 -1967) som är
konstnärskamrat sedan åren i Paris.

1906
Återvänder till Sverige. Utför bl a första versionen av Gustav Vasastatyn för Nordiska Museet.

1907
Konvalescent efter problem med lungorna i Österrike och Italien.

1908
Börjar bebygga sin tomt på Lidingö med bostad och ateljé. Flera framgångar och nya beställningar. Arbetar mest med granit.

1914
Stora framgångar på Baltiska utställningen i Malmö.

1920-31
Professor i modellering på Kungl. konsthögskolan i Stockholm. Under hela perioden stora beställningsarbeten för olika svenska städer.

1923
Hedersutställare på jubileumsutställningen i Göteborg.

1927
Ställer ut på Tate Gallery i London.

1928
Utställningar i Lübeck och Hamburg.

1929
Första besöket i USA.

1931-51
Bosatt i Cranbrook i Bloomfield Hills utanför Detroit tillsammans med Olga där han har en professur i skulptur vid konstakademin. Får många uppdrag att utföra fontäner och monument på olika håll i USA. Har även utställningar. Några av somrarna fr o m 1945 tillbringar han i Sverige på Millesgården.

1936
Gör Millesgården till en stiftelse som överlämnas som gåva till svenska folket.

1948
Carl Milles antiksamling flyttas till Millesgården och blir en del i stiftelsen tack vare att svenska staten löser in den.

1951
Återvänder till Europa. Vintrarna tillbringas i Rom, där Amerikanska Akademin ställt bostad och ateljé till Carl Milles förfogande kostnadsfritt och på livstid. Somrarna tillbringar han på Millesgården där arbetet med anläggningen fortsätter. Den Nedre Terrassen byggs. Milles utför under sina sista levnadsår flera betydande verk, bl a Sankt Martin, Guds Hand, Människan Pegasus och Aganippefontänen.

1953
Hedersdoktor vid Stockholms Universitet

1955
Carl Milles fyller 80 år. Avlider i sitt hem på Millesgården den
19 september.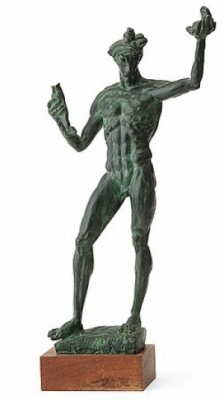 Poseidon
Price SEK 235,875 (€24,071) Incl. buyer's premium
Estimated SEK 100,000–150,000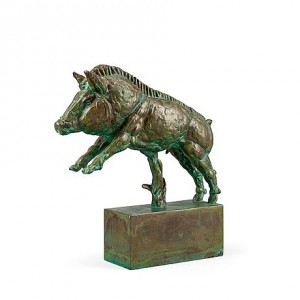 Vildsvin
(Executed ca. 1928)
Price SEK 82,875 (€9,322) Incl. buyer's premium
Estimated SEK 40,000–50,000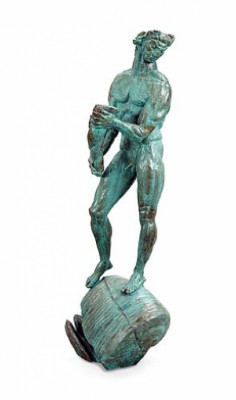 Poseidon
Price SEK 223,125 (€25,097) Incl. buyer's premium
Estimated SEK 175,000–200,000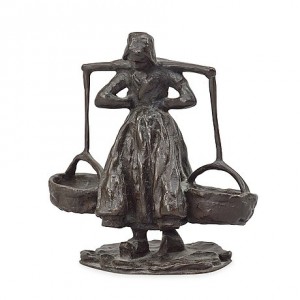 Vattenhämterska
(Executed in 1904)
Price SEK 30,600 (€3,442) Incl. buyer's premium
Estimated SEK 8,000–10,000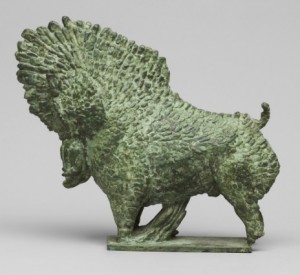 Vildsvin
Price SEK 50,000 (€5,790)
Estimated SEK 60,000–80,000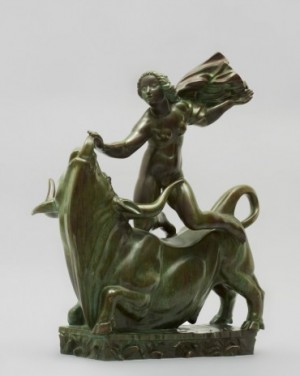 Europa Och Tjuren
Price SEK 800,000 (€92,640)
Estimated SEK 800,000–1,000,000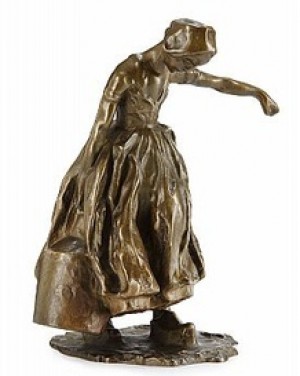 Price SEK 30,000 (€3,385)
Estimated SEK 20,000–25,000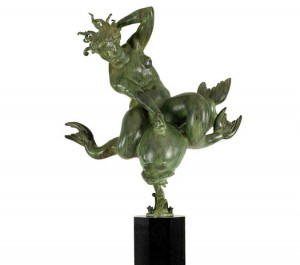 Solglitter - Najad På Delfin
Price SEK 1,100,000 (€124,124)
Estimated SEK 1,000,000–1,200,000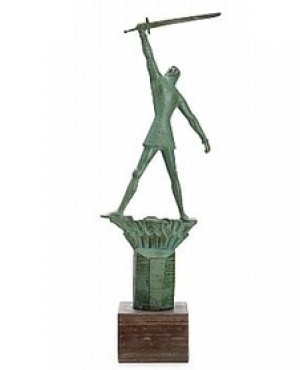 Skiss Till Monument över Engelbrekt
Price SEK 90,000 (€10,156)
Estimated SEK 50,000–60,000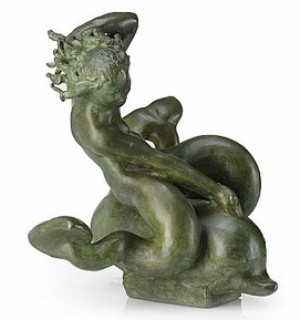 Najad På Delfin
Price SEK 200,000 (€22,568)
Estimated SEK 125,000–150,000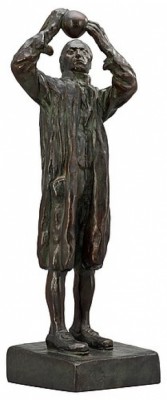 Carl Wilhelm Scheele
Price SEK 42,000 (€4,536)
Estimated SEK 25,000–30,000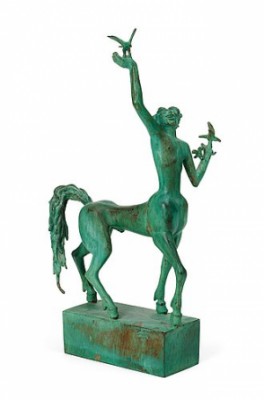 Price SEK 185,000 (€19,980)
Estimated SEK 200,000–300,000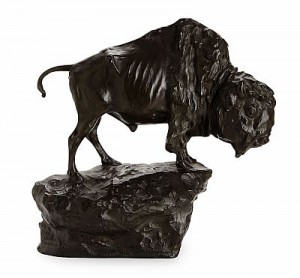 Price SEK 145,000 (€16,240)
Estimated SEK 40,000–50,000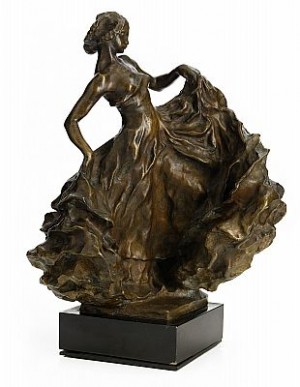 Serpentindanserska
Price SEK 320,000 (€35,840)
Estimated SEK 200,000–250,000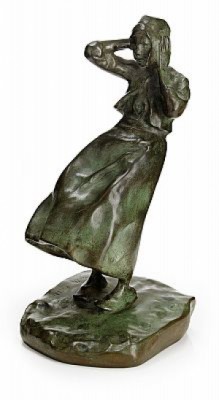 Holländsk Flicka I Blåst
Price SEK 26,000 (€2,912)
Estimated SEK 8,000–10,000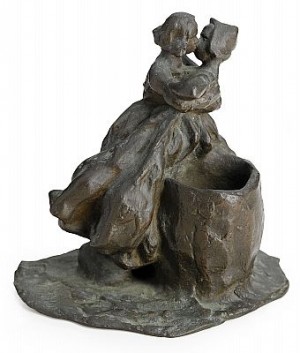 Par Vid Brunnen - Ur En Serie Av Nio Peppar- Och Saltkar
(Executed 1904)
Price SEK 55,000 (€6,160)
Estimated SEK 20,000–25,000
Ung älg
Price SEK 270,000 (€25,826)
Estimated SEK 150,000–200,000
Gustav Ii Adolf I Bön Vid Lützen
(1942)
Price SEK 55,000 (€5,261)
Estimated SEK 20,000–25,000
Price SEK 370,000 (€35,391)
Estimated SEK 60,000–80,000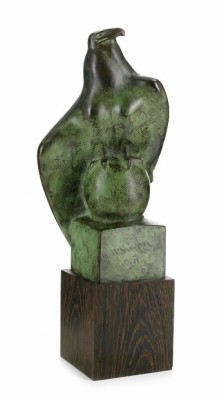 Price SEK 0 (€0)
Estimated SEK 40,000–50,000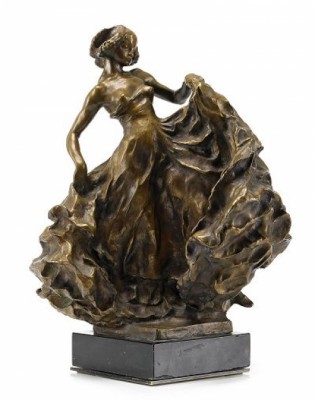 Serpentindanserska
(1901)
Price SEK 300,000 (€28,281)
Estimated SEK 225,000–250,000