Ivan Albertovich 'Jean Pougny' PUNI

1894–1956, Russia/France

Verdict of guilty
K324839-08
Oil on canvas, "Still Life with Fruit and a Bottle of Wine." Abstract still life depicting wine and fruit, 60x41 cm. Signed in Cyrillic letters. Executed in 1917/18 as certification. Together with three other fake art objects submitted Mr. "E.M." this painting to a Scandinavian auction house for Internet commerce. Mr. "E.M." stated that he was the owner of the objects, which together were valued at 9.4 million Swedish crowns. Mr. E. M. convinced the auction house for its authenticity, which paid an advance of the entire 800,000 Swedish crowns! It turned out, at a later police questioning, that Mr. EM was not the owner of the objects, he had been asked by a close friend to sell these items on his behalf, but that the objects in fact owned by a third person! He has no recollection of how or when the objects came into his possession or that they were very valuable. He has no memory of what he did with the great advances and would not say whether the alleged owner received any portion of the advance. He did not have any authorization to sell the items. Court's decision: In view of this and the art objects already once been put up for sale, there is an obvious risk that they can be re-entering the market as genuine works why they should be forfeited.
Oljemålning på duk, "Still life with Fruit and a Bottle of Wine". Abstrakt stilleben föreställande vin och frukt, 60x41 cm. Signerad med kyrilliska bokstäver. Utförd 1917/18 enligt intyg. Tillsammans med ytterligare tre falska konstföremål lämnade Herr "E.M". denna målning till ett skandinaviskt auktionsverk för internethandel för försäljning. Herr "E.M." uppgav att han var ägare till föremålen som tillsammans värderades till SEK 9,4 miljoner. Herr E.M. övertygade auktionshuset om dess äkthet som betalade ut ett förskott på hela SEK 800.000! Det visade sig, vid senare förhör, att Herr E.M. inte alls var ägare till föremålen, han hade fått i uppdrag av en nära bekant att sälja föremålen för dennes räkning men att föremålen i själva verket ägdes av en tredje person. Han har inget minne av hur eller när föremålen kom i hans ägo eller att de skulle vara värdefulla. Han har heller inget minne av vad han gjorde med den stora summan som betalades i förskott och vill inte uppge om den påstådda ägaren fått någon del av förskottet. Han hade heller ingen fullmakt för att försälja föremålen. Rättens beslut: Med hänsyn härtill och då konstföremålen redan en gång lagts ut till försäljning finns det en uppenbar risk att de åter kan komma ut på marknaden som äkta verk varför de ska förverkas.

Name
Ivan Albertovich 'Jean Pougny' PUNI
Ivan Albertovich Puni (Jean Pougny) was a painter, graphic artist, theatre painter, book illustrator, author of articles on art. Grandson of composer Ts. Punn. In the 1910-s took private lessons from I.E. Repin. In 1910-1912 studied at the Julienne Academy in Paris. Took part in the exhibitions of "Youth union" and "Jack of diamonds", was the main organizer of stage futuristic exhibitions "Tram B" (1915) and "O, 10" (1915-1916). In 1919 emigrated to Finland, since 1923 lived and worked in Paris. Personal exhibitions were held in "Der Sturm" gallery in Berlin (1920-1922) and in the galleries of Paris, New York, London, Vienna, Tokyo and Rome. The works of the artist are in the State Tretyakov Gallery and the Russian State Museum and in many museums of Europe and the USA.
Source: http://sovcom.ru/index.php?category=painters&painterstype=painter&painter=482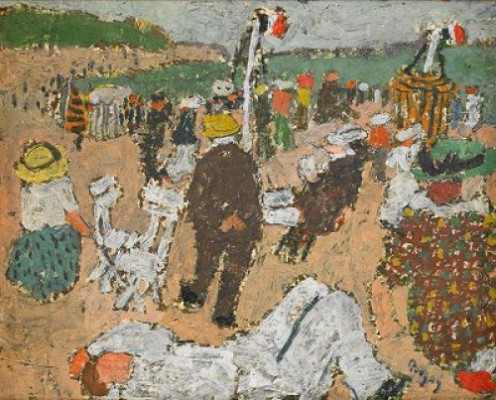 The Beach At Meridione
Price SEK 0 (€0)
Estimated SEK 300,000–350,000