KITAGAWA UTAMARO
act.ca.1753–1806, 18th century, Japan
Kitagawa Utamaro (喜多川 歌麿?, ca. 1753 - October 31, 1806) was a Japanese printmaker and painter, who is considered one of the greatest artists of woodblock prints (ukiyo-e). His name was romanized archaically as Outamaro. He is known especially for his masterfully composed studies of women, known as bijinga. He also produced nature studies, particularly illustrated books of insects.
His work reached Europe in the mid-nineteenth century, where it was very popular, enjoying particular acclaim in France. He influenced the European Impressionists, particularly with his use of partial views and his emphasis on light and shade. The reference to the \"Japanese influence\" among these artists often refers to the work of Utamaro.
Source: From Wikipedia, the free encyclopedia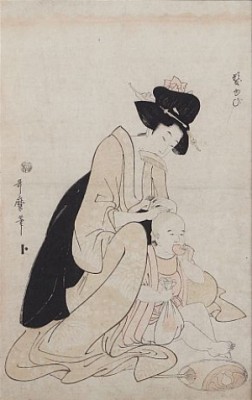 Kami-yui Ur Serien "fujin Gogyo Tatoe Gusa (womens Five Handiworks"
(ca.1800)
Price SEK 3,800 (€428)
Estimated SEK 5,000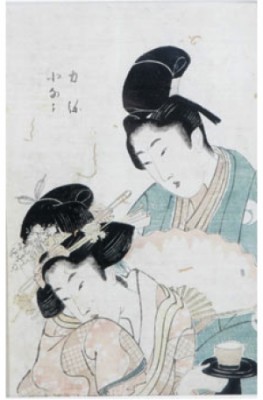 Två Bijin
Price SEK 300 (€29)
Estimated SEK 500