'King Of Sweden' KUNG KARL XV
1826–1872, Sweden
Also known as: C65, C70, C, C 62, Carl Xv. Carl Ludvig Eugen
Name:
Carl Ludvig Eugen 'King Of Sweden' KUNG KARL XV
Da unionskongen i 1859 tiltrådte regjeringen etter Oscar I, var han også en aktiv maler. Carl egnet seg helt og
holdent til landskapsmaleriet og da fortrinnsvis med motiver fra sine to riker, det svenske og norske. Auksjonens
maleri er det siste fra majestetens hånd.
Source: www.blomqvist.no
\\\"KARL XV\\\" (Carl XV) Konung av Sverige och Norge. Född 1826 på Drottningholms Slott i Stockholms län. Studerade för Agrén och vid Konstakademien för Johan Christoffer Boklund och Alfred Wahlberg. Vidare för Genre- och historiemålaren Anders Lundqvist. Kapten Johan Christian Berger undervisade honom i akvarellmålning. Han målade ett flertal svenska och norska landskap, gärna utsikter, korrekta i teckning och perspektiv.

Representerad:
Nationalmuseum i Stockholm, Göteborgs Konstmuseum, Malmö Museum och Nasjonalgalleriet i Oslo.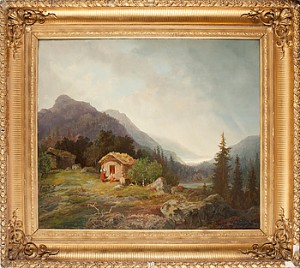 Landskap Med Figurer Utanför Timmerstuga
Price SEK 8,000 (€924)
Estimated SEK 10,000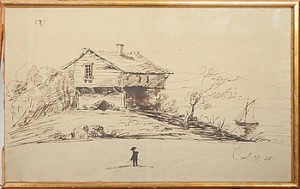 Price SEK 1,500 (€182)
Estimated SEK 3,000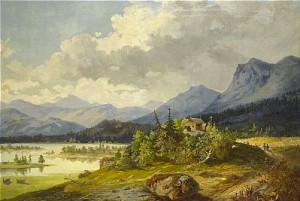 Chapelle De Quickjock - Laponie Suédoise
Price SEK 16,000 (€1,805)
Estimated SEK 15,000–18,000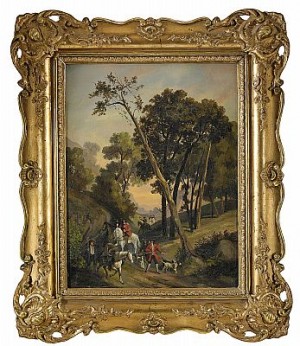 Elegant Jaktsällskap I Kuperat Landskap
(C 53)
Price SEK 31,000 (€3,227)
Estimated SEK 15,000–18,000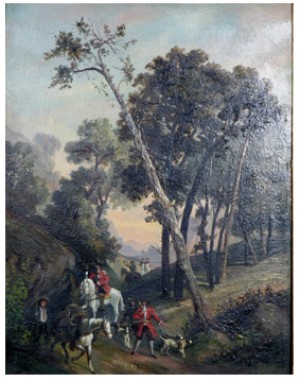 Landskap Med Jaktsällskap
(C 54)
Price SEK 6,000 (€586)
Estimated SEK 2,000–3,000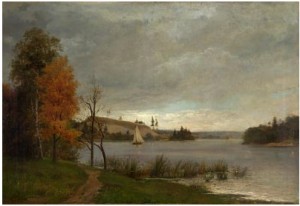 Price NOK 32,000 (€3,766)
Estimated NOK 40,000–50,000

Sydländskt Insjölandskap
(1844)
Price SEK 1,200 (€118)
Estimated SEK 1,500–2,000