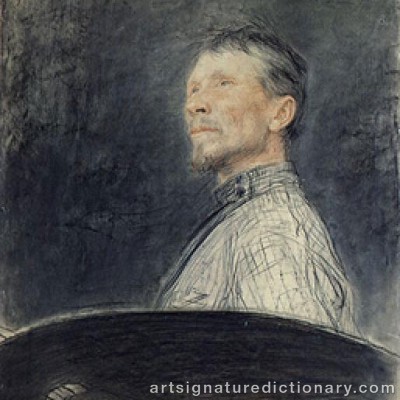 Abram Efimovich ARKHIPOV

1862–1930, Russia
Also known as: Archipov, Abram Jefimovitj (Yefimovich)

Verdict of guilty
0201-K207920-02
Oil on canvas, 40.8 x76,5 cm signed Arkhipov. The painting was seized in a major auction houses autumn auction in Stockholm in 2001. Together with two other paintings, this painting was submitted by an agent for a Russian antique dealer. The auction house's own expert considered that the painting could be a forgery and contacted the police. The painting was confiscated and the police investigation, in consultation with additional experts, showed that it was a forgery. It is a copy with forged signature of Abram Efimovich Arkhipov's original painting" Along the river Oka ", signed and dated 1889, which at this time, can be found at the Tretyakov Gallery in Moscow". The district court's assessment: The painting is not painted by Abram Efimovich Arkhipov nor signed by him. It is a forgery and should as such be forfeited.
Oljemålning på pannå, 40,8x76,5 cm signerad Arkhipov. Målningen togs i beslag hos ett stort auktionshus i Stockholm inför deras höstauktion 2001. Tillsammans med två andra målningar hade den lämnats in av ett ombud för en rysk antikhandlare. Auktionshusets expert bedömde att målningen kunde vara en förfalskning varför man kontaktade polis. Målningen tas i beslag och polisens utredning, i samråd med ytterligare expertis, visade att den var en förfalskning. Det är en falsksignerad kopia av Abram Efimovich Arkhipov's originalmålning "Längs floden Oka", signerad och daterad 1889, som vid den här tiden finns på Tretyakov Gallery i Moskva. Tingsrättens bedömning: Målningen är ej målad av Abram Efimovich Arkhipov ej heller signerad av denne. Det är en förfalskning och skall som sådan förverkas.



Name
Abram Efimovich ARKHIPOV
Abram Efimovich Archipov studied intermittently at the Moscow School of Painting, Sculpture and Architecture under Vasilii Perov and Vasilii Polenov. Although he was also a student at the St Petersburg Academy of the Arts between 1884 and 1886, Arkhipov soon became dissatisfied with the Academy\'s system of teaching and returned to Moscow, where he would later spend many years as an instructor at the Moscow School of Painting, Sculpture and Architecture.
Abram Jefimovitj Archipov var från 1892 professor i målarkonst i Moskva. Arcipovs favoritmotiv var landsbygden och städernas fattigbefolkning. Hans målningar hade ofta ljusa, glada färger. Han började med genrescener, men utvecklade allteftersom ett lyriskt landskapsmåleri som på 1890-talet under en period vek plats för starkt socialkritiska bilder.
Source: From Wikipedia, the free encyclopedia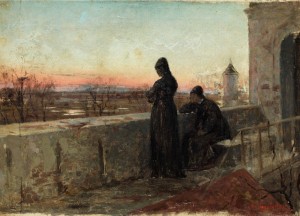 Sonnenuntergangsstimmung
Price EUR 0 Not sold
Estimated EUR 15,000–25,000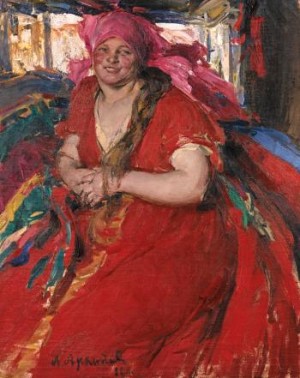 Peasant Woman In A Red Dress
Price GBP 905,000 (€1,283,971) Incl. buyer's premium
Estimated GBP 180,000–250,000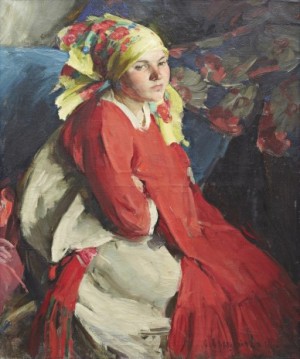 Peasant Woman With A Green Shawl
(-16)
Price SEK 4,000,000 (€430,520)
Estimated SEK 600,000–800,000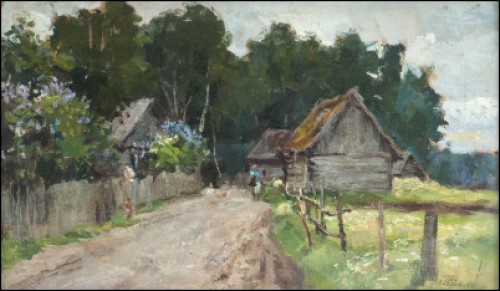 Peasant View
Price EUR 9,500
Estimated EUR 8,000–10,000