Adrianne WORTZEL
1941, USA
Adrianne Wortzel explores a range of new technologies as web works, videos robotic installations and performance productions. Her work has been featured in \"Data Dynamics\" at the Whitney Museum of American Art , Cooper Union\'s \"Technoseduction\" exhibition, Creative Time\'s \"Art in the Anchorage\"; Ars Electronic, \"Fleshfactor\" and Kunstpflug e.V., Berlin \"Arreale99\".
She wrote, produced and designed \"Sayonara Diorama\", a performance production with robots, live performers and responsive remote performances via videoconferencing, via an Artist-in-Residence Grant at Lehman College Art Gallery in New York funded by the Electronic Media and Film Program of the New York State Council on the Arts. She has organized and produced international performative webcasts, and was co-host and content provider for \"Art Dirt\" a weekly live video-streamed interview format webcast originating from New York, now in the collection of the Walker Art Center.
She has been a recipient of a Residency at Eyebeam Atelier (2008) a Greenwall Foundation Grant (2006), a NYSCA grant (2006), a Franklin Furnace Fund for Performance Art Award (2003), the Swiss-Artists-in-Labs Award in residence at the Artificial Intelligence Laboratory-University of Zurich in 2004, a 2000-2001 National Science Foundation grant awarded for creating a robotic theater at The Cooper Union for the Advancement of Science and Art She is a Professor in the Department of Entertainment Technology at New York City College of Technology, City University of New York, where she teaches digital video, and Topics and Perspectives in Emerging Media, and other courses.
Source: http://www.adriannewortzel.com/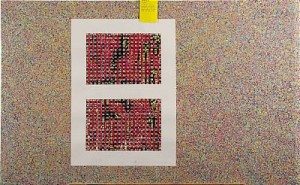 Price SEK 0 (€0) Not sold
Estimated SEK 1,200