Albert Nikolaievich BENOIS
1852–1936, Russia/France

Verdict of guilty
T/196501/001
Akvarell på papper, signerad "A. Benois". Skenbart föreställande en äkta målning utförd av den Ryske konstnären Albert Nikolaievich Benois, (1852-1936). Målningen ingår i ett av de många bedrägerifall som polisen tog i beslag under slutet av 1990-talet och början av 2000-talet i Finland. Efter expertutredning och dom förklarades att målningen inte är äkta. Det är en förfalskning.








Name
Albert Nikolaievich BENOIS
Benois Albert Nikolaevich (1852, St. Petersburg - 1936), aquarellist and architect. The son of N. L. Benois, brother of Alexander N. Benois. In 1871-77, he studied at the Architectural Department of the Academy of Fine Arts, at the same time studying watercolour under the guidance of L. O. Premazzsi, was influenced by de L\'Ille-Adam. A retainer of the Academy of Fine Arts in Italy, France, and Spain (1883-85), an associate member of the academy (1884), he taught at the Academy of Fine Arts (1885-94), being a full member of the Academy, and a member of the Council of the Academy of Fine Arts (1894). He constructed the summer residence of T. A. Cavos in Peterhof (1875-76). During his travels in Russia, Western Europe, Northern Africa, Middle East and the Far East, he created a series of watercolour landscapes, combining the poetics of romanticism with documental accuracy. He accompanied the Emperor Alexander III in his summer yacht trips along the Finnish skerries. He painted views of St. Petersburg and its outskirts; made a considerable contribution to the popularization of the art of watercolour. He was foundation member (1880), the chief (in 1887-97) and an honorary member (from 1897) of the Society of Russian Aquarellists. From 1895, he was the custodian of the Museum of Russian Art; since 1918, he served as the Head of the Department of the Decorative Arts of the museum. In 1920, he participated in the expedition of the Petrograd Geological Institute to the North. He lived in the family house on 15 Glinki Street; on 31 Admiralteisky Canal Embankment, (1908-14), on 38 First Line of Vasilievsky Island (1915-17). In 1924, he emigrated to France, where he died.
Source: http://www.encspb.ru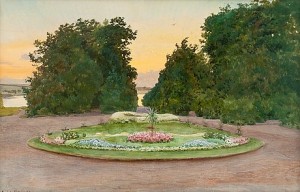 Evening In The Park
Price EUR 2,400
Estimated EUR 2,000–2,200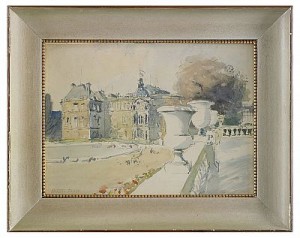 Le Jardin Du Luxembourg
(1929)
Price SEK 34,000 (€3,729)
Estimated SEK 30,000–40,000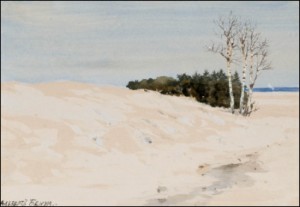 Winter Scene
Price EUR 400
Estimated EUR 400–600