Albert WATSON
1942, Scotland/England
Albert Watson is a photographer well known for his fashion, celebrity and art photography, and whose work is featured in galleries and museums worldwide. He has shot over 200 covers of Vogue around the world and 40 covers of Rolling Stone magazine since the mid-1970s. Photo District News named Watson one of the 20 most influential photographers of all time, along with Richard Avedon and Irving Penn, among others. Watson has won numerous honors, including a Lucie Award, a Grammy Award, and three ANDY Awards.
He was born in Edinburgh, Scotland, the son of a physical education teacher and a boxer. He grew up in Penicuik, Midlothian, and attended the Rudolf Steiner School in Edinburgh and Lasswade High School, followed study at the Duncan of Jordonstone College of Art in Dundee and the Royal College of Art in London.

Professional career
Watson studied graphic design at the Duncan of Jordanstone College of Art and Design, and film and television at the Royal College of Art. Though blind in one eye since birth, Watson also studied photography as part of his curriculum. In 1970, he moved to the United States with his wife, Elizabeth, who got a job as an elementary school teacher in Los Angeles, where Watson began shooting photos, mostly as a hobby. Later that year, Watson was introduced to an art director at Max Factor, who offered him his first test session, from which the company bought two shots. Watson's distinctive style eventually caught the attention of American and European fashion magazines such as Mademoiselle, GQ and Harper's Bazaar, and he began commuting between Los Angeles and New York. Albert photographed his first celebrity in 1973, a portrait of Alfred Hitchcock holding a dead goose with a ribbon around its neck for the Christmas issue of Harper\'s Bazaar. The shot has become one of Watson\'s most famous portraits on a list that now includes hundreds of well-known iconic photographs of movie stars, rock stars, rappers, supermodels, even President Clinton and Queen Elizabeth II. In 1975, Watson won a Grammy Award for the photography on the cover of the Mason Profitt album "Come and Gone," and in 1976, he landed his first job for Vogue. With his move to New York that same year, his career took off.
In addition to shooting for the world\'s top magazines, Watson has created the photography for hundreds of successful advertising campaigns for major corporations, such as the Gap, Levi's, Revlon and Chanel, and he has directed more than 500 TV commercials and shot dozens of posters for major Hollywood movies, such as \"Kill Bill,\" \"Memoirs of a Geisha,\" and \"The Da Vinci Code.\". All the while, Watson has spent much of his time working on personal projects, taking photographs from his travels and interests, from Marrakech to Las Vegas to the Orkneys. Much of this work, along with his well-known portraits and fashion photographs, has been featured in museum and gallery shows around the world, and Watson\'s limited-edition prints have become highly sought after by collectors. In 2007, a large-format Watson print of a Kate Moss photograph taken in 1993 sold at Christie\'s in London for $108,000, five times the low pre-sale estimate.
Since 2004, Watson has had solo shows at the Museum of Modern Art in Milan, Italy; the KunstHausWien in Vienna, Austria; the City Art Centre in Edinburgh; the FotoMuseum in Antwerp, Belgium; and the NRW Forum in Düsseldorf, Germany. Watson's photographs have also been featured in many group shows at museums, including the National Portrait Gallery in London, the Metropolitan Museum of Art in New York, the Pushkin Museum of Fine Arts in Moscow, the International Center of Photography in New York, and the Deichtorhallen in Hamburg, Germany. His photographs are included in the permanent collections at the National Portrait Gallery and the Metropolitan Museum of Art.
Watson has had several books published, including Cyclops (1994), Maroc (1998), and \"Albert Watson\" (2007). A fourth book, on Las Vegas, is due out in 2010. In addition, many catalogs of Watson's photographs have been published in conjunction with shows, including \"The Vienna Album\" (2005).
Watson received a Ph.D from the University of Dundee in 1995 and was inducted into the Scottish Fashion Awards Hall of Fame in 2006. His first exhibition in his homeland, Frozen, was held at the City Art Centre of Edinburgh in 2006.
Source: http://en.wikipedia.org/wiki/Albert_Watson_%28photographer%29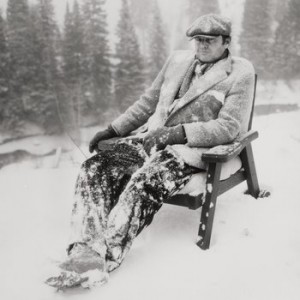 "jack Nicholson At His House Aspen February 1981
(c. 1981)
Price SEK 86,000 (€8,226)
Estimated SEK 60,000–80,000