Alfred LENICA

1899–1977, Poland

Verdict of guilty
0201-K67815-11
Oil on canvas, 30x61 cm, composition, signed "Lenica". The painting was sold for SEK 8,685 by a smaller auction house in Stockholm in autumn 2010. The buyer returned in March 2011 to cancel the purchase, he claims that painting's authenticity has been questioned when he tried to sell it at an auction house in Poland, neither painting or signature has been done by the famous Polish artist Alfred Lenica. At the police investigation reveals that the man who sold the painting in Sweden in 2010 as well, on several other occasions, submitted counterfeits of other Polish artists for sale see (Stanislaw Zoladz,Jacques Zucker,Tadeus Kantor).
Oljemålning på duk, 30x61 cm, komposition, signerad "Lenica". Målningen såldes för 8.685 kr av ett mindre auktionshus i Stockholm hösten 2010. Köparen återkom i mars 2011 för att häva köpet, han hävdar att målningens äkthet blivit ifrågasatt då han försökt sälja den hos ett auktionshus i Polen, att varken målningen eller signaturen har utförts av den kände polske konstnären Alfred Lenica. Vid polisens utredning framkommer att mannen som sålde målningen i Sverige 2010 också, vid flera andra tillfällen, lämnat in förfalskningar av andra polska konstnärer till försäljning se (Stanislaw Zoladz,Jacques Zucker,Tadeus Kantor).












Alfred Lenica uczył się prywatnie rysunku i malarstwa w pracowniach Artura Hannytkiewicza i Piotra Kubowicza w Poznaniu (1925-1928). W latach 30. malował obrazy figuratywne, nawiązujące w stylistyce do kubizmu. Nieco później uległ wpływom surrealizmu, który, pomijając lata socrealizmu, stanie się dlań najpoważniejszym obszarem poszukiwań malarskich. Od połowy lat 40. utrzymywał stałe kontakty z kręgiem "Grupy Krakowskiej", przyjaźnił się z Jerzym Kujawskim. Po przeniesieniu się do Poznania, w 1947 został współzałożycielem awangardowej grupy "4F+R" (farba, forma, fantastyka, faktura + realizm). Jest autorem pierwszego polskiego obrazu taszystowskiego (Farby w ruchu, 1949, tempera). W okresie socrealizmu włączył się w nurt oficjalnej sztuki, pracując jednocześnie jako organizator życia artystycznego, prezes Okręgu Poznańskiego ZPAP (1948-1950) i jednocześnie kierownik Pracowni Sztuk Plastycznych tamże. W końcu lat 50. przeniósł się do War-szawy i również tu do 1969 pełnił kierownicze funkcje w ZPAP. W drugiej poł. lat 50. ponownie - po eksperymentach z lat 40. - uprawiał informel, malując chętnie techniką drippingu. Około 1958 wypracował indywidualny, charakterystyczny dlań styl wirujących, kolorowych, niekiedy kaligraficznie opracowanych form, które dynamicznie wypełniały pola obrazów. Tworzył je techniką zbliżoną do surrealistycznej dekalkomanii. Styl ten stał się znakiem rozpoznawczym artysty do końca życia. W swych obrazach nie unikał kształtów nawiązujących do form naturalnych (jego malarstwo nazywano "biologicznym"), a w latach 70. niekiedy włączał do kompozycji motywy figuralne. Wystawa retrospektywna artysty odbyła się w Galerii Zachęta w Warszawie w 1974.
Source: http://www.agraart.pl/nowe/artists/lenica-alfred-polska-agra-art-aukcje-obrazy-antyki.html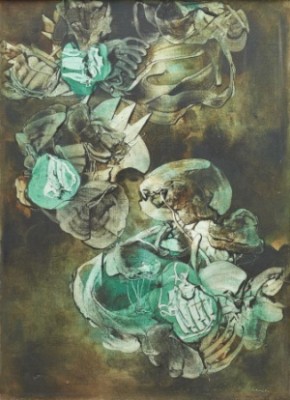 Price SEK 48,000 (€5,166)
Estimated SEK 20,000–25,000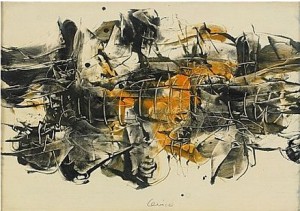 Composition
Price SEK 9,000 (€980)
Estimated SEK 8,000–10,000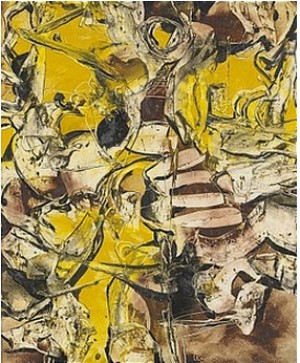 Zdobywanie Przemoca
(1966)
Price SEK 60,000 (€6,534)
Estimated SEK 35,000–40,000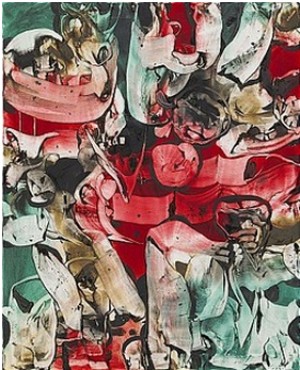 Composition
Price SEK 42,000 (€4,574)
Estimated SEK 35,000–40,000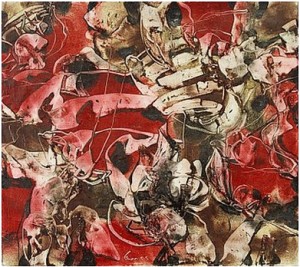 Price SEK 44,000 (€4,862)
Estimated SEK 25,000–30,000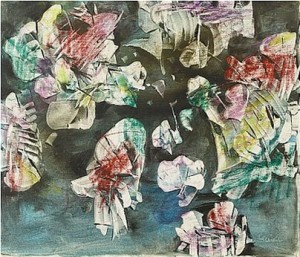 Price SEK 26,000 (€2,873)
Estimated SEK 20,000–25,000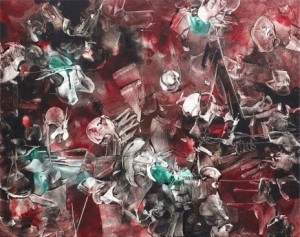 Price SEK 44,000 (€5,095)
Estimated SEK 25,000–30,000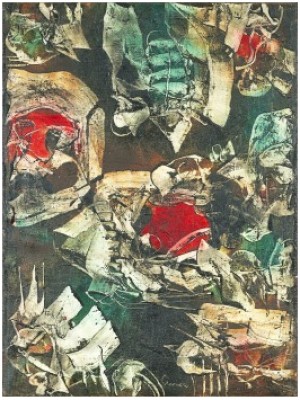 Zjawisko Biologiczne
(1966)
Price SEK 44,000 (€4,840)
Estimated SEK 20,000–25,000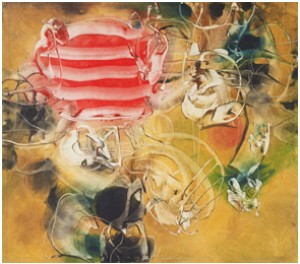 Price SEK 82,000 (€8,496)
Estimated SEK 20,000–25,000