Algot RINGSTRÖM
1876–1956, Sweden
Name
Algot Viktor RINGSTRÖM
Algot Ringström studied for Cardon and Caleb Althin of Technology and Arts Academy in Stockholm for Georg von Rosen, Gustavus Cederström and Oscar Björk. He undertook trips to Germany, Italy, France, England and Holland. His art is characterized by motifs with sunny, bright coloring with running water and the water reflects that specialty. He painted portraits, landscapes of winter and summer grounds, and marine, often from London.
Algot Ringström studerade för Cardon och Caleb Althin på Tekniska Högskolan och Konstakademien i Stockholm för Georg Von Rosen, Gustaf Cederström och Oscar Björk. Han företog resor till Tyskland, Italien, Frankrike, England och Holland. Hans konst kännetecknas av vältecknade motiv med solig, ljus kolorit med rinnande vatten och vattenspeglar som specialitet. Han målade porträtt, landskap med vinter och sommarmotiv, samt mariner, ofta från Stockholm.

Separatutställningar:
Hultbergs konsthandel i Stockholm. Han hade även flera utställningar i sin villa på Lidingö. 1954 framträdde han på Liljevalchs konsthall i Stockholm. 1958 anordnades en minnesutställning i hans forna hem i Brevik på Lidingö.

Offentlig utsmyckning:
Fresker i Karolinska skolan i Örebro.

Representerad:
Nationalmuseum i Stockholm, samt på Musée Bernadotte i Pau i Frankrike, Kungliga vetenskapsakademin i Stockholm, ett porträtt av meteorologen Gustav Ekholm, Lidingö stadshus, Lidingö läroverk och på Lidingö museum, genom Lidingö Hembygdsförening, samt på Karolinska läroverket i Örebro.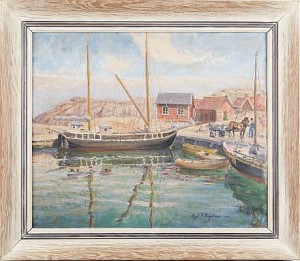 Price SEK 1,000 (€112)
Estimated SEK 2,000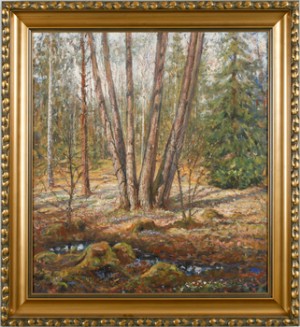 Vårlandskap Med Träd Och Blåsippor
Price SEK 1,000 (€113)
Estimated SEK 2,000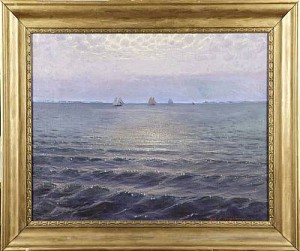 Kustmotiv Med Båtar
(1920)
Price SEK 1,600 (€173)
Estimated SEK 1,500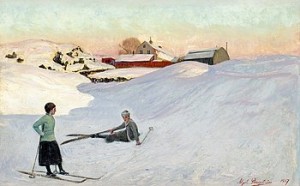 Price SEK 11,000 (€1,143)
Estimated SEK 10,000–12,000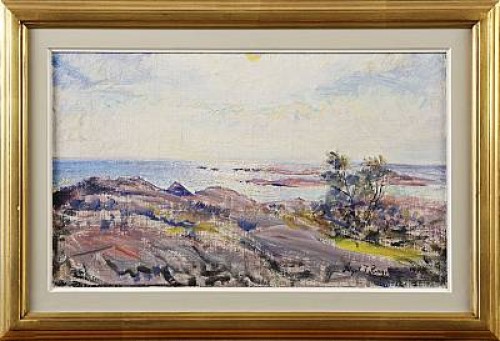 Price SEK 0 (€0)
Estimated SEK 1,000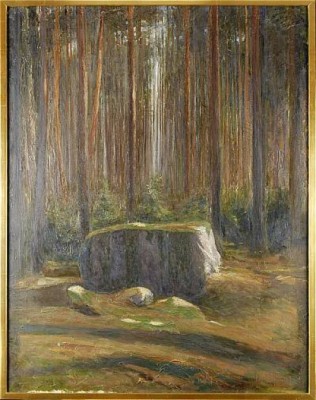 Price SEK 2,200 (€218)
Estimated SEK 3,000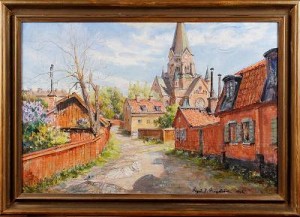 Sofia Kyrka Från Nytorget
(1942)
Price SEK 4,500 (€425)
Estimated SEK 1,200