Anders ENGMAN
1961, Sweden
Anders Engman studied painting at the Art Academy in Sthlm 1985-90. Byzantine studies in Greece, -94, -96. Study tours to Italy, Russia, Spain, London and Paris. Teacher of painting and art history at university.
Anders Engman studerade måleri vid Konsthögskolan i Sthlm 1985-90. Bysantinska studier i Grekland -94,-96. Studieresor till Italien, Ryssland, Spanien, London och Paris.
Lärare i måleri och konsthistoria på högskolenivå.

SEPARATUTSTÄLLNINGAR:
Gallerier Sassi -83, Mejan -87, 
Ferm Malmö -90,-91, Aronowitsch -93, Glemminge -97,-00,
Konstruktiv Tendens -96,-99, Överkikaren -88,-92,-06.
STIPENDIER:
Olle Baertlings stip -91, AX:son Johnson forskningsstip. -96,
Forskning om Antikens konst och antika gipskollektioner i europeiska samlingar -97, Södermalms Arbetarinstitut för folkbildande insats -98, Langmanska Kulturfonden -01.
KONSTSKRIBENT:
Konstböcker i urval \"Tore Hultcrantz - konstnär och humanist\" -97, \"Stockholm - Skulpturernas stad\" -98 samt diverse kataloger och utställningspresentationer. Konstartiklar i dagspress och fackpress. 
Konstkritiker AICA. Föredragshållare bl a vid Kulturhuset och Konstakademien.
TV och radioinslag om skulpturkonst.
OFFENTLIGA uppdrag:
Galleriskylt Överkikaren -89. Väggutsmyckningar Adolf Fredriks Musikskola -89, Marievik Center -02, Socialförvaltningen Sthlm -03.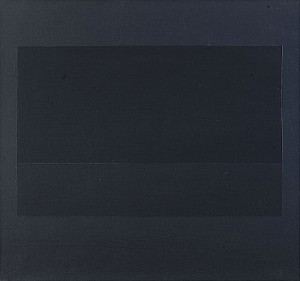 Mörk Komposition Xxiv
(1999)
Price SEK 4,400 (€439)
Estimated SEK 2,000–3,000