Ando HIROSHIGE
1797–1858, Japan
Name
Ando, Utagawa HIROSHIGE
Ando Hiroshige var en japansk bildkonstnär född i Edo. Han började sin konstnärliga bana som lärling hos Utagawa Toyohiro. Efter avslutad utbildning tog Hiroshige sin lärares namn och började signera sina verk Utagawa Hiroshige. Hiroshige målade vardagskildringar och det sägs att han bestämde sig för att bli konstnär efter att ha sett den samtida konstnären Hokusais verk. Hiroshige förvandlade vardagliga landskap till intima, lyriska scenerier. Han är speciellt känd för sina vackra landskapsbilder i träsnittsteknik och har målat porträtt föreställande unga kvinnor och skådespelare. Hans mästerverk anses vara verket "Fifty-three Stations of the Tokaido".
Source: www.bukowskis.com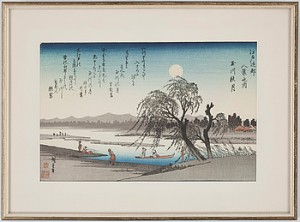 (6) Pictures
Price EUR 2,200
Estimated EUR 1,500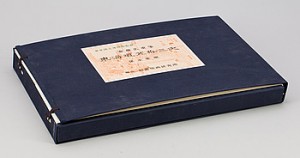 Folder Of 57 Images
(1960's)
Price EUR 6,000
Estimated EUR 8,000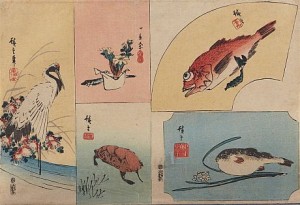 Trana, Blåsfisk, Sköldpadda
(ca.1840)
Price SEK 2,200 (€248)
Estimated SEK 1,500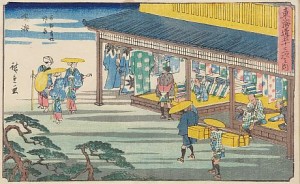 Narumi, Nr 41 Ur 53e Stationer På Tokkaido
(1841-42)
Price SEK 3,200 (€360)
Estimated SEK 1,500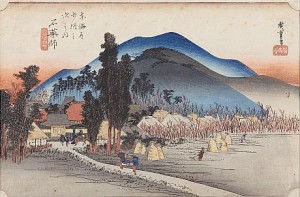 Ishiyakushi, Nr 45 Ur 53 Stationer På Tokkaido
Price SEK 3,200 (€360)
Estimated SEK 2,000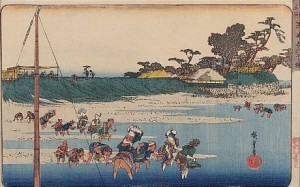 Oyster Gatherers At Low Tide At Susaki Ur "toto Meisho"
(ca.1840)
Price SEK 3,800 (€428)
Estimated SEK 2,000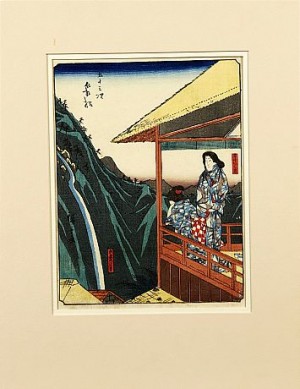 Ur Jimbutsu Tokkaido, Nr 11 Hakone
Price SEK 1,200 (€134)
Estimated SEK 1,000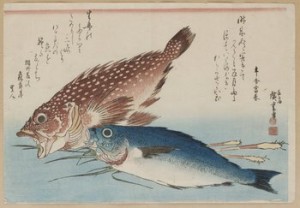 Motiv Med Fiskar
Price SEK 3,800 (€379)
Estimated SEK 3,000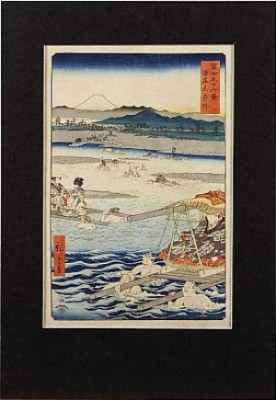 Floden Oi Mellan Suruga Och Totomi Provinserna Ur 36 Vyer Av Fuji
Price SEK 2,200 (€222)
Estimated SEK 2,000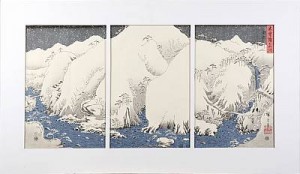 Kisoji Mountains And Rivers
Price SEK 2,700 (€273)
Estimated SEK 1,200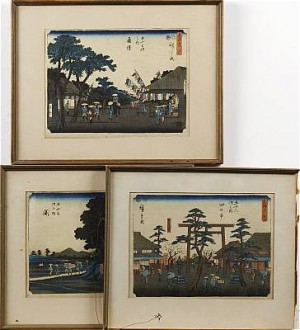 (3) Träsnitt
Price SEK 2,000 (€196)
Estimated SEK 1,500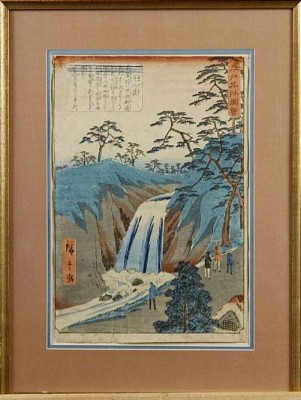 Vattenfall
Price SEK 1,200 (€117)
Estimated SEK 1,200