Andreas ACHENBACH

1815–1910, Germany
Andreas Achenbach biography:

The German landscape painter Andreas Achenbach was born in Kassel on 29 September 1815.
Andreas Achenbach was a representative of the Düsseldorf Schoolopf Painters. Achenbach joined the Düsseldorf Art Academy in 1827 at the tender age of 12.
Achenbach succeeded in selling a picture at the first exhibition of the Art Association of the Rhineland and Westphalia as early as in 1829. In the years 1832-1833 he and his father visited, among others, the cities of Rotterdam, Scheweningen, Amsterdam, Hamburg and Riga. On his journeys Achenbach familiarized himself with Dutch painting of the 17th century, to which he henceforth tied in with and which would shape his artistic creation.
After brief studies with Johann Schirmer in Dusseldorf, Andreas Achenbach went to Munich for some time in 1835 and finally to Frankfurt am Main.
In the following Andreas Achenbach made short sojourns in Norway, Denmark and Sweden and then traveled to the Bavarian Alps and Tyrol in 1836. In 1843 he traveled to Italy, where he would spent almost two years, owed to his his special fascination with the Campagna and Capri. Achenbach retuirned to Düsseldorf in 1846.
Andreas Achenbach became known to a wider audience with the painting "Seesturm" (Sea Storm, 1836), which today is in possession of the Neue Pinakothek in Munich. Unlike his brother Oswald, Andreas Achenbach possessed remarkable virtuoso primarily in painting landscapes which catered to the tastes of the "Gründerzeit" (Founder Epoch).
Andreas Achenbach died in Düsseldorf on April 1st 1910.
Source: http://www.kettererkunst.com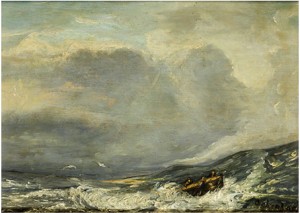 Aufgepeitschte See
Price EUR 0 Not sold
Estimated EUR 4,000–6,000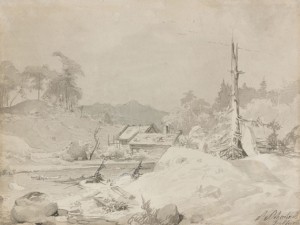 Landschaft
(Executed ca. 1835-40)
Price EUR 3,750 Incl. buyer's premium
Estimated EUR 1,000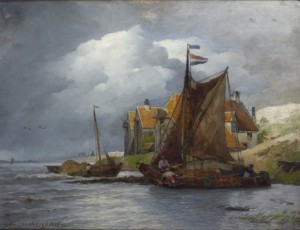 Holländskt Kustlandskap
Price SEK 0 (€0) Not sold
Estimated SEK 20,000–25,000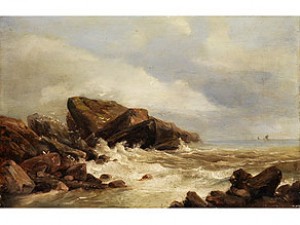 Felsenküste In Der Brandung
Price EUR 0 Not sold
Estimated EUR 2,000–3,000