Anna Vaughn Hyatt HUNTINGTON
1876–1973, USA
Name
Anna Vaughn Hyatt HUNTINGTON
Anna Vaughn Hyatt was born in Cambridge, MA, on 10 March 1876. She was the daughter of a professor of paleontology, and thus grew up amid various forms of fauna, both current and extinct. She studied the violin for a few years, then turned to sculpture in the 1890s. Her sister Harriet (qv under Mayor) was also a sculptor; the two collaborated on a number of animal groups, mostly before 1900. She studied briefly with Henry Kitson in Boston, MA; in New York City with Hermon Atkins MacNeil (qv) at the Art Students League of New York; and with J. Gutzon Borglum (qv), but was for the most part self-taught. Around 1903 and 1904 she collaborated with Mary Abastenia St. Leger Eberle (qv) on a number of large groups of human and animal figures. She specialized initially in dogs and other domestic animals common in rural Massachusetts, but while in New York City she visited the Bronx (NY) Zoo and became interested in big cats and other wild animals. She executed several equine groups, receiving advice from Borglum on modeling horses. In 1907 she went to France, establishing a studio north of Paris, but continued to work in New York City and in Annisquam, MA. Much of her sculpture was cast in bronze. She was also one of the first to use aluminum, initially to save weight in a traveling exhibition; later in her career she modeled works in aluminum that would have collapsed under their own weight in bronze. In addition to her animal sculpture she modeled some historical equestrian groups, including one of Joan of Arc and another of El Cid Campeador, as well as some portraits and a number of figural works. She married in 1923 and lived for several years on Fifth Avenue in New York City. In 1939 she settled with her husband at Stanerigg Farm in Redding Ridge, CT. She continued to work until the late 1960s.

Huntington was a trustee of the Hispanic Society of America in New York City, which was founded by her husband, Archer M. Huntington; she was also a member of the National Academy of Design, the National Sculpture Society, and the American Academy and Institute of Arts and Letters, all in New York City, as well as the Copley Society in Boston. She exhibited frequently at the National Academy of Design, where she showed such works as her Monkeys in 1908, Yawning Tiger in 1919, Fighting Bull in 1928 and Cranes Rising in 1935. She executed Winter Noon, a sculpture of two work horses, in 1902, which was exhibited first at the Society of American Artists in New York in 1903 and then at the Louisiana Purchase Exposition in St. Louis, MO, and the Pennsylvania Academy of Fine Arts in Philadelphia, both in 1904. Also at the Pennsylvania Academy of the Fine Arts she exhibited After the Hunt in 1899, Colts Playing in 1906, Flight of Birds in 1923, Hound on the Hill in 1940 and numerous other works. She received medals for exhibitions at the Panama-Pacific International Exposition in San Francisco, CA, in 1915; the Plastic Club in Philadelphia in 1916; the National Academy of Design in 1920 and 1922; the American Academy of Arts and Letters in 1930; and the Pennsylvania Academy of the Fine Arts in 1937. She also exhibited at the Paris Salon, the Art Institute of Chicago (IL), and other places.

Archer M. Huntington, husband of Anna Hyatt, originally established Brookgreen Gardens in Murrells Inlet, SC, in 1931 as a site for a collection of his wife's work, although it was later expanded and became a comprehensive collection of American sculpture. There are over sixty-six pieces of Huntington's work at Brookgreen, including Don Quixote, Jaguar, Wild Boars, and Macaw Preening. The National Museum of American Art at the Smithsonian Institution in Washington, DC, has her Sebastopol Geese, Hound on a Hill, and Doe and Fawn, among other works. Her monumental equestrian Joan of Arc Memorial stands at Riverside and 93rd St. in New York City. The Mariner's Museum in Newport News, VA, has a collection of animal models cast in aluminum and carved in stone. Other institutions holding her work include the Metropolitan Museum of Art and the New York City Zoological Park, both in New York City; the Carnegie Institute in Pittsburgh, PA; the Luxembourg Museum in Paris; the Edinburgh (Scotland) Museum; the Cincinnati (OH) Museum of Art; the Worcester (MA) Museum of Art; the Pebble Hill Plantation Museum in Thomasville, GA; the J. B. Speed Museum in Louisville, KY; and the Fine Arts Museums of San Francisco, California Legion of Honor.

Huntington died in Bethel, CT, on 4 October 1973.
Source: http://www.redfoxfineart.com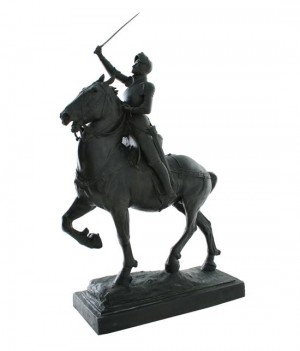 Joan Of Arc
Price USD 23,000 (€16,661)
Estimated USD 8,000–12,000