Anton ROOSKENS

1906–1976, Netherlands
Anton Rooskens went to technical school in Venlo from 1924 to 1934 and after that he became an apprentice with a builder of instruments. In 1935 he took up his residence in Amsterdam. As a painter he was a self-educated man. In the works he made during the nineteen thirties, mainly landscapes, the influence of Van Gogh prevailed.
In 1945 Rooskens visited the exhibition "Kunst en Vrijheid"(Art and Freedom) at the Rijksmuseum in Amsterdam where he was confronted with African sculptures and sculptures of ancestors from New-Guinea. The simplified, straight shapes of this art can be found in his work of the early post-war period in which also the influence of cubism can be detected.
From 1946 Rooskens was regularly in touch with Appel, Corneille and Brands. In 1948 he met Constant. In that year he was the co-founder of the Nederlandse Experimentele Groep which merged with CoBrA later. Rooskens participated in the illustrious exhibition at the Stedelijk Museum in 1949. After that he immediately withdrew from the movement.
The connection with CoBrA turned out to be very stimulating for Rooskens. He developed a personal language of magic signs in penetrating black, yellow, ochre, blue and red and he painted compositions in which masks, shields and images of gods were entwined in a jumble of spontaneously painted areas of colour and lines which nevertheless form a certain balance.
In 1954 he painted, influenced by African art, in a geometric style for a short period. From 1956 he put, in a more and more dynamic manner, abstract signs on large canvasses on which black paint, put on in sturdy strokes, is of a prominent presence. In about 1965 the fantastical beings, reminiscent of the CoBrA period, emerged again. Until the time he died in 1976 his paintings were brighter again.
Source: http://www.jaski.nl/CoBrAKunstenaars/AntonRooskens/tabid/196/language/en-US/Default.aspx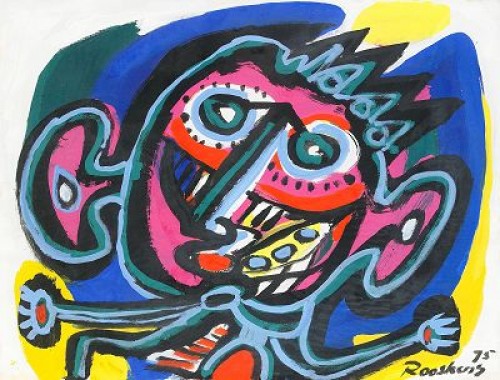 Price SEK 28,000 (€2,616)
Estimated SEK 25,000–30,000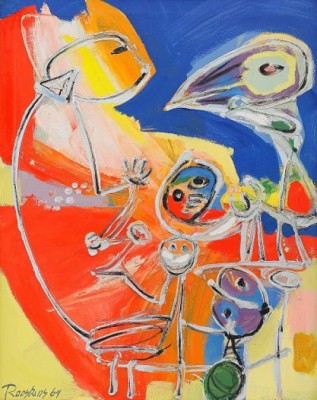 Price SEK 160,000 (€14,953)
Estimated SEK 80,000–100,000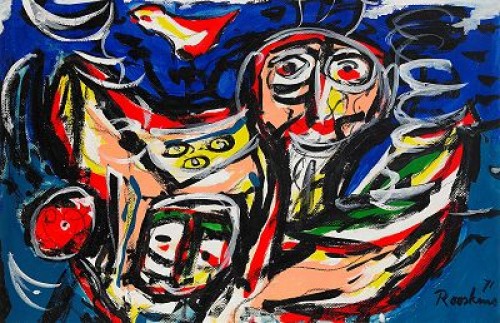 Price SEK 55,000 (€5,140)
Estimated SEK 40,000–50,000
Price SEK 70,000 (€6,542)
Estimated SEK 30,000–40,000
Utan Titel
Price SEK 30,000 (€2,804)
Estimated SEK 25,000–30,000