Arthur Fitzwilliam TAIT
1819–1905, England/USA
Name
Arthur Fitzwilliam TAIT
Birth
1819, 18/11, England
Arthur Fitzwilliam Tait

Arthur Fitzwilliam Tait, A British born landscape artist, was one of the nineteenth century's most popular painters. A good story-teller on canvas, Tait was able to instill in his genre paintings a strong sense of drama and conflict.

Although he never traveled further West than Chicago, he acquired a reputation as a frontier artist, painting scenes of hunters and wildlife, mainly from his experiences in upstate New York. The Quail and Young (date unknown, Corcoran Gallery of Arts), is a typical example.

Tait was born in 1819 in Liverpool, and schooled in Lancaster. By his mid-teens, he was working at Agents, an art dealer in Manchester. In his spare time, he taught himself how to paint by copying works at the Royal Institute.

During these years, he was able to assist George Catlin with his traveling Indian gallery in England and Paris. Tait was impressed with Catlin's interpretation of the American West; it provided the impetus for his own immigration to the United States in 1850.

Tait worked out of New York City, but spent considerable time in the Adirondack Mountains, becoming a proficient marksman and woodsman. Using this rugged setting as a background, Tait focused much of his art on capturing the drama of a man against nature. His style, which combined misty, atmospheric landscape settings with detailed renderings of human figures, reminds one of that of George Caleb Bingham.

The period 1850 to 1860 was a prolific time for Tait. His paintings were accepted by Easterners as definitive views of life on the frontier. Currier and Ives reproduced much of his work, making him one of the most popular artists of the period.

These genre paintings were not his only source of success. Tait mastered still lifes of dead game, influencing a whole generation of artists, beginning with William Michael Harnett 25 years later. He also did barnyard landscapes, a pastoral departure from his frontier scenes.

Tait's style did not change from 1860 until death in 1905; he continued to work in the style which he had found successful.

Memberships:
National Academy of Design

Public Collections:
Addison Gallery of American Art, Andover, Massachusetts
Adirondack Museum, Blue Mountain Lake, New York
Amon Carter Museum of Western Art, Fort Worth, Texas
Corcoran Gallery of Art, Washington, D.C.
Denver Art Museum
Metropolitan Museum of Art, New York City
Museum of the City of New York
R.W./ Norton Art Gallery, Shreveport, Louisiana
Philadelphia Museum of Art
Yale University Art Gallery, New Haven, Connecticut

--------------------------

Tait was born near Liverpool, England, on 5 August 1819. He was self-taught. He began working for Agnew's, an art dealer in Manchester, England, at the age of twelve. While there he taught himself drawing and painting, going to the Royal Manchester Institute to sketch plaster casts of classical statuary. He left Agnew's to marry and work on his own in 1838, and taught himself lithography in the following year. He worked in Manchester and Liverpool for several years, where he drew and lithographed a variety of subjects; in 1845 he published a volume of lithographs entitled Views on the Manchester and Leeds Railway, capitalizing on the strong public interest in railroads then extant in Britain. With the collapse of this interest in 1848, he turned to oil painting.

In 1850, suffering from a lack of contacts among the patrons of the arts in England, Tait immigrated to the United States and settled in New York City. He quickly involved himself with the New York City art community, possibly working for a time in William T. Ranney's (qv) studio. From time to time, Tait collaborated with other artists, including James M. Hart (qv), with whom he worked as early as 1859. Tait painted Western subjects, although he never went West himself. One of these, One Rubbed Out, attracted the attention of the lithographer Nathaniel Currier (qv); his firm, which later became Currier & Ives (qv), published examples of Tait's work until 1865. During the 1850s Tait painted waterfowl in New Jersey and on Long Island. He also received commissions to paint gun dogs and champion livestock. Among his earliest supporters and patrons was John Osborn, a prosperous liquor and wine merchant with an office in Manhattan and a residence in Brooklyn, NY; Osborn not only supported Tait throughout most of his career, but also became a lifelong friend. Another important patron for the artist was Alexander T. Stewart of New York City, a collector known most for his acquisition of Marie-Roasalie (Roas) Bonheur's Horse Fair in 1857; this painting, as well as works by other important French artists, hung in Stewart's private art gallery along side his acquisition of Tait's Snowed In of 1877, depicting a dog and shepherd rescuing sheep.

Tait first went to the Adirondacks in upstate New York in 1851 in order to help his sister-in-law, who had been abandoned by his brother Augustus. Finding an abundance of fish and game in the region, he returned regularly for the rest of his life; he stayed first in the Chateaugay Lakes region. A financial dispute in 1855 and the resulting trial in 1856 made him unwelcome there, but he worked in various regions of the Adirondacks throughout his career. He sketched wildfowl and waterfowl shooting, deer hunting, and angling scenes there, while continuing to live in New York City in order to market his paintings. By the late 1850s and early 1860s Tait had regular patrons who commissioned and purchased Adirondack sporting and farm scenes. In 1858 he contributed work to the sale at the National Academy of Design in New York City for the benefit of Ranney's widow; he also helped William Sidney Mount (qv), who organized the sale, to complete paintings left uncompleted in Ranney's studio, such as Retrieving, a wingshooting scene. This sale was the foundation of the Artists Fund Society in New York City. In 1860 he moved to Morrisania, NY, and left sales in the hands of various agents. Shortly afterward Louis Prang (qv), a Boston lithographer, made reproductions of Tait's work to introduce the new process of color or chromolithography to the public (Currier & Ives lithographs were hand-colored). This was Tait's most productive period; between 1858 and 1867 he completed fifty or more paintings every year except 1862, maintaining the consistently high standard to which he worked throughout his career. In 1869 he returned to New York City, continuing to spend his summers in the Adirondacks. From 1874 to 1877 he lived full time at a house he and his wife had built at Long Lake, NY. In 1877 he began wintering again in New York City, returning there full time after his first wife's death in 1880. He continued to work, selling his paintings through dealers; commissions were less common. Most of his output during this period, which lasted until his death in 1905, involved compositions of domestic animals.

Tait was a member of the National Academy of Design in New York City. He showed at least one hundred and thirty nine exhibits between 1852 and 1905, rarely missing a year; examples included Duck Shooting-a Good Shot in 1852, Portrait of a Horse in 1853: Black Bear Hunting in Northern New York in 1856, Anxiety; Quail and Young in 1857, A Tight Fix: Bear Hunting in Early Winter in 1858, Woodcock Shooting in 1859, Fowls in 1860, Setters and Quail in 1861, Pigeon Shooting, Northern New York in 1862, Speckled American Brook Trout in 1863, The Regretted Shot in 1865, Mexican Dog in 1870, Racquette Lake in the Adirondacks in 1873, Ruffed Grouse in the Forest in 1876, Thoroughbreds in 1879, Still Hunting, Adirondacks in 1881, Little Pets in 1884, Jerseys, Orange Co., N. Y. in 1887, "Steady, Good Dog!" in 1890, "Please Let Us Out" in 1895, "Summer Time" in 1899, Maternal Anxiety in 1900, and On the Hillside, in 1904. He exhibited less frequently at the Boston (MA) Athenaeum beginning in 1851, showing Praire Scene (Discovering an Indian Trail) in 1851, The Second Shot in 1855, Arguing the Point, Settling the Presidency and The Wood and Golden Eye Duck in 1856, The Stag Hunt in 1858, and Chickens in 1864. He exhibited relatively few paintings at the Pennsylvania Academy of the Fine Arts in Philadelphia in the 1850s and 1860s, among them Duck Shooting over Decoys in 1856 and Quail and Young in 1864. At the Art Institute of Chicago (IL) he showed his An Unexpected Surprise in 1888 and Coming Home in 1900; in 1891 he exhibited his Going to Pasture at the Boston (MA) Art Club. He also exhibited at the Philadelphia Art Club and the Brooklyn (NY) Art Association. Tait's Landscape with Cows, dated 1867, and Coming Home, dated 1872, were included in the exhibition entitled "Man and His Kine: A Loan Exhibition Devoted to the Theme of the Cow in American Art" held at the DeCordova Museum in Lincoln, MA, in 1972. Bear Hunt: A Tight Fix, 1856, a painting of a hunter confronting a bear, armed only with a knife, was in the exhibition of the Richard Manoogian collection at the National Gallery of Art in Washington, DC, in 1989. Many examples of the artist's work are reproduced in Arthur Fitzwilliam Tait: Artist in the Adirondacks, a volume comprising a biography by Warder H. Cadbury, a professor at the State University of New York at Albany, and a catalogue raisonné by Henry F. Marsh, who based his work on Tait's checklist of paintings, which his wife, Tait's granddaughter, inherited.

Tait's Prairie Hunter: One Rubbed Out is in the Joslyn Art Museum in Omaha, NE. The Denver (CO) Art Museum has his Landscape with Deer, one of numerous treatments of that subject. The Yale University Art Gallery in New Haven, CT, has such paintings as his A Good Chance, Pointers and Quail, and American Ruffed Grouse and the Mead Art Gallery at Amherst (MA) College has his Good Dog Scotty and Adirondack Deer. His Snowed In, Dog's Head, Autumn Morning on Raquette Lake, Otter and Speckled Trout: a Natural Fisherman, and Deer, Raquette Lake, among others, are in the Adirondack Museum in Blue Mountain Lake, NY. The National Museum of Racing and Hall of Fame in Saratoga Springs, NY, has his Portrait of a Celebrated Trotting Horse and Portrait of a Dark Brown Mare. The Shelburne (VT) Museum has The Hunter's Dilemma from 1851, Mink Trapping from 1862, Young Quail from 1864, Racquette Lake (exhibited in 1873), Deer Family from 1877, and Old Pioneer: Uncle Dan and His Pets from 1878. Other institutions holding his work include the Corcoran Gallery of Art in Washington, DC; the Metropolitan Museum of Art, the Museum of the City of New York and the New-York Historical Society, all in New York City; the Pebble Hill Plantation Museum in Thomasville, GA; the Amon Carter Museum of Western Art in Fort Worth, TX; the Cleveland (OH) Museum of Art; the National Sporting Library in Middleburg, VA; the Parrish Art Museum in Southampton, NY; and the Addison Gallery of American Art at Phillips Academy in Andover, MA.

Tait died in Yonkers, NY, on 28 April 1905.
Source: http://www.roughtongalleries.com/biographies.htm http://www.redfoxfineart.com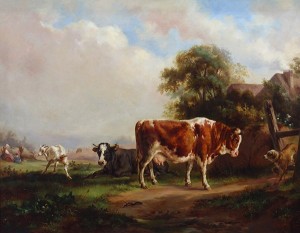 Barnyard Confrontation
(1886)
Price USD 6,000 (€5,526)
Estimated USD 7,000–10,000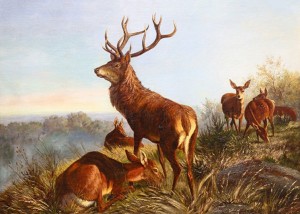 Stag With Does On The Mountain
(1886)
Price USD 19,000 (€16,925)
Estimated USD 10,000–15,000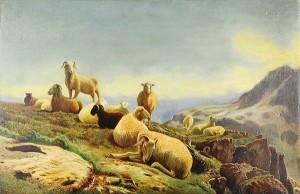 Sheep In The Meadow
(1886)
Price USD 2,500 (€2,305)
Estimated USD 4,000–6,000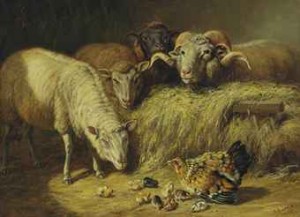 Maternal Solicitude
(-83)
Price USD 5,625 (€4,186) Incl. buyer's premium
Estimated USD 5,000–7,000