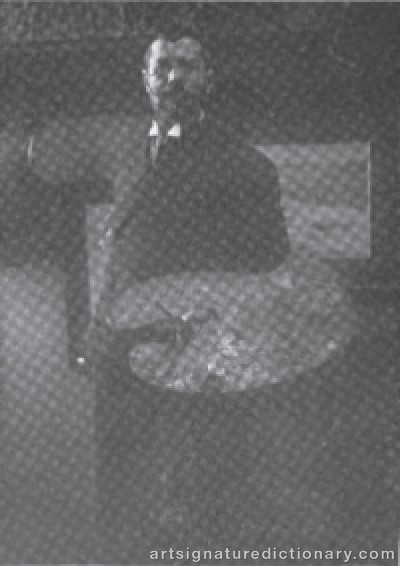 Arvid Fredrik NYHOLM
1866–1927, Sweden/USA

Verdict of guilty
0201-K387602-13
oil painting on board, motifs with women in a park, signed "Nyholm", size 30x25 cm. The painting was seized by police in a small auction house in Stockholm in autumn 2013 where it was for sale, estimated price ca. 450 euros (4000 USD). The painting has a signature that is not identical to Arvid Frederick Nyholm. On the back is a newly written biography with proviniens. The aim is to mislead potential buyers that this is a genuine work of Nyholm. Attempted fraud. During police interrogation stated the seller that he bought the painting for about three years earlier for a cheap price.
oljemålning på board, motiv med kvinnor i en park, signerad "Nyholm", storlek 30x25 cm. Målningen togs i beslag av polis hos ett mindre auktionshus i Stockholm hösten 2013 där den var till salu, utrop ca. 450 euro (4000 SEK). Målningen har en signatur som inte är identisk med Arvid Fredrik Nyholm. På baksidan finns en nyskriven biografi med proviniens. Syftet är att vilseleda eventuella köpare att detta är ett äkta verk av Nyholm. Försök till bedrägeri. Vid polisens förhör uppgav säljaren att han köpt målningen cirka tre år tidigare för en billig penning.


Name
Arvid Fredrik NYHOLM
Arvid Fredrik Nyholm was born in Stockholm and studied there at the Royal Swedish Academy of Arts and privately under impressionist master Anders Zorn. Nyholm and his wife, Amelie, immigrated to the United States in 1891. In New York, he gave art lessons and painted commissioned portraits. Nyholm was represented in the National Academy of Design's annual shows in 1897 and 1898; he also exhibited at the New York Water Color Society. In 1903, the Nyholms moved permanently to Chicago, adoptive home to numerous Swedish-born artists, including Alfred Jansson. Nyholm soon joined with several of them to found the short-lived Swedish-American Art Association, of which he was elected secretary; he also helped organize and participated in its first and only exhibition, held in 1905, at which his self-portrait (location unknown) won second prize.

Nyholm also joined the Palette and Chisel Club as well as the Chicago Society of Artists and the Chicago Water Color Club; later he was also active in other local organizations. Beginning in 1905, his works appeared almost every year in the Art Institute's annual exhibitions of works by Chicago artists, of paintings and sculpture by American artists, and of watercolor painting. Nyholm began painting portraits within the local Swedish-American community, but he quickly gained a wider reputation for his portraits and for figural works, for which family members posed; he also painted landscapes. In 1907, he traveled to Paris for further study at the Académie Colarossi and visited his former teacher Zorn in Sweden. On his return, he met Mr. and Mrs. J. S. Carpenter of Des Moines, the most prominent of several patrons through whom he received major portrait commissions. In 1912, Nyholm accompanied the Carpenters on a trip to Europe, including stays in Sweden and France. Back in Chicago, he took a studio in the Tree Studios building on the city's Near North Side.

Beginning in 1911, Nyholm was deeply involved in organizing and jurying the annual art exhibitions at the Swedish Club of Chicago, and in 1912 he won a first prize there. He also served as a juror for the Art Institute's Chicago and Vicinity and American art annuals, where he garnered a series of awards between 1915 and 1927. Maintaining his strong ties to the Swedish-American community, he was one of seven artists chosen to paint murals in the Swedish Club building in 1919. The following year, he made his final visit to Sweden, with a traveling exhibition of Swedish-American art—the first presented in his homeland—that he was instrumental in organizing. During the 1920s, commissions took the artist to New York and Philadelphia, while in Chicago he painted numerous portraits of the city's meatpacking magnates for the Saddle and Sirloin Club. His solo exhibition at the O'Brien and Jacobus Galleries in Chicago in 1925 was enthusiastically received by critics. Nyholm's reputation was at its height when the artist died of stomach cancer at age sixty-one.
Source: http://www.schwartzcollection.com/artists/arvid-nyholm http://en.wikipedia.org/wiki/Arvid_Nyholm
Arvid Fredrik Nyholm studerade vid Tekniska Skolan och Konstakademien i Stockholm, samt i Paris. Han bosatte sig i USA i slutet av 1800-talet där han målade porträtt, interiörer men även landskap.
Representerad: Nationalmuséet i Washington.
Source: Art Signature Dictionary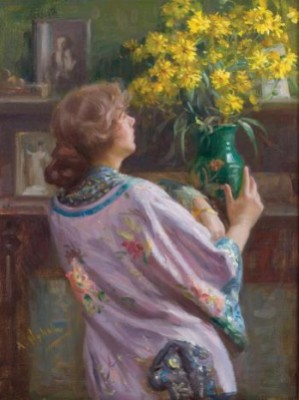 Young Woman In Kimono
Price USD 7,200 (€5,070) Incl. buyer's premium
Estimated USD 6,000–8,000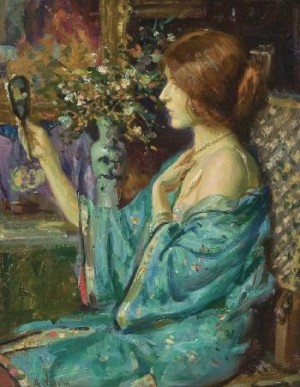 At Her Vanity
Price USD 10,800 (€7,287) Incl. buyer's premium
Estimated USD 4,000–6,000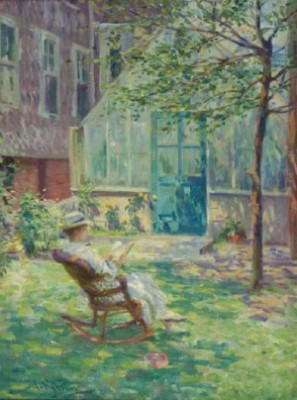 Reading By The Greenhouse
Price USD 11,000 (€8,094) Incl. buyer's premium
Estimated USD 6,000–8,000