August Emanuel 'Manne' HALLENGREN

1875, Sweden
Name
August Emanuel 'Manne' HALLENGREN
August Emanuel \"Manne\" Hallengren studied at Althin painting school in Stockholm, Arts and etching at the etching school. He has had solo exhibitions in a dozen cities in Sweden, and participated in exhibitions in Gävle and Gothenburg. His paintings have consisted of such portraits, interiors and landscapes. He has also done some etchings of landscapes.
Source: Art Signature Dictionary
August Emanuel "Manne" Hallengren studerade vid Althins målarskola i stockholm, konstakademien samt vid etsningsskolan. Han har haft separatutställningar i ett tiotal städer i Sverige samt deltagit i utställningar i bl.a. Gävle och Göteborg. Hans målningar har bestått av bl.a. porträtt, interiörbilder samt landskapsmotiv. Han har också utfört några etsningar med landskapsmotiv.
Source: Art Signature Dictionary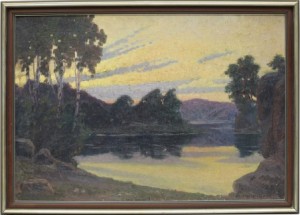 Midsommarnatt
Price SEK 550 (€58)
Estimated SEK 1,000–1,500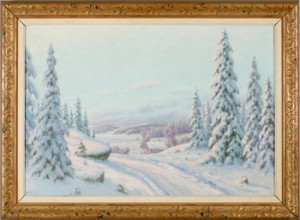 Vinterlandskap
Price SEK 450 (€48)
Estimated SEK 1,500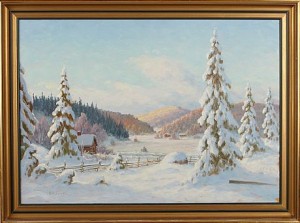 Vinterlandskap
Price SEK 750 (€82)
Estimated SEK 1,500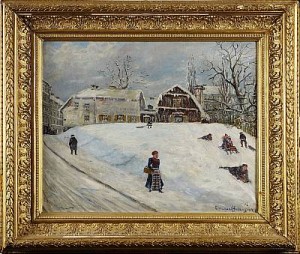 Observatoriebacken Med Drottninggatan/nortullsgatan år 1896
(1896)
Price SEK 1,500 (€171)
Estimated SEK 200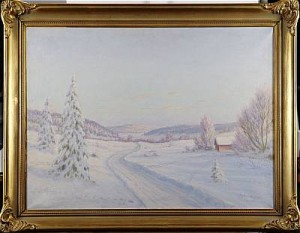 Vinterlandskap
Price SEK 1,700 (€181)
Estimated SEK 1,500