August STRINDBERG

1849–1912, Sweden
Also known as: AS

Verdict of guilty
August_0201-K222877-07
Oil on canvas, titled "Slätprick", signed "August Battle Mountain", 26x32 cm. During a search of Mr. "M.Sz." home in October 2007 was found six counterfeit artwork. An oil painting picturing Edvard Munch, this oil painting picturing August Strindberg and four artworks picturing Egon Schiele. On the reverse has been affixed an envelope from a major auction house. In the envelope was kept a book about Strindberg, which together with the handwritten text on the back of the painting leads to the impression that the painting is "Slätprick No. 19" as well as a statement from the Stockholm Chamber of Commerce where the name August Strindberg been written in with pen. Mr. M.Sz. states that he can not remember, but "probably" bought the painting in 1975 from an antique dealer in Stockholm and that he later gave a "guy" in the task of trying to sell the painting. the Court: Mr. MSZ has provided the painting with fake provenance, texts, labels, notes, and documents with the intent to make the painting appear to be genuine. Of inquiry and investigation that both the painting as a signature is not an original work of August Strindberg. The crime is serious fraud with intent to lull prospective buyers that this is an authentic works of August Strindberg. Criminal sanctions, one year in prison.
Oljemålning på duk, titel "Slätprick", signerad "August Strindberg", 26x32 cm. Vid en husrannsakan i Herr "M.Sz." bostad i oktober 2007 anträffades fem förfalskade konstverk. En oljemålning föreställande Edvard Munch, denna oljemålning föreställande August Strindberg samt fyra konstverk föreställande Egon Schiele. På baksidan av målningen har anbringats ett kuvert från ett större auktionshus. I kuvertet förvarades en bok om Strindberg som tillsammans med den handskrivna texten på målningens baksida föranleder till intrycket att målningen är "Slätpricken nr 19" samt ett besiktningsutlåtande från Stockholms Handelskammare där namnet August Strindberg skrivits in för hand. Herr M.Sz. uppger att han inte mins men "sannolikt" köpte målningen 1975 av en antikhandlare på Södermalm i Stockholm och att han senare givit en "kille" i uppdrag att försöka sälja målningen. Domstolens beslut: Herr MSz har försett målningen med förfalskad proveniens, texter, lappar etiketter och dokument med avsikten att få målningen att framstå som äkta. Av utredning och undersökning framgår att såväl målning som signatur ej är ett originalverk av August Strindberg. Brottet är grovt bedrägeri i uppsåt att invagga eventuella köpare om att detta är ett äkta verk av August Strindberg. Straffpåföljd, ett års fängelse.

Verdict of guilty
C02-6-48-00/K9830-00/Beslag nr.1311-03-1027 p.24 (int.nr.24)
This painting, signed "A. Strindberg," has nothing to do with the artwork that föfattaren and painter August Strindberg performed. The motif of the sea and sky meet in a horizon has been carried out for the artist completely different way in terms of technology and color planning. The painting is not a painting of Arnold Strindberg. After Experts investigation and judgment declared that the painting not genuine. It is a forgery.
Denna målning, signerad "A. Strindberg", har ingenting med de konstverk som föfattaren och konstnären August Strindberg utförde. Motivet med hav och himmel som möts i en horisont har utförts på ett för konstnären helt avvikande sätt vad gäller teknik och färghållning. Målningen är inte heller en målning av Arnold Strindberg. Efter expertutredning och dom förklarades att målningen inte är äkta. Det är en förfalskning.













Name
Johan, August STRINDBERG
Johan August Strindberg, belonged to a known bourgeois family with cultural interests. His breakthrough as an artist came in 1924 with Gummessons exhibition in Stockholm. 1962-1963 brought his paintings attention to a touring exhibition and foreign critics considered him a pioneer of abstract painting. In addition to his writing and painting, he was also interested in photography.
Represented: Modern museum. Nordic Museum, National Museum in Stockholm, Malmo Museum, National Museum for Kunst in Copenhagen. Strindberg Museum in Stockholm, as well as in numerous private collections.
Source: Art Signature Dictionary
Johan August Strindberg tillhörde en känd borgarfamilj med kulturella intressen. Hans far hade det nya yrket ångbåtskommissionär och var ansvarig för godstrafiken på Mälaren och Göta kanal. Modern däremot var en enkel men religiös värdshusflicka, vars pietistiska fromhet kom att påverka Strindberg under hela hans liv. Denne betonade gärna sin proletära härkomst genom modern och kallade sig Tjänstekvinnans son. August hade sju syskon.
Hans genombrott som konstnär kom år 1924 hos Gummessons utställning i Stockholm. 1962-1963 väckte hans målningar uppmärksamhet vid en vandringsutställning och utländska kritiker ansåg honom som banbrytare för det abstrakta måleriet. Utöver sitt författarskap och måleri, var han även intresserad av fotografi.

Representerad:
Moderna muséet. Nordiska muséet, Nationalmuséet i Stockholm, Malmö Museum, Statens Museum för Kunst i Köpenhamn. Strindbergs muséet i Stockholm, samt i ett flertal privata samlingar.
Source: Art Signature Dictionary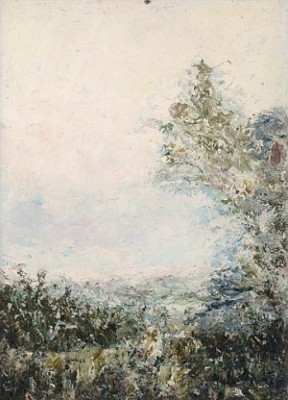 Price SEK 7,595,000 (€808,488) Incl. buyer's premium
Estimated SEK 4,000,000–5,000,000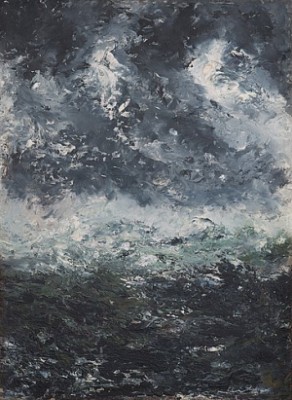 Price SEK 14,262,500 (€1,537,900) Incl. buyer's premium
Estimated SEK 5,000,000–6,000,000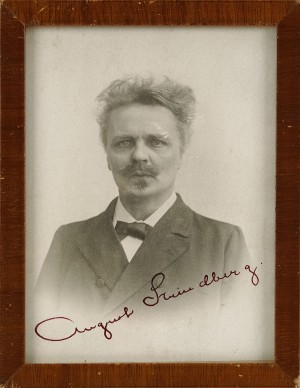 Signerat Fotografi Av Strindberg
(1897)
Price SEK 8,000 (€852)
Estimated SEK 10,000–12,000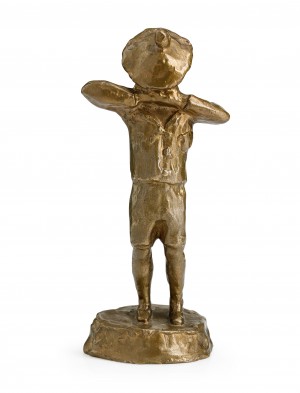 Den Gråtande Gossen (föreställande Sonen Hans Strindberg)
(Executed in 1891)
Price SEK 175,000 (€20,370)
Estimated SEK 200,000–250,000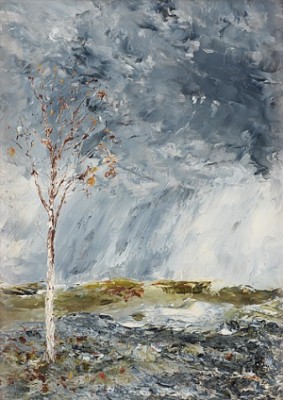 Björken I (höst)
(Executed 1902)
Price SEK 8,620,000 (€968,888) Incl. buyer's premium
Estimated SEK 4,000,000–5,000,000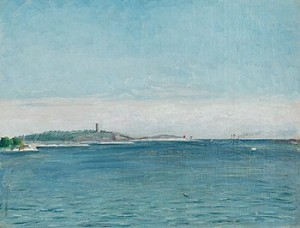 Landskap Från Sandhamn Med Korsö Fyr, 1873.
(1873)
Price SEK 860,000 (€89,363)
Estimated SEK 500,000–700,000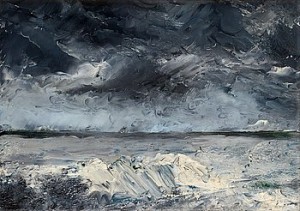 Price SEK 8,400,000 (€872,844)
Estimated SEK 3,000,000–4,000,000