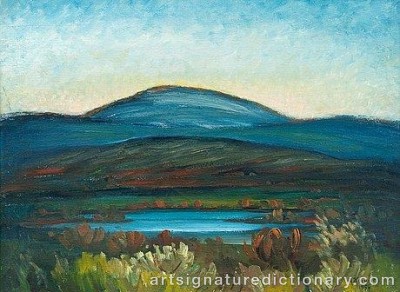 Aukusti KOIVISTO
1886–1962, Finland
Birth
1886, 11/10, Finland
Aukusti Koivisto was a Finnish painter. He began art studies at the Central School of Art and Design, now called the Industrial Arts School and the Finnish Art Society drawing school.
Source: Art Signature Dictionary
Aukusti Koivisto (11. lokakuuta 1886, Juva – 30. maaliskuuta 1962, Oulu) oli suomalainen taidemaalari. Aukustin täytettyä kaksi vuotta hänen perheensä muutti Helsinkiin, missä Aukusti kävi kansakoulun ja oppikoulun. Taideopinnot Koivisto aloitti Taideteollisuuskeskuskoulussa, joka on nykyisen Taideteollisen korkeakoulun edeltäjä. Suomen Taideyhdistyksen piirustuskoulua Koivisto kävi vuosina 1906–1908.

Aukusti Koivisto meni naimisiin Ida Maria Stoltin kanssa vuonna 1925. Heille syntyi kolme lasta: Lea vuonna 1915, Pentti 1917 ja Ritva 1924. Pentistä tuli myös taidemaalari.

Aukusti Koivisto tunnetaan erityisesti Lappi-aiheisista teoksistaan. Koivistot muuttivat Ouluun vuonna 1916 ja jo seuraavana vuonna Aukusti teki ensimmäisen matkansa Lappiin, Inariin asti. Koivisto hankki Terijoelta kaksikerroksisen hirsirakennuksen ja siirsi sen Ouluun Kansankatu 52:een. Tästä Honkalinnasta muodostui paitsi taiteilijan asunto ja ateljee myös Oulun taiteilijakeskus. Honkalinna tuhoutui Jatkosodan pommituksissa helmikuussa 1944 koelmineen. Tämä menetys koski syvästi 60-vuotiasta taiteilijaa.
Source: From Wikipedia, the free encyclopedia
Aukusti Koivisto var en finländsk målare. Han började konststudier vid Central School of Art och Design, som är den nuvarande Konstindustriella föregångaren samt Finska Konstföreningen ritskola.
Source: Art Signature Dictionary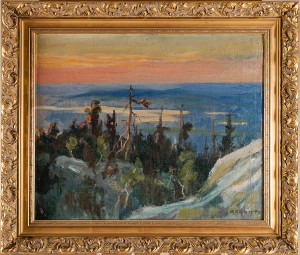 Kvällslandskap I Lappland
Price EUR 85 Not sold
Estimated EUR 200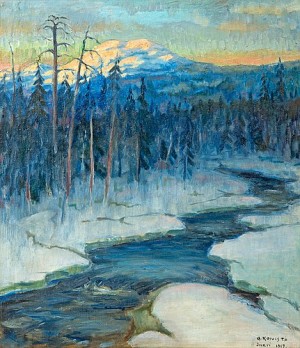 Price EUR 1,023 Incl. buyer's premium
Estimated EUR 600–800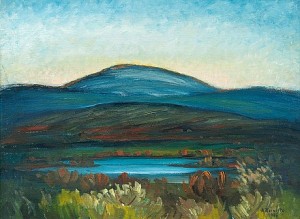 Landscape From Lapland
(1954)
Price EUR 0 Not sold, incl. buyer's premium
Estimated EUR 500