Börje VESLEN
1903–1973, Sweden
Börje Vesle studied at the Royal Academy school graphics, as well as in France. He has worked with etchings of Biblical scenes or literary content, often to their own short stories, illustrations, metaphysical and occult with strong sympathy with the oppressed.
Represented: National Museum in Stockholm, Gothenburg Museum of Art, Malmö Museum, Museum in Ottawa, Canada.
Börje Veslen studerade vid Konstakademiens grafikskola, samt i Frankrike. Han har arbetat med etsningar med bibliska motiv eller med litterärt innehåll, ofta illustrationer till egna noveller, metafysiska och ockulta med stark medkänsla med de förtryckta.

Representerad:
Nationalmuseum i Stockholm, Göteborgs Konstmuseum, Malmö Museum, museum i Ottawa, Canada.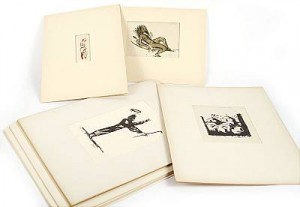 Varoerande Motiv, Grafiska Blad
Price SEK 3,000 (€308)
Estimated SEK 1,000