Benajmin 'Ben' VAUTIER

1935, Italy/France
Name
Benajmin 'Ben' VAUTIER
Ben Vautier, also known simply as Ben, is a French artist.
He lives and works in Nice, where he ran a record shop when he was young. He discovered Yves Klein and the Nouveau Réalisme in the 1950s, but he became quickly interested in the French dada artist Marcel Duchamp, the music of John Cage and joined the Fluxus artistic movement in the 1960s. He is also active in Mail-Art and is mostly known for his text-based paintings; an example of the latter is his work \"L\'art est inutile. Rentrez chez vous\" (Art is Useless, Go Home).
He has long defended the rights of minorities in all countries, and he has been influenced by the theories of François Fontan about ethnism. For example, he has defended the Occitan language (south of France), which is on the verge of extinction because speakers are shifting to French.
Source: http://en.wikipedia.org/wiki/Ben_Vautier
Benjamin Vautier, dit « Ben », est un artiste français né en 1935. Membre du groupe Fluxus, il est surtout connu pour sa peinture mais aussi ses installations et performances. Il commence sa carrière en tant que disquaire et ouvre rapidement une galerie dans sa boutique niçoise qu'il appelle « Ben doute de tout ». Son affaire rassemble alors de grandes figures de la scène artistique de Nice : César, Arman, Raysse, etc… Ben fréquente également Yves Klein et est proche des Nouveaux Réalistes. En effet, lui aussi recherche une rupture. Klein l'encourage à écrire des messages dans ses œuvres. Ben se fait connaître à la fin des années 1960, grâce à ses messages écrits sur différents supports. En 1962, il rencontre George Maciunas et intègre le groupe Fluxus. Il réalise alors des performances et écrit. Selon lui, son art est un art d'appropriation. Il expose pour la première fois à la « Cédille qui sourit », ouverte en 1966 à Villefranche. Ben rencontre, au début des années 1980, de tous jeunes artistes dont Combas, Boisrond, Di Rosa, Blanchard, etc… Une rétrospective de son travail se tient en 1996 au Musée d'Art Contemporain de Marseille. En quête permanente de nouveauté, il provoque, doute, fabrique, écrit et parle de l'art et la vie. Ben travaille encore aujourd'hui dans la région de Nice.
Source: http://www.artprecium.com/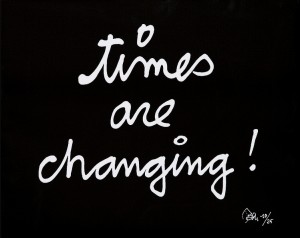 Times Are Changing!
Price EUR 480
Estimated EUR 600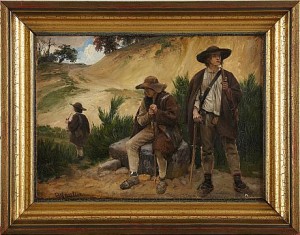 Bondefolk
Price SEK 6,200 (€700) Not sold, incl. buyer's premium
Estimated SEK 12,000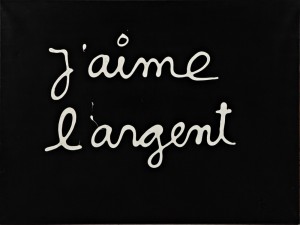 Price EUR 8,000
Estimated EUR 6,000–8,000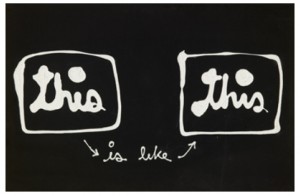 Price SEK 32,000 (€3,059)
Estimated SEK 20,000–25,000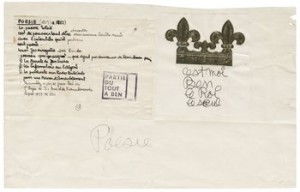 Poesie
Price SEK 5,500 (€526)
Estimated SEK 8,000–10,000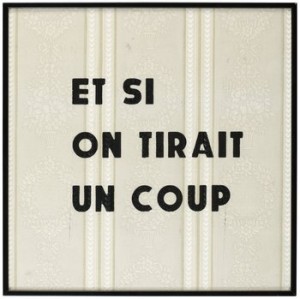 Et Si On Tirait Un Coup
(c. 1966)
Price SEK 26,000 (€2,487)
Estimated SEK 20,000–25,000