Bernhard OSCARSSON

1894–1977, Sweden
Name
Lars Oskar, Bernhard, OSCARSSON
Bernhard Oscarsson studied at Caleb Althin painting school and the Art Academy in Stockholm, and undertook study tours to Spain, Italy, France, Holland and Germany. He has painted portraits, nude, genre and coastal motifs with fishermen, urban images, as well as small fine landscape with motifs from the Stockholm area.


Source: Art Signature Dictionary
Bernhard Oscarsson studerade vid Caleb Althins målarskola och Konstakademien i Stockholm, samt företog studieresor till Spanien, Italien, Frankrike, Holland och Tyskland. Han har målat porträtt, naket, genre och kustmotiv med fiskare, stadsbilder, samt små fina landskap med motiv från stockholmstrakten.
Representerad:
Eskilstuna museum, samt i kulturhistoriska muséet i Sofia.

Source: Art Signature Dictionary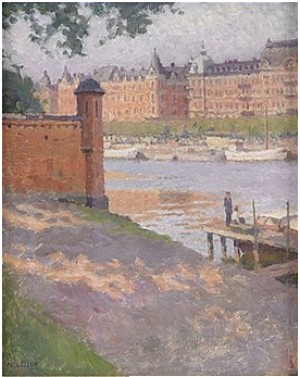 Utsikt Mot Strandvägen
Price SEK 13,000 (€1,435)
Estimated SEK 8,000–10,000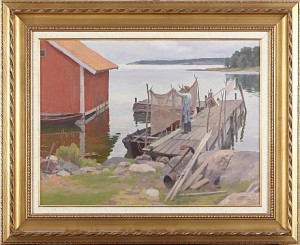 Price SEK 3,000 (€338)
Estimated SEK 3,000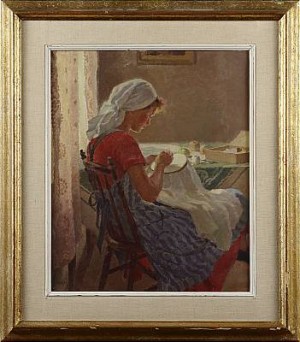 Broderande Kvinna
Price SEK 1,700 (€184)
Estimated SEK 1,500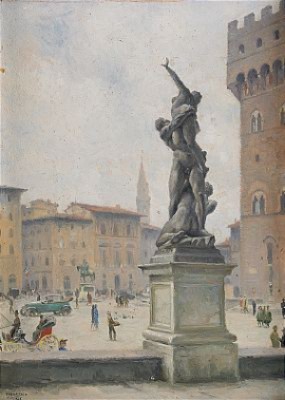 Piazza Della Signorina - Florens
(1931)
Price SEK 6,000 (€625)
Estimated SEK 8,000–10,000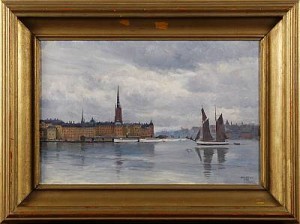 Utsikt Mot Riddarholmen - Stockholm
(1932)
Price SEK 6,000 (€617)
Estimated SEK 3,000
Stockholmsvy Mot Skeppsholmen - I Fonden Strandvägen
Price SEK 19,000 (€1,817)
Estimated SEK 10,000–12,000
Marint Motiv
Price SEK 2,200 (€212)
Estimated SEK 2,000
Price SEK 1,700 (€167)
Estimated SEK 2,000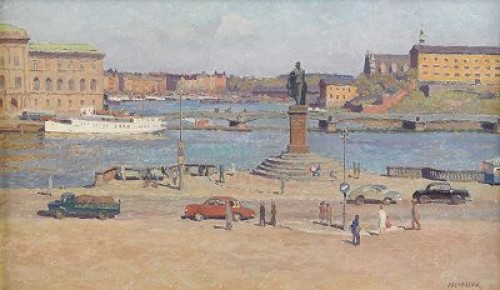 Utsikt Från Slottsbacken Med Strandvägen I Fonden - Stockholm
Price SEK 9,500 (€896)
Estimated SEK 8,000–10,000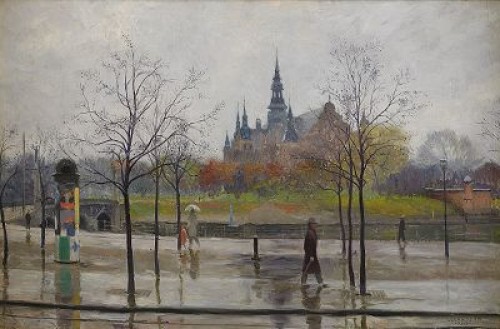 Utsikt Från Strandvägen Mot Nordiska Museet - Stockholm
(1930)
Price SEK 28,000 (€2,640)
Estimated SEK 18,000–20,000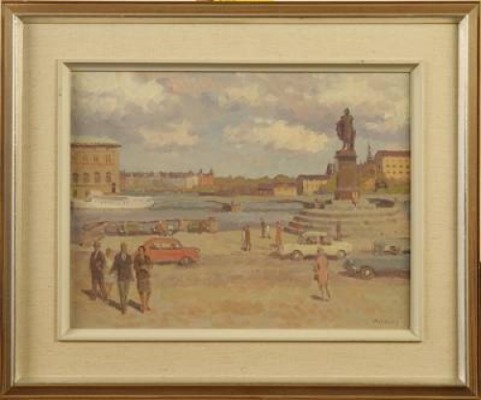 Slottsbacken
Price SEK 3,500 (€336)
Estimated SEK 4,000