Bertil ALMLÖF
1930, Sweden
Bertil Almlöf studied at the Art School Valand. He works in oil but also with graphics.
Represented: Modern Museum of Stockholm, National Museum of Stockholm, Gothenburg Museum of Art, Norrköping Art Museum, county museums in Linköping and Jönköping, Borås Art Museum, Sundsvall Museum, Musée Salvador Allende of Chile.
Bertil Almlöf studerade vid Valands Konstskola. Han arbetar i olja men även med grafik.

Separatutställningar: Lilla Galleriet Stockholm 1962, Länsmuséet i Linköping 1963, 1973, 1984, De Unga Stockholm 1966, Galleri Prisma Stockholm 1969, Galleri Doktor Glas Stockholm 1971, Konstnärshusets Grafikgrupp Stockholm 1975, 1982, Konstnärshuset 1979, 1985, Sundsvalls Museum 1985, Galleri Lucidor Stockholm 1988, Konstakademien Stockholm 1991 m fl.
Internationella grafikutställningar: Krakow 1970, Paris 1971, Kuba 1974, Grenchen 1976, Florens (svensk representant) 1978, Biella Italien 1980, Xylon Wien 1982, Konstnärshusets grafikgrupp: Moskva 1983, Riga, Tallin, Leningrad 1986, USA 1988 m fl.

Offentliga arbeten: Brunnaskolan Botkyrka 1973, Rydskolan Linköping 1977, Tumba sjukhus 1977, Märsta sjukhem 1980, Råsslaskolan Krokek 1980, Södertälje sjukhus 1982, Löwenströmska sjukhuset Upplands-Väsby 1985, Vrinnevi sjukhus Norrköping 1987, Hälsouniversitetet Linköping 1987, HSB-bostadsrättsföreningen Akacian Motala 1991, Karolinska sjukhuset Stockholm 1992, Tekniska Verken Linköping 1994.

Representerad: Moderna museet Stockholm, Nationalmuseum Stockholm, Göteborgs konstmuseum, Norrköpings konstmuseum, Länsmuséerna i Linköping och Jönköping, Borås Konstmuseum, Sundsvalls museum, Musée Salvador Allende Chile.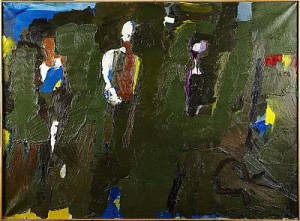 Price SEK 1,700 (€190)
Estimated SEK 2,500