Bertil VALLIEN
1938, Sweden
Name
Erik, Bertil, VALLIEN
-1938. On the brink of a second World War. In Sweden, the initial steps were being taken towards social equalisation - what came to be known as the People's Home. On January 17th Nils and Astrid Wallin's son, Bertil was born.

Bertil Wallin, and his six siblings grew up in a devoutly religious home, in a residential suburban area north of Stockholm. Their father had broken away from the Pentecostal Church in the 1950s, to form a community of his own, The Prayer Society. Prayer meetings were often held in the home. Bertil found the strictures of religion conflicting.

-I rejected the things I was taught as a child, Bertil relates. That particular kind of free church religiosity - which threatened Hell and Damnation if you didn't behave, was terrifying. And the fact that certain things were considered sinful, things which to me were not in the least bit sinful. A mass of prohibitions and restraints - that limited my view of the world and my freedom. So I refused to accept it and longed to get away. But I'm older now, and perhaps slightly more humble, and I understand those questions to do with...well what?! (To me) Religion is about the important issues, Life and Death and the Life to come! And human love. The things I got from Sunday school and from my father have, I feel, come back to me, in some measure. And I'm quite grateful for it.

Bertil was only fifteen when he left home, drawn by the allure of the big city. Despite his hunger for life he was assailed by doubts: was he right to deny his father's beliefs? What was he going to be?
-I had a great need to assert myself. I come from quite a simple background, really. A working-class home, where there was very little self-awareness. There was nobody to pit oneself against, no appreciation of what I did. Apart from the fact that they loved watching me draw horses. As far as a professional life was concerned, it wasn't until I began at Konstfack (National College of Arts, Crafts and Design) - that I got some feedback and was able to match my abilities against my fellow students.

After a series of occasional jobs, as a window-dresser at one of the main department stores in Stockholm, and as an apprentice in his father's decorating firm, Bertil decided to become an artist. He was accepted for a 2-year foundation course at the National College of Arts, Crafts and Design (Konstfack), 1955. He continued his training in the Ceramics Department, under the guidance of Stig Lindberg - one of Sweden's foremost designers of ceramic art. In Gunnar Lindqvist's biography of Vallien, Bertil describes himself as "quite pompous". He was determined to succeed and spared no effort, working both by day and sometimes by night in order to achieve his goal. His efforts were rewarded.

Bertil's work at the college is influenced by Lindberg's expressive style. In his final year /1961/ he was awarded a silver medal by the Swed.Handicraft Society; he also won first prize in an inter-Nordic competition, and graduated from the college with honours.The Stockholm News notes that the Swedish king, who had shown great interest in the exhibition of students' work at the College, purchased a ceramic piece made by Bertil Wallin, and one by Ulrica Hydman. While Rebecka Tarschys, from "Design Magazine" fell for Bertil's graduation piece:"His ability to keep apart an exuberant and remarkable imagination from a more universal form required for utility artefacts is impressive; likewise a tempered ceramic bas-relief, on the theme of earth layers." He received numerous offers of work.

The Director of the Åfors factory, C-H Åfors, was eager to to take him on (Bertil had already spent a training year at the factory). His professional knowhow was sought by the Nyckelvikskolan in Stockholm (vocational school of arts and crafts), for their summer course in ceramics; and a certain Hal Fromhold , in America, wished to engage his services without delay.

He accepted the offer from Nyckelvik, leaving in September for the US - where the Hal Framholdt Ceramics awaited in downtown Los Angeles.
-Världen stod inför ännu ett blodigt världskrig. I Sverige togs de första stegen mot en social utjämning i samhället - något som senare skulle få namnet folkhemmet. Yrkesmålaren och egenföretagaren Nils Wallin och hans hustru Astrid fick den 17 januari 1938 en son: Bertil.

Familjen Wallin bodde i villaförorten Sollentuna norr om Stockholm. Nils kom från Upplands-Tuna och Astrid var uppvuxen i Ramnäs i Västmanland. Bertil och hans sex syskon uppfostrades i en sträng religiös anda. Nils var djupt troende och aktiv i pingströrelsen. Under 1950-talet bröt han sig dock loss från pingstkyrkan för att bilda ett eget samfund, Böneförsamlingen. Många möten hölls i hemmet. För Bertil innebar det religiösa tvånget en konflikt:

- Jag förnekade de budskap jag matades med som barn, berättar Bertil. Den typen av frireligiösa budskap var skrämmande att bli påpekad att man kunde komma till helvetet om man inte skötte sig. Ja, att vissa saker var synd, som jag tyckte var fullständigt orimligt att det skulle vara en synd. Väldigt mycket begränsningar - begränsade mycket mitt sätt att se på livet och min frihet. Så jag förnekade och förkastade det, och ville bort från det. Men nu är jag äldre och kanske lite mer ödmjukare, så förstår jag ändå de där frågorna som har att göra med.... men vad då?! Religion handlar om liv och död och livet efter detta! Den handlar om de stora frågorna. Och om kärlek mellan människor. Jag tror att det jag ändå fick i mig i söndagsskolan och ifrån pappa kommer tillbaka på något sätt. Det är jag lite tacksam för.

Bertil lämnade tidigt föräldrahemmet. Han var 15 år och staden lockade.Trots sin stora aptit på livet drabbades Bertil av tvivel. Gjorde han rätt att förneka sin pappas budskap? Vad skulle han bli?

- Jag hade en vilja att hävda mig. Jag kommer från en ganska okulturell miljö- ett arbetarhem, där man inte visste var man gick för. Det fanns ingen sparringpartner, ingen som värderade det jag gjorde. Utom att de älskade se när jag ritade hästar. Men när det gällde ett proffsigt liv var det först på Konstfack som jag fick motstånd och fick pröva hur man gick med sina kurskamrater. Konstfack på den tiden var en överklasskola

Efter diverse ströjobb som dekoratör på varuhuset PUB och målarlärling på sin pappas firma bestämnde sig Bertil för att bli konstnär. Han sökte och kom in på en förberedande utbildning på Konstfack 1955. Efter två års studier valde Bertil att gå vidare i keramikfacket. Där fick han Stig Lindberg som huvudlärare, en portalgestal i svensk keramikformgivning. I Gunnar Lindqvists bok om honom beskrev han sig själv som stöddig under studieåren. Han jobbade dag och natt för att bli bäst och det gav resultat.

Bertils Konstfacksarbeten bar också spår av Lindbergs uttrycksfulla stil. När han gick ut sommaren 1961 hade Bertil erövrat Slöjdföreningens silvermedalj plus 1000 kr och vunnit en tävling mellan Nordens konstfacksskolor. Dessutom fick han nästan full pott i sina betyg. Om examensutställningen skrev Stockholms-Tidningen den 17 maj 1961: "Kungen besökte på tisdagseftermiddagen utställningen. Under en och en halv timme studerade han med intresse de olika avdelningarna. På keramikavdelningen köpte kungen två pjäser, en av Bernt Wallin och en av Ulrica Hydman." Rebecka Tarchys från tidskriften Form föll för Bertils examensarbete: "Förmågan att hålla isär en frodig och särpräglad fantasi från kravet på allmängiltig form för bruksvaran imponerade, liksom ett lugnt keramiskt väggbeklädnadsmaterial gjort på jordavlagringarnas formtema."

Jobberbjudanden saknades heller inte: Åfors Glasbruks platschef Carl-Henric Åfors ville anställa honom (där han varit året innan på praktik och gjort modeller), hans kunskaper efterfrågades av Nyckelviksskolans sommarkurs i keramik och en viss Hal Fromhold önskade Wallins tjänster genast.

Han antog Nyckelviksskolans lärarerbjudande men i september drog han till USA. I Los Angeles väntade Hal Framholdt Ceramics, med säte i det ruffiga downtown.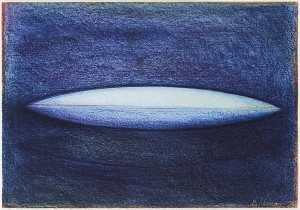 Blå Båt Mot Blå Fond
Price SEK 2,000 (€218)
Estimated SEK 4,000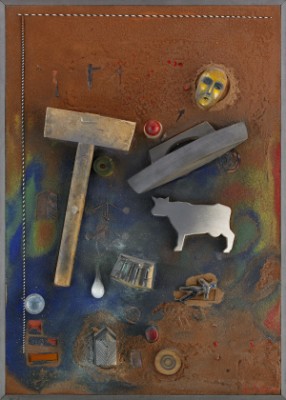 Väggrelief, Kosta
Price SEK 6,000 (€699)
Estimated SEK 8,000–10,000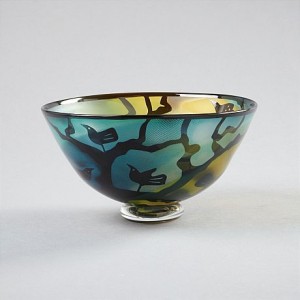 Price SEK 5,800 (€670)
Estimated SEK 2,500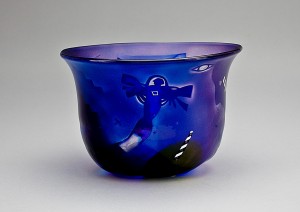 Skål Glas, Bertil Vallien, Kosta Boda
Price SEK 3,100 (€334)
Estimated SEK 4,000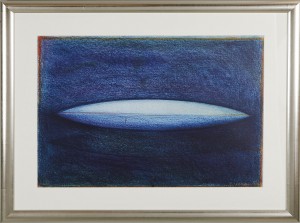 Composition
Price SEK 3,000 (€323)
Estimated SEK 2,000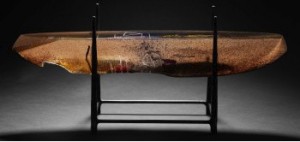 Båt
Price SEK 20,000 (€2,249)
Estimated SEK 10,000–12,000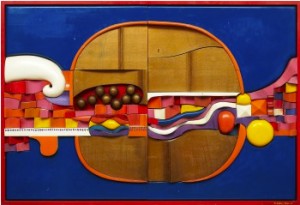 Price SEK 9,500 (€1,068)
Estimated SEK 12,000–15,000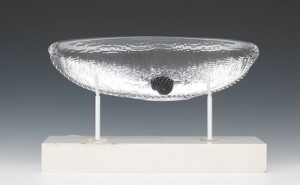 Untitled, Glass Sculpture In The Shape Of A Boat
Price USD 546 (€396)
Estimated USD 800–1,200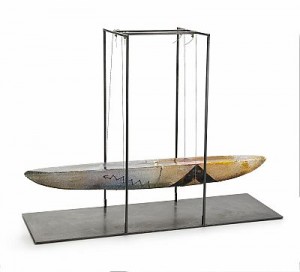 Voyage", Skulptur, Kosta 1988, Sandgjuten I Form Av En Båt, Polykrom Insmält Dekor
(1988)
Price SEK 39,000 (€4,354)
Estimated SEK 45,000–50,000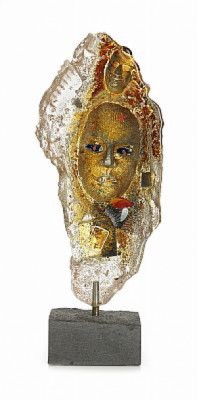 Skulptur, Kosta, Sandgjuten, Bärnstensfärgad Glasmassa Med Polykrom Ingjutet Objekt
Price SEK 14,000 (€1,563)
Estimated SEK 18,000–20,000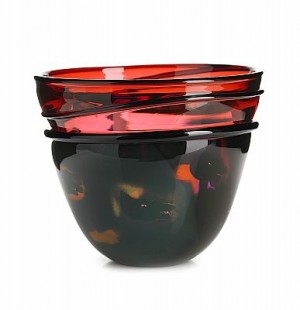 Skål, Kosta 1986, Graalteknik, Dekor Av Varulvar I Mörkgrönt Mot Röd Fond
(1986)
Price SEK 5,000 (€558)
Estimated SEK 6,000–8,000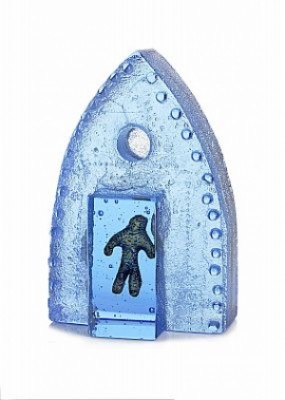 Skulptur, Kosta 2008, Blå Glasmassa Med Dekor Av Insmält Objekt
(2008)
Price SEK 4,000 (€447)
Estimated SEK 6,000–8,000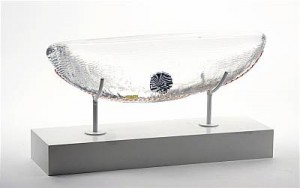 Crystal Fantasy, I Form Av Båt
(ca 1980)
Price SEK 4,500 (€478)
Estimated SEK 2,500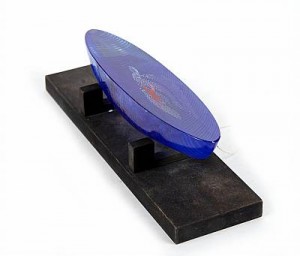 Båt
Price SEK 2,000 (€206)
Estimated SEK 2,000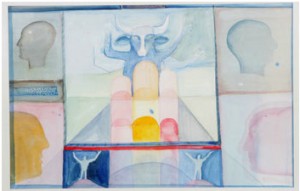 Komposition Med Tjur
Price SEK 1,800 (€176)
Estimated SEK 1,000–2,000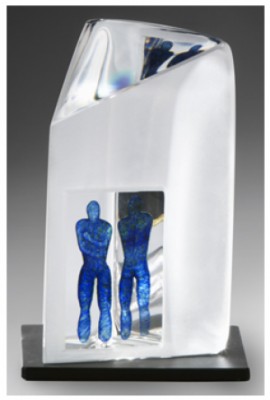 Glas Sculpture
Price SEK 4,800 (€459)
Estimated SEK 4,000–5,000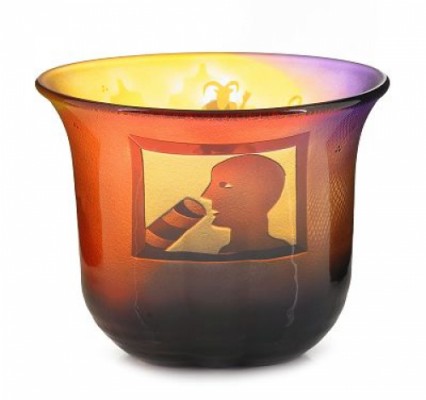 Price SEK 7,000 (€654)
Estimated SEK 6,000–8,000