Bo Erik 'Bo E.' LUNDQVIST
1934, Sweden
Also known as: BOLQT, Lundquist
Name
Bo Erik 'Bo E.' LUNDQVIST
Erik Bo Lundqvist studied at College of Art in Stockholm and Royal Academy of Painting Watercolour in London. He works with oil, watercolor, acrylic, lithography and silk screening in mixed media. His paintings are characterized by realistic objects in a surrealistic style with mixed media, collage where also included.
Source: Art Signature Dictionary
Bo Erik Lundqvist studerade på Konstfackskolan i Stockholm och Royal Academy of Water Colour Painting i London. Han arbetar med olja, akvarell, akryl, litografi och serigrafi i blandteknik. Verken karakteriseras av realistiska objekt i en surrealistisk stil med blandteknik, där även collage ingår.
Utställningar:
Galleri Norrland, Östersund 1962.
Amsterdam, 1968.
Aguelimuseét, Sala 1973.
Gruvmuseét, Falun 1975.
Galleri Artegrafica, Helsingfors 1982.
Galleri Balder, Västerås 1983.
Landes Kulturcentrum, Linz 1984.
Beam Gallery, San Fransisco 1985.
Beam Gallery, Seattle 1985.
Plesner, Skagen, 1986.
Galleri Futura, Stockholm, 1989.
American Scandinavian Foundation, New York, 1989.
Cirkus, Stockholm, 1990.
Haugesunds Museum, Norge, 1992.
Rättviks Kulturhus, 1996.
Stora Kopparbergs Museum, Falun, 1996.
Galleri ArtDiana, Helsingfors, 1998.
Svenska Konsulatet, Nice, 2001.
Galerie Bel\\\\\\\\\\\\\\\'Art, Stockholm, 2002.

Offentlig utsmyckning:
Altarmålning i St Mikaelskyrkan Södertälje Stadskyrka. Entréhallen, Rättviks kulturhus, Systembolaget Göteborg, Monumentalmålningar Svenska Phillips, Målningar, grafik samt konstkalender. Systembolaget, Kampanj. Svenska Tobaksbolaget: Målningar i samband med "New Sweden", Delaware. American Express Building N.Y., Kommundata: Målning och grafik, Vårt nya samhälle. Timbro Förlag: Målning för Paul Johnsons "Moderna Tider". SSAB, Borlänge, ABB Intern, EU's rådsbyggnad, Bryssel. Ljungbergsgruppen, Stockholm. Brain Heart Capital, Stockholm. American Express Building N.Y., Barclay\\\\\\\\\\\\\\\'s Bank, Siemens i Munchen, Finska Riksbanken, Forsmarks Kraftgrupp, Spendrups Bryggeri, Telia, FR, SAS/Linjeflyg, Gjorde bilder till Whitbread Around World Race 1993-1994.
Source: Art Signature Dictionary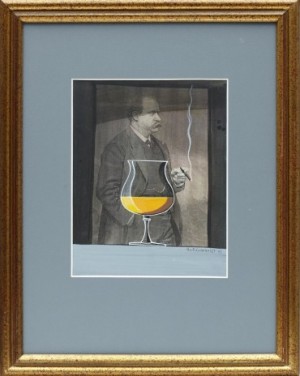 Komposition Med Cognac
(-03)
Price SEK 550 (€58)
Estimated SEK 1,000–1,500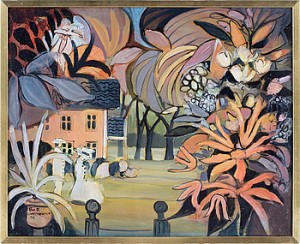 Motiv Av Trädgård Med Hus Och Figurer
(-78)
Price SEK 1,000 (€122)
Estimated SEK 4,000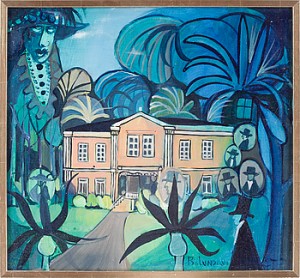 Motiv Av Surrealistisk Trädgård Med Svävande Porträtt
Price SEK 1,000 (€122)
Estimated SEK 3,000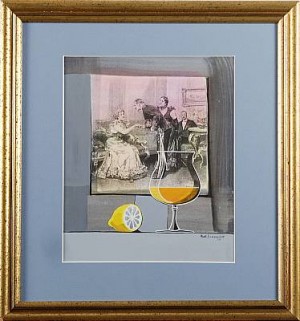 Price SEK 750 (€76)
Estimated SEK 1,000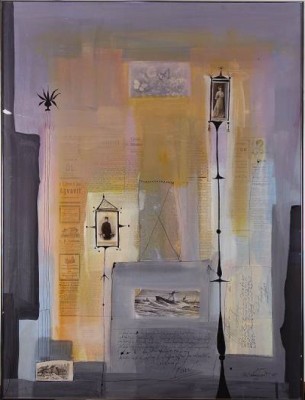 Price SEK 2,600 (€250)
Estimated SEK 3,000