Britt LUNDBOHM-REUTERSVÄRD
1917–2001, Sweden
Name
Britt LUNDBOHM-REUTERSVÄRD
Britt Lundbohm-Reutersvärd, (born Lundbohm). She was an artist who pioneered in Sweden where she was inspired by the early Jackson Pollock\'s \"splash\" paintings. During the latter part of her artistic career she painted figurative images with political and social engagement. She was from 1939 married Oscar Reutersvärd (1915-2002) professor, art historian and artist.
Represented: National Museum in Stockholm, Moderna Museet, Stockholm, Nasjonalgalleriet in Oslo, Malmo Museum, Ystad Art Museum, Norrköping Museum, Museum of Modern Art in Tokyo, and the Museum of Art in Osaka.
Source: Internet
Britt Lundbohm-Reutersvärd, (född Lundbohm). Hon var som konstnär pionjär i Sverige då hon tidigt inspirerader av Jackson Pollocks \"stänk\"-måleri. Hennes utställning på Lilla Paviljongen i Stockholm 1956 anses markerar spontanismens debut i vårt land. Under den senare delen av hennes konstnärsbana målade hon figurativa bilder med politiskt och socialt engagemang. Hon var från 1939 gift med Oscar Reutersvärd (1915-2002) professor, konsthistoriker och konstnär.

Representerad:
Nationalmuseum i Stockholm, Moderna Muséet i Stockholm, Nasjonalgalleriet i Oslo, Malmö Museum, Ystads konstmuseum, Norrköpings museum, Muséet för modern konst i Tokyo, samt Konstmuséet i Osaka.
Source: Internet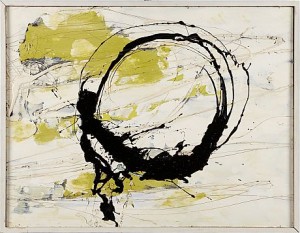 Price SEK 6,400 (€757)
Estimated SEK 8,000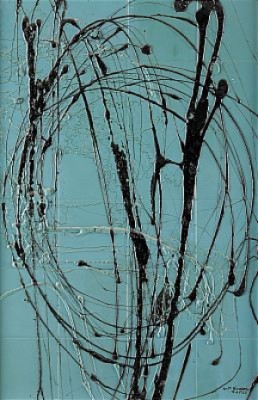 Price SEK 12,000 (€1,198)
Estimated SEK 2,000–3,000