Carl-Erik BILLESTRÖM
1920, Sweden
Name
Carl-Erik BILLESTRÖM
Carl-Erik Billeström studied at the Art Academy in Stockholm for Signe Barth, at the National College of Art in Sweden and he has undertaken missions in Europe. In summer he often visited the North Cape of \"Jylland\" in Denmark. However most of the years he spent the studio of Hans-Ersgård in Ljusdal, Sweden.

Source: Composed of a variety of sources from the internet.
Carl-Erik Billeström var en bildkonstnär född 1920 i Gällivare.
Han studerade för Signe Barth, vid Konstakademien i Stockholm, samt Konstfackskolan och i norra Europa. Han har i olja målat figurkompositioner, ofta i interiör, samt stadsvyer.
Carl-Erik Billeström var en humanist med pensel i hand. Människan var det viktigaste i hans måleri, människan och naturen. På sina dukar strävade han efter att smälta samman färg och ljus till en harmonisk helhet. Hans konst kan påminna lite om de gamla skagenmålarnas verk, och sommartid befann hann sig mycket riktigt med staffliet bland dynorna vid Jyllands nordkap. Större delen av året tillbringade han dock i ateljén i Hans-Ersgården i Ljusdal, en kulturminnesmärkt gård med anor från 1600-talet.
Source: http://ljusdal.se/invanare/kultur/kultureniljusdal/konstvandring/skenutflykt14/carlerikbillestrom.4.5e5bffab121d04bdd7f80001097.html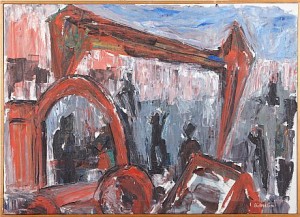 Klarakvarter
Price SEK 350 (€39)
Estimated SEK 1,500