Carl PALME
1879–1960, Sweden
Also known as: CP
Carl Palmer was the first Swedish artist who studied with Henri Matisse, 1908 at Slade\'s School of Art in London. He studied at the Art Academy in Munich and then at Vasily Kandinsky painting school. When he came in contact with Emil Olrik in Berlin in 1914 changed his work to the color woodcut process. Besides his work with monotopier of color woodblock prints, he also painted romantic landscapes in oil and tempera.
Represented: National Museum in Stockholm, Moderna Museet in Stockholm, Gothenburg Museum of Art, Malmö Museum, Norrköping, Linköping and Karlstad museums, Prince Eugen Waldemarsudde, in Warsaw and New York.
Carl Palme var den första svenske eleven för Henri Matisse 1908 vid Slade\'s School of Art i London. Han studerade vid Konstakademien i München och därefter vid Vasilij Kandinskijs målarskola. När han kom i kontakt med Emil Olrik i Berlin 1914 förändrades hans arbeten till färgträsnittsförfarande. Förutom sina arbeten med monotopier i färgträsnitt har han även målat romantiska landskap i olja och tempera.
Representerad:
Nationalmuseum i Stockholm, Moderna Muséet i Stockholm, Göteborgs Konstmuseum, Malmö Museum, Norrköpings, Linköpings och Karlstads muséer, Prins Eugens Waldemarsudde, i Warschau och New York.
Källa: Internet
-------------
Carl Palme var son till grundaren av Djursholms Villastad, bankdirektören Henrik Palme, och barndomshemmet Svalnäs är idag Blomsterfondens gästhem/äldreboende. Carl Palme valde tidigt konstnärsbanan och studerade redan i början av 1900-talet i London vid Slade School of Fine Art och reste därefter till München där han skrev in sig vid Vasilij Kandinskijs målarskola. Till Paris kom Palme redan 1907och fick snabbt god kontakt med Matisse mycket tack vare att han redan som liten lärt sig franska. Palme blev Matisse första svenska elev och han var också den som tog initiativ till och påverkade mästaren att starta Académie Matisse, en målarskola dit framförallt svenska och norska konstnärer sökte. Innan första världskrigets utbrott besökte Palme ofta Positano nära Neapel där han målade intensivt. 1914 övergick han alltmer till att producera färgträsnitt, han skar ut sina motiv i mahogny, lind, päron och körsbärsträ - en stock för varje färg, ofta fem färger, ibland upp till tolv färger. I målningen "Solfläckar",d aterad 1910 briljerar han med sitt Matisse-påverkade måleri när han fångar sin första hustru Anna på promenad.
Källa: Bukowskis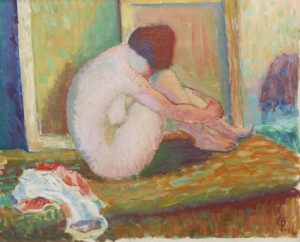 Price SEK 16,000 (€1,838)
Estimated SEK 15,000–18,000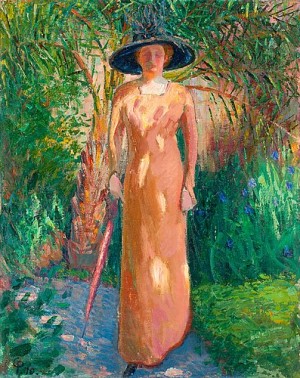 "solfläckar" (porträtt Av Konstnärens Första Hustru Anna Uggla).
(-10)
Price SEK 40,800 (€4,728)
Estimated SEK 40,000–50,000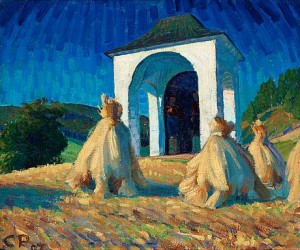 Kapell Bland Sädeskylar
(-07)
Price SEK 8,000 (€864)
Estimated SEK 15,000–20,000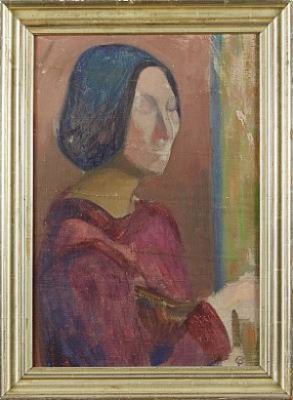 Skådespelerska I München
(1902)
Price SEK 7,500 (€782)
Estimated SEK 1,500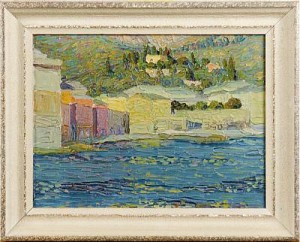 ( Tillskriven) Italienskt Landskap
Price SEK 9,000 (€863)
Estimated SEK 4,000