Carl RYD

1883–1958, Sweden
Carl Ryd studied at the Fine Arts in Gothenburg for Carl Wilhelmsson and at the Artist League\'s painting school in Stockholm for Karl Nordstrom, and a shorter time for Matisse in Paris. He was a teacher of Fine Arts from 1919 to 1920. He was an admirer of Gustave Courbet and Pierre-Auguste Renoir. He painted realistic and lyrical landscapes and winter designs from Småland, southern Sweden and Öland.
Represented: National Museum in Stockholm, Moderna Museet in Stockholm, in the Thiel Gallery, Art Museum of Gothenburg, Malmo Museum, Museum in Växjö, Ystad, Kalmar, Gävle, Norrköping, Hudiksvall, Statens Museum for Kunst in Copenhagen and the National Gallery in Oslo.
Source: Internet
Carl Ryd studerade vid Valand i Göteborg för Carl Wilhelmsson och vid Konstnärsförbundets målarskola i Stockholm för Karl Nordström samt en kortare tid för Matisse i Paris. Han var lärare på Valand 1919-1920. Han var en beundrare av Gustave Courbet och Pierre-Auguste Renoir. Han målade realistiskta och lyriska landskap och vintermotiv från Småland, Skåne och Öland.

Utställningar:
Konstnärsförbundets utställning, De Unga på Hallins Konsthandel i Stockholm, Göteborgs Konsthall.

Representerad:
Nationalmuseum i Stockholm, Moderna Muséet i Stockholm, i Thielska galleriet, Göteborgs Konstmuseum, Malmö Museum, museum i Växjö, Ystad, Kalmar, Gävle, Norrköping, Hudiksvall, Statens Museum för Kunst i Köpenhamn och Nasjonalgalleriet i Oslo.
Source: Internet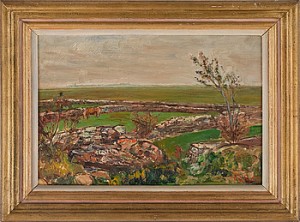 Gråväder. Borgby, öland
(-37)
Price SEK 4,100 (€493)
Estimated SEK 2,000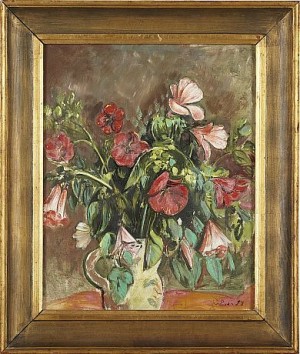 Price SEK 2,400 (€277)
Estimated SEK 2,000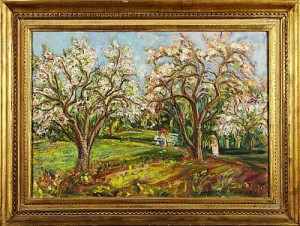 Motiv Kungälvs Kungsträdgård
Price SEK 4,500 (€482)
Estimated SEK 2,000