Carsten HVISTENDAHL
1901–1972, Sweden
Name
Carsten Jean Olof HVISTENDAHL
Carsten Hvistendahl studied at the Fine Arts in Gothenburg, the Art Academy in Stockholm, and Paris. He has painted portraits and figurative motifs, large panoramic coastal and mountain scenery advantageous in a bright color scheme.
Represented: Göteborg Museum of Art. Eva, Gävle Museum, from Fjällbacka archipelago, Moderna Museet, Stockholm.
Source: Internet
Carsten Hvistendahl studerat på Valand i Göteborg, Konstakademien i Stockholm, samt i Paris. Han har målat porträtt och figurmotiv, stora panoramaaktiga kust och fjällandskap i en ljus färgskala.

Offentlig utsmyckning:
Väggmålningar i studentkårens hus i Göteborg och i skolor, målningar i Folkets Hus och Thordénrederiet i Uddevalla, i en hyresfastighet i Göteborg gjorde han en mosaik med Fläskömotiv 1960, två mosaiker i det nybyggda Radiohuset i Stockholm 1961. Motiven är Bogen och en fantasibild från skärgården, ett koncentrat av minnesbilder. Hans sätt att uppdela ytorna i markerade färgplan låter sig väl överföras till mosaik där materialet var Bohussten och italienskt glas.

Representerad:
Göteborgs Konstmuseum. Eva, Gävle museum, från Fjällbacka skärgård, Moderna Muséet i Stockholm.
Source: Internet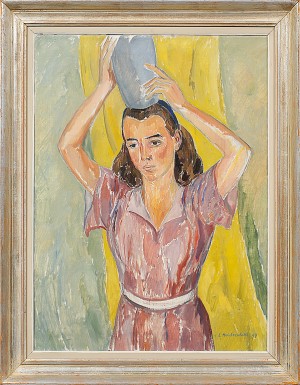 Price SEK 550 (€58)
Estimated SEK 1,500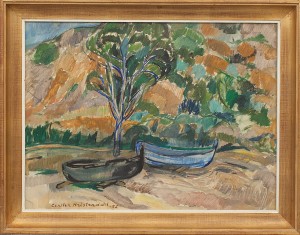 Tossa De Mar Costa Brava, Spanien
(-52)
Price SEK 1,000 (€108)
Estimated SEK 2,000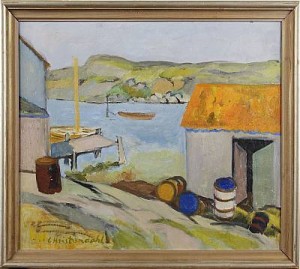 Kustlandskap
Price SEK 1,400 (€146)
Estimated SEK 1,500