Christophe FRATIN
1800–1864, France
Fratin was born in Metz, France in 1800.

The son of a taxidermist, Fratin learned animal anatomy from childhood. This understanding of his subjects gave his models superb realism. He worked predominantly with domesticated animals. Fratin's formal study began with Pioche in Metz. Soon he moved to Paris to work under Gericault a colleague of Delacroix. He exhibited at the Paris Salon from 1831 - 1842 and again from 1850 - 1962. He used the founders Susse Freres during the 1830's and later Quesnel and Daubre in Paris and the Coalbrookdale Company in England.

As one of the most inventive of 'Les Animaliers' sculptors, he was well-known for his humorous models of bears and monkeys. His sculpture is generally small in scale as 'cabinet' works were popular at the time. Large Walking Stag with Fox is one of the artist's biggest models yet still retains the attention to detail for which 'Les Animaliers' were known. Furthermore, underlining his habit of including humorous detail, Fratin has incorporated a fox slyly peering out from its earth beneath the stag's hind legs.

Examples of his work are in the collections of the Museum in Metz; the Wallace Collection in London, England; the Peabody Institute in Baltimore, MD; and Eisler Collection in Vienna, Austria. Also, a large grouping, Two Eagles and Prey, is on display in Central Park, New York City.

Fratin died in Raincy, France in 1864.


Source: http://www.redfoxfineart.com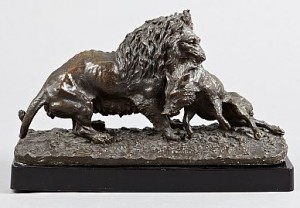 Lejon Och Vildsvin
Price SEK 0 (€0) Not sold
Estimated SEK 10,000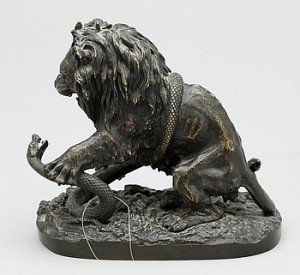 Föreställande Lejon Med Orm, Kopia Efter
(1835)
Price SEK 3,701 (€445)
Estimated SEK 3,000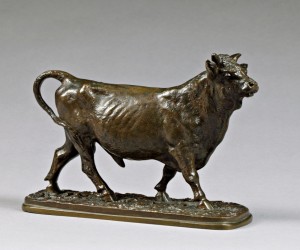 Taureau
Price EUR 1,200
Estimated EUR 1,200–1,400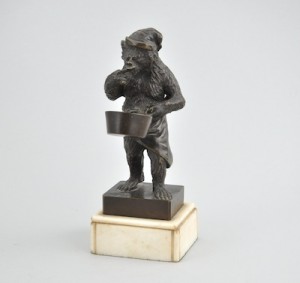 Bear
Price USD 3,910 (€2,737)
Estimated USD 2,500–3,500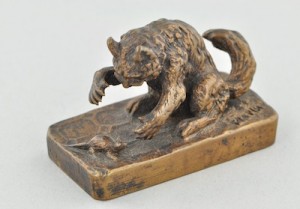 Chat Attrapant Une Souris
Price USD 299 (€209)
Estimated USD 300–500