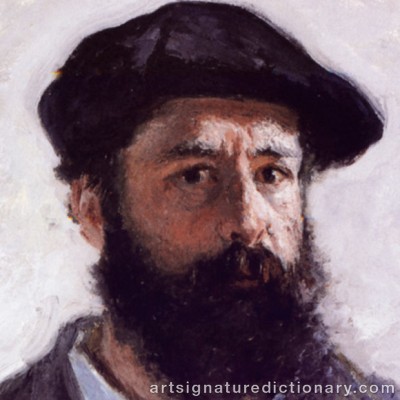 Claude MONET

1840–1926, France
Birth
1840, 14/11, France
Claude Monet, also known as Claude Oscar Monet, was the original founder and practitioner of the French Impressionist movement in painting. Some of his best known works include Impression, Sunrise (for which the movement was named), Water Lilies, and Haystacks.
Monet was born Claude Oscar Monet on November 14, 1840 in Paris, France to Claude-Adolphe, a grocery store owner, and Louise-Justine Aubree, a singer. As the younger of two sons, Monet's father hoped that he would continue the family grocer store business, but Monet had other ideas. To his father's dismay, Monet openly declared his love of art and his hopes of living life as an artist.

In 1851, at the age of eleven, Monet began his studies at the Le Havre school for the arts and began selling charcoal paintings to locals in the area. After studying under the watchful eye of Jacques-Francois Ochard for a few years, Monet met and befriended Eugene Boudin who helped Monet master oil paints and "plein air" techniques. In 1857, Monet's mother passed away and he left school to live with his aunt, Marie-Jeanne Lecadre.

On a visit to the Louvre in Paris, Monet observed painters mimicking the work of famous artists. Instead of copying styles of other painters, Claude Monet, who always traveled with his paints, sat by the window and painted the view. His life in Paris brought him closer to other painters, many of whom he befriended. One of these painters was Edouard Manet.

In 1861 Monet joined the First Regiment of African Light Cavalry in Algeria where he stayed for two years. Although he was originally supposed to remain in Algeria for seven years, his aunt petitioned for his return after he contracted typhoid. In exchange for his unfulfilled work with the Cavalry, Monet agreed to study art at a university. After trying his hand at academics, Monet began studying with Charles Gleyre in 1862 and met Pierre-Auguste Renoir, Alfred Sisley, and Frederic Bazille with whom Monet shared ideas on new, rapid painting techniques.

During his time with Gleyre, Monet met Camille Doncieux with whom he had a son, Jean, in 1867. Shortly thereafter, Monet ran into financial difficulties and attempted suicide in 1868. Camille helped him recover and they married in June of 1870.

When the Franco-Prussian War began in July of 1870, Monet and Camille decided to leave France and take refuge in England where Claude Monet studied other artists like John Constable and Joseph William Turner. Although his paintings were denied exhibition by the Royal Academy, Monet refused to give up and, instead, moved to Zaandam to continue his work. In the fall of 1871 Monet returned to France where he settled in Argenteuil near Paris.

During his time at Argenteuil, Monet focused more on developing his impressionistic style, painting the famous Impression, Sunrise in 1872 which later served to name the impressionist movement.

Camille fell ill in 1876 and never fully recovered. Although she eventually gave birth to their second son, Michel, Camille's body was weak and she passed away on September 5, 1879 from tuberculosis. Monet painted Camille Monet, on her death bed, a last tribute to his wife.

Camille's death was very difficult on Monet and he grieved heavily for several months. Eventually Monet became even more determined to create masterpieces and he started painting in groups and series. He and his children moved into the home of Ernest Hoshede, a patron of the arts. After Hoshede experienced some financial problems, Monet moved to Poissy with Hoshede's wife, Alice, and her six children and later to Giverny where Claude Monet planted a vast garden that later inspired his famous works featuring willows and water lilies. Although they'd been estranged for many years, Alice waited until after her husband's death to accept Monet's hand in marriage. They exchanged vows in 1892.

Monet continued his focus on series' paintings, using his garden as constant inspiration. After his wife's death in 1911 and Jean's death in 1914, Monet developed cataracts that affected his ability to see accurate colors. Claude Monet even went back and adjusted some of these colors after his surgery.

Claude Monet died in 1926 from lung cancer. He is buried in the cemetery of the Giverny church. His remaining family and heirs bequeathed his Giverny home and gardens to the French Academy of Fine Arts in 1966.
Source: http://www.artquotes.net/masters/monet-biography.htm
Claude Monet biografi:

Monet föddes i Paris, men växte upp i Le Havre, och det var här som han i sin ungdom började att måla. Han arbetade och studerade tillsammans med Eugène Boudin. Han räknas tillsammans med Pierre-Auguste Renoir, som pionjär för impressionismen.
Monet var son till Adolphe och Louise-Justine Monet typ på 45 Rue Laffitte i Paris men hans familj flyttade 1845 till Le Havre i Normandie när Claude var fem år gammal. Han blev döpt till Oscar-Claude i Notre-Dame-de-Lorette kyrkan. Hans far ville att han skulle arbeta i familjens mataffär men Claude bestämde sig redan 1859 för att bli konstnär. Hans mor var en sångerska och båda hans föräldrar var andra generationens Parisbor.
Den första april 1851 började Monet på Le Havre-skolan, där han blev lokalt känd för sina kolkarikatyrer, vilka han sålde för tio till tjugo francs. Monet tog även sina första ritlektioner för Jean-Francois Ochard, en före detta elev till Jacques-Louis David (1748-1825). På Normandies stränder mötte han Eugène Boudin som blev hans mentor och lärde honom att använda oljefärger. Boudin lärde även Monet teknikerna för att måla utomhus.
Den 28 januari 1857 dog Monets mor. När han nu var 16 år gammal lämnade han skolan och bodde hos sin barnlösa moster Marie-Jeanne.
När Monet reste till Paris för att besöka Louvren såg han flera målare som kopierade de gamla mästarna. Monet, som hade tagit med sig sina färger och andra verktyg, satte sig istället vid fönstret och målade det han såg.
I juni 1861 gick Monet med i det första regimentet vid det Afrikanska lätta kavalleriet i Algeriet i två år av en överenskommelse på sju år. När han fick tyfus såg hans faster Madame Lecadre till att han kom ut från armén genom att gå med på att fullfölja en konstkurs vid ett universitet. Det är möjligt att den holländske målaren Johan Barthold Jongkind, som Monet träffade, kan ha övertygad hans faster om detta. Desillusionerad med den traditionella konsten som lärdes ut vid universitet gick Monet 1862 med i Charles Gleyres studio i Paris, där han mötte Pierre-Auguste Renoir, Frederic Bazille och Alfred Sisley. Tillsammans delade de ett nytt närmande till konsten, genom att måla effekterna av ljus utomhus med brytna färger och snabba penseldrag, det som senare blev känt som impressionismen.
Monets La Femme à la Robe Verte (1866), vilket gav honom erkännande, var ett av många verk som inkluderade hans framtida fru, Camille Doncieux. Kort därefter blev Doncieux gravid och födde deras första barn, Jean. Samma år gjorde Monet ett självmordsförsök.
Under det Fransk-tyska kriget (1870-1871) sökte Monet sin tillflykt i England för att undvika konflikten. Där studerade han arbeten av John Constable och J. M. W. Turner, båda vilkas landskap skulle tjäna som inspiration till Monets innovationer inom färgstuderier.
Mellan 1871 och 1878 bodde Monet i Argenteuil, en by vid Seine nära Paris, och här målade han några av sina mest kända verk
Efter att ha återvänt till Frankrike 1872 målade han Impression, soleil levant som skildrade ett Le Havrelandskap. Den hängde vid den första impressionistiska utställningen 1874 och finns nu att beskåda i Musée Marmottan-Monet i Paris. Det var titeln på tavlan som gjorde att konstkritikern Louis Leroy myntade uttrycket "impressionism", vilket han hade avsett som skadligt.
Monet och Doncieux gifte sig 1870. De fick en till son, Michel, den 17 mars 1878. Madame Monet dog av tuberkulos året därpå.
Alice Hoschedé bestämde sig för att hjälpa Monet med att uppfostra hans två barn tillsammans med hennes egna. De bodde i Poissy. I april 1883 flyttade de till ett hus i Giverny, Eure i Haute-Normandie där Monet planterade en stor trädgård som han målade av restan av sitt liv. Monet och Hoschedé gifte sig 1892.
Under 1880-talet och 1890-talet började Monet göra seriemålningar: målningar av ett objekt i varierande ljus och väder. Hans första serie var av Cathédrale Notre-Dame de Rouen från olika vinklar och vid olika tidpunkter på dagen. Tjugo vyer av katedralen blev utställda vid Galerie Durand-Ruel 1895. Han målade också en serie av målningar på en höstack vid olika tidpunkter på dygnet.
Monet var väldigt förtjust i att måla kontrollerad natur: hans egen trädgård i Giverny med dess näckrosor, damm och bro. Han målade även stränderna längs Seine.
Vintern 1895 reste Monet till Norge där han målade i Sandvika väster om Oslo.
Mellan 1883 och 1908 reste Monet till Medelhavet där han målade landmärken, landskap och sjöar som Bordighera. Hans fru Alice dog 1911 och sonen Jean 1914. Monet fick grå starr på ögonen och genomgick två operationer 1923. Det är intressant att notera att de målningar som gjordes när starren påverkade hans syn generellt har en röd ton, vilket är karaktäristiskt för synen hos personer med grå starr. Det kan också vara så att han efter operationerna kunde se vissa ultravioletta våglängder av ljus som normalt sett exkluderas av ögats lins[1]; det kan ha haft en effekt på de färger han uppfattade. Efter operationerna målade han om några av dessa målningar.
Monet dog den 5 december 1926 vid en ålder av 86 år och är begravd i kyrkogården i Giverny. Hans berömda hus och trädgård med dess näckrosdamm och bro i Giverny är ett populärt resmål för turister. I huset finns många exempel på japanska träsnittskopior på väggarna.