David AHLQVIST

1900, Sweden
Also known as: DA
David Ahlqvist.

1929 Boberghska stipendiet i etsning.
Tilldelad Akademiens Kanslersmedalj i etsning.
1936 Förtjänstplakett från Samfundet för Hembygdsvård.
Medlem i Grafiska sällskapet sedan 1941.
1953 Grafiska sällskapets stipendiat.
1961 Illis Quorum 5:e storleken.
1963 Gotlands kommuns kulturpris.
1966 Röda Korsets förtjänsttecken.
1967 Hedersledamot i Samfundet för Hembygdsvård för \\\"Banbrytande
gärning på Gotland och inom Samfundet för landskapsvård och byggnadskultur\\\"
1968 Visby Lions stipendium
1969 mottog David Ahlqvist tillsammans med Anna Erlandsson, Herbert Gustavsson och Svante Pettersson de första exemplaren av plaketten \\\"Fastlandsgutarnas belöning för kulturbevarande gärning på Gotland\\\".
1970 Deverthska kulturstiftelsens plakett i guld.
1971 Svenska Naturskyddsföreningens plakett.
1973 Artur Hazelius-medaljen, Nordiska museet.
1975 Gotlands Gilles i Stockholm kulturpris.
JUF:s plakett i guld.
Hedersledamot av Gotlands nation i Uppsala.
Utställningar på fastlandet och i världen:

Norblads bokhandel, Uppsala hösten 1933, oljor och grafik
Riksförb. för bildande konst, vandringsutställning 1932-33
med 3 etsningar: \\\"Fönstret\\\", \\\"Interiör\\\" och \\\"Kornåker motsols\\\", alla från 1930.

Fahlcrantz´ salong i Stockholm 1936 tillsammans med andra gotlänningar:
Erik Skårman, Bertil Nyström och Harald Jacobson. DA representerades med
oljor och etsningar,de senare inköptes av Nationalmuseum.

The Society of American Etchers Exhibition, New York, 1937
med 4 etsningar: \\\"Interior\\\", \\\"Bad Weather\\\", \\\"Morning\\\" och \\\"Potato-Picking\\\".

Fifth International Exhibition of Prints, Philadelphia 1937
med 2 etsningar: \\\"Hemma\\\" och \\\"Kaktus och fotogenlampa\\\".

Deltog i Fören.för Grafisk Konst jubileumsutställning på
Nationalmuseum 1937 med bl a \\\"Hemma\\\", \\\"Gungstol och symaskin\\\",
\\\"Kaktus och fotogenlampa\\\"

Interskandin. Grafisk Kunst på Charlottenborg i Köpenhamn
24.1 - 14.2 1937 med 6 etsningar.

NGU Exhibition of Graphic Art, London 1938

Värlsutställningen i Paris 1938

NGU Helsingfors 1939

Nordiska Konstgalleriet, Sthlm 1942

Unga grafiker, SDS-centralen, Malmö 1942
med 9 etsningar.

Nutida svensk grafik, Uppsala univ. 1945
med 10 etsningar.

Lorensbergs konstsalong tillsammans med Folke Persson, Göteborg 1945
med 27 etsningar och 6 teckningar.

Uppsala 1947

Graphic Art in Sweden To-day, The National Gallery of Canada 1947-48
med 5 verk : \\\"Maria syr\\\", \\\"Gungstol och symaskin\\\", \\\"Interiör\\\"(torrnål),
\\\"Mor\\\"(torrnål), \\\"Min ateljé\\\".
Source: http://hem.bredband.net/davidahlqvist/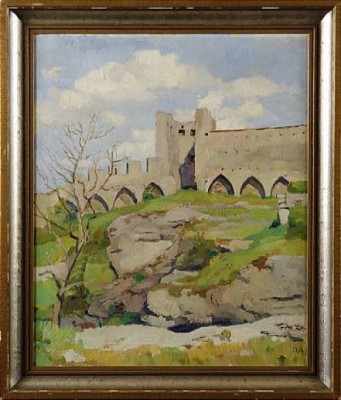 Visby Ringmur
Price SEK 4,000 (€386)
Estimated SEK 1,500