Denis Pierre BERGERET
1846–1910, France
Name
Denis Pierre BERGERET
Denis Pierre Bergeret (French, 1846-1910)
He was born at Villeparisis in 1846 and trained under Eugene Isabey, Jules Lefebvre and Bonnat. One of the most popular still life painters of his time, he exhibited at the Paris Salon of 1870 and thereafter until 1908. Bergeret was awarded medals for his work in 1873, 1877, 1889 and 1900. Influenced by the work of the painter Antoine Vollon, he employed a similarly thick impasto with a vigorous brush stroke.
During the 1890s he lived in a small artist's colony in Montmartre (26 rue Victor Masse).
Seafood was a favourite still life subject of his, as well as flowers and fruit.
In 1900, Bergeret was made a Chevalier de la legion d'Honneur.
His work is represented in museums at Bernay, Geneva, Nice and Rouen.
Source: caltongallery.co.uk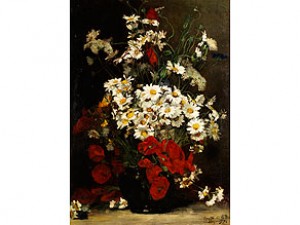 Price EUR 0 Not sold
Estimated EUR 4,000–5,000