Dimitri Dimitrievich BOUCHENE

1896–1993, France
Name
Dimitri Dimitrievich BOUCHENE
Dimitri Bouchène was born in Saint-Tropez and spent much of early life moving between St. Petersburg and Paris. After finishing his studies at the Drawing School of the Society for the Encouragement of Artists (OPKh), he moved to Paris and attended the Ranson Academy where he was acquainted with Matisse and Denis.

From 1918-1925, Bouchène worked as junior curator of the Porcelain and Jewellery Department at the Hermitage. His time there proved valuable for his development as an artist as Alexandre Benois noted: ´The atmosphere of the Hermitage created a sort of magical sphere of concentration around [Bouchène] (and all of us). Bouchène painted still lifes of a group of objects from the surrounding environment. He painted them...slowly, with methodical self-possession, striving not for the effectiveness of the ensemble but for the communication of the quality of every tone and the fascinating harmony of their combination. This place of learning proved outstanding training for the future steps of his evolution as an artist.´
Bouchène moved abroad permanently in 1925, settling in Paris. From the mid-1930s he designed for theatres all over Europe and also painted landscapes and scenes from theatre life. He participated in various exhibitions throughout his life including several \'Mir Iskusstva\' Exhibitions and the exhibition \'The Russian Landscape\' from 1918-1919, and his solo exhibitions were held in Paris from the 1950s through the 1970s.
Source: Stockholms Auktionsverk, Stockholm Sweden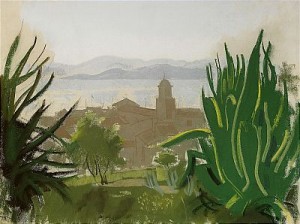 Price SEK 38,000 (€4,243)
Estimated SEK 40,000–50,000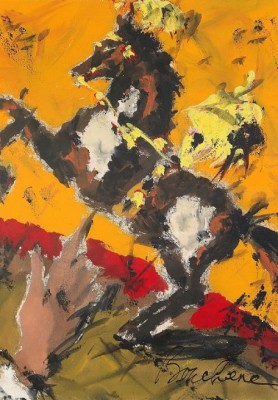 Komposition Med Häst
Price SEK 2,000 (€187)
Estimated SEK 6,000–8,000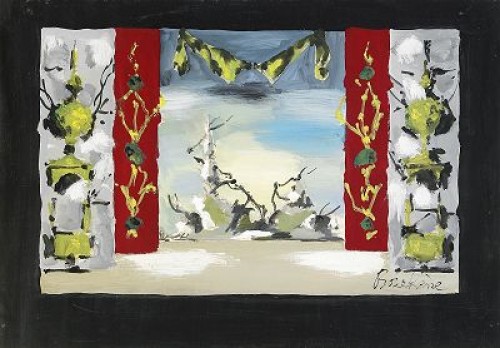 Set Design
Price SEK 14,000 (€1,289)
Estimated SEK 15,000–20,000