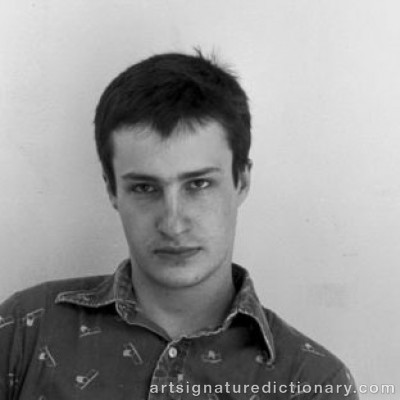 Donald BAECHLER

1956, USA
Also known as: DB
Donald Baechler's works are a declaration in favour of the hybrid. He juxtaposes the abstract and the figurative, the childishly simple and the conceptually sophisticated, graffiti and elements of different styles and genres within 20th century art. The spirit of appropriation lies at the heart of Baechler's art. He does not hesitate to, in an honest and liberating way, undermine the fine art and highbrow culture status of his own works. Absurd paradoxes are stacked in a playful and naive way, and if anything threatens to become too logical or coherent or believable, it is immediately broken up, or painted over. Baechler's grisaille paintings and collages consist of several layers of material - washcloths, canvas and pieces of lace, that together constitute a type of archaeological surface with a multilayered character. On the often abstract background, using thick, black brushstrokes, Baechler then paints figurative everyday motives such as flowers, birds, beach balls and trees with an affected clumsiness and a bogus naivety. In this way, his work develops an 'aesthetic of simplicity' and pays ironic tribute to a kind of primitivism, which is meant to cast doubt on, and overturn, what Baechler considers to be academic conventions and the affectations of Minimalist and Conceptual Art.

EDUCATION
Staatliche Hochshule für bildende Kunste, Stadelshule, Frankfurt am Maine, Germany.
Cooper Union, New York.
Maryland Institute College of Art, Baltimore.
Source: Art Signature Dictionary