Lived & Active In
Canada/Sweden (Skara)
Edna Cers har studerat på Vancouver School of Art samt på Valands konstskola i Göteborg. Hon är född i Hongkong men uppvuxen i Canada. Sedan 1961 bor hon i Lundsbrunn utanför Skara.

Konstnärlig utbildning:
Vancouver School of Art - Canada 1950-54
Valands Konstskola - Göteborg 1954-55

Representerad:
I flera landsting och Statens Konstråd

Separatutställningar:
Brackendale Art Gallery - Van.B.C Canada
Galleri Kusten - Göteborg
Konsthallen i Karlskoga, Skövde, Lidköping m.fl.
200 Årsjubileum - Reykavik
Galleri Guding - Strömstad
Galleri de Art Ccarmen Codoceo - Chile

Samlingsutställningar:
F 15 Moss - Norge
Nolhaga Slott - Alingsås
Stadshuset - Kiruna
Nordisk Konst 91 - Århus
Krapperups Konsthall m.fl.
Lucrezia
Price SEK 3,000 (€288)
Estimated SEK 3,500
Väntan
Price SEK 4,000 (€390)
Estimated SEK 4,000
Ryttare
Price SEK 0 (€0)
Estimated SEK 2,500–3,200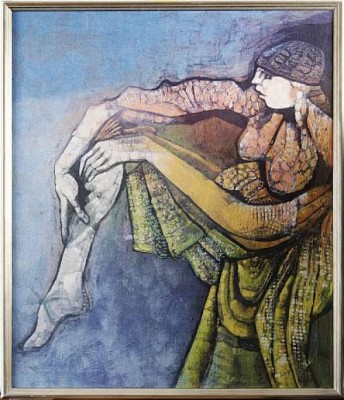 Price SEK 4,000 (€397)
Estimated SEK 4,000
Kvinna Med Drapering
(1987)
Price SEK 0 (€0)
Estimated SEK 3,000