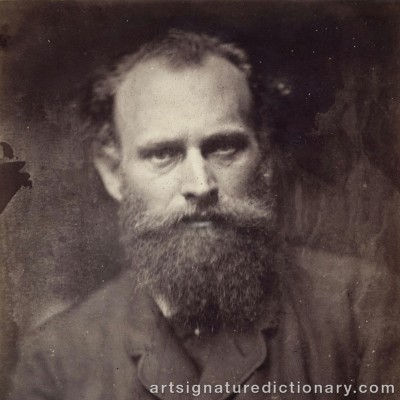 Edouard MANET

1832–1883, France
Also known as: EM

Verdict of guilty
0201-K305565-06. (2008-0201-BG14179-11)
Watercolor/mixed media, motif: bullfighter, 11,3 x6 cm, (23x17 cm incl. Frame). The painting was seized in a small auction house in Stockholm, May 2008. The painting had been submitted by the Swedish Pawn shop in Malmo, loan worth 73,000 SEK .. It had pledged by a private person . At the hearing he stated that he has bought the painting from an art dealer in Stockholm and that he has a certificate of authenticity from "Manet Foundation", and that on the back is a number that shows that it has previously been sold by Christie's . He has also submitted ​​it to the auction house Sotheby's in London in 2004, estimated price: 20,000 to 30,000 GBP but for some unknown reason he Took the painting back to Sweden. He states further that he is self-taught art expert since many years and he is now a partner in an antique shop in Malmö, Sweden. Technical examination of the National Museum in Stockholm, was performed with microscope and infrared light, revealed that the painting's original signature, which is not Edouard Manet's, has been manipulated by partially being scraped away. A supplement with new ink has made the signature similar to Edouard Manet's. The district court's decision. Signature forgery and aggravated fraud. The painting has not been performed by Edouard Manet, nor signed by him.
Akvarell/blandteknik, motiv: Figur liknande tjurfäktare, 11,3x6 cm, (23x17 cm inkl. ram). Målningen togs i beslag på ett mindre auktionshus i Stockholm, maj 2008. Målningen var inlämnad av Svensk Pantbelåning i Malmö, lånevärde 73.000 kr. Den hade belånats av en privatperson som vid förhör uppger att han har har köpt den av en konsthandel i Stockholm och att han har ett äkthetsintyg från "Manetstiftelsen", samt att det på baksidan finns ett nummer som visar att den tidigare varit såld av Auktionshuset Christies. Han har även (2004) lämnat den till auktionshuset Sotheby's i London, utrop 20.000-30.000 pund men av okänd anledning tagit tillbaka målningen till Sverige. Han uppger vidare att han är självlärd konstkännare sedan många år och att han numera är delägare i en antikhandel i Malmö. Vid teknisk undersökning hos Nationalmuseum i Stockholm, utförd med mikroskåp och infraröd strålning, framkom att målningens originalsignatur, som inte är Edouard Manet's, har manipulerats genom att delvis vara bortskrapad. Ett tillägg med nytt bläck har fått signaturen att likna Edouard Manet's. Tingsrättens beslut. Signaturförfalskning och grovt bedrägeri. Målningen har ej utförts av Edouard Manet ej heller signerats av denne.

Verdict of guilty
PHM:46, serie B
Pastel, female portraits, "Mademoiselle Gouthier" signed "Jellyfish". The painting was purchased in 1972 by "EH" in Gothenburg. The painting has been seized, and after expert investigation and they was declared that the painting not genuine. It is a forgery.
Pastell, kvinnoporträtt, "Mademoiselle Gouthier", signerad "Manet". Målningen köptes 1972 av "E.H." i Göteborg. Målningen har tagits i beslag och efter expertutredning och dom förklarades att målningen inte är äkta. Det är en förfalskning.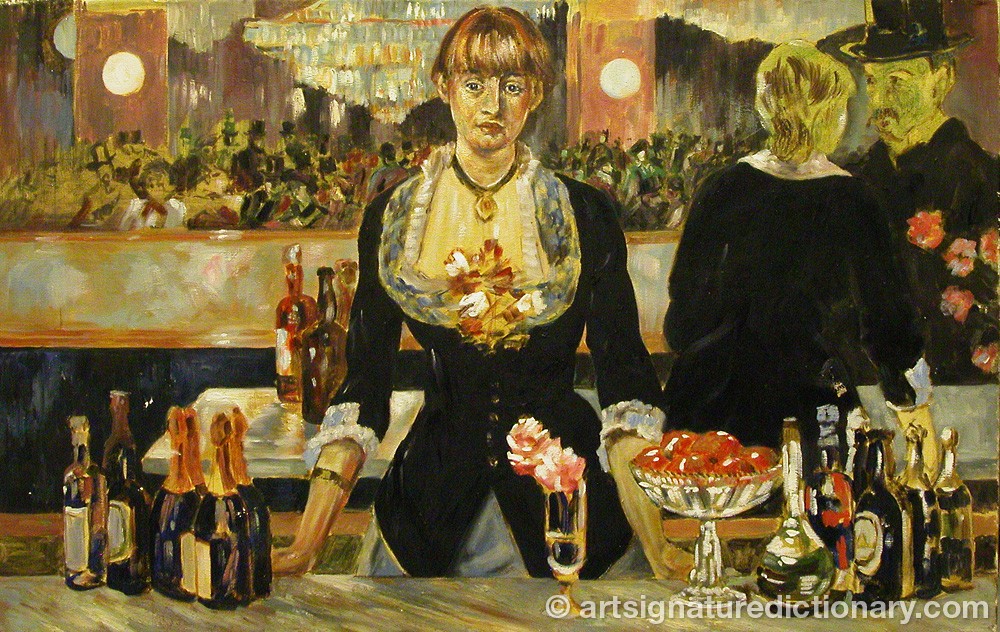 Verdict of guilty
PHM 3770:31
Oil on canvas, 61x92 cm. Title: "The bar of the Folies Bergere", not signed. After an expert assessment and judgment declared that the painting is not genuine. It is a forgery.
Olja på duk, 61x92 cm. Titel: "Baren i Folies Bergeres". Ej signerad. Efter expertutredning och dom förklarades att målningen inte är äkta. Det är en förfalskning.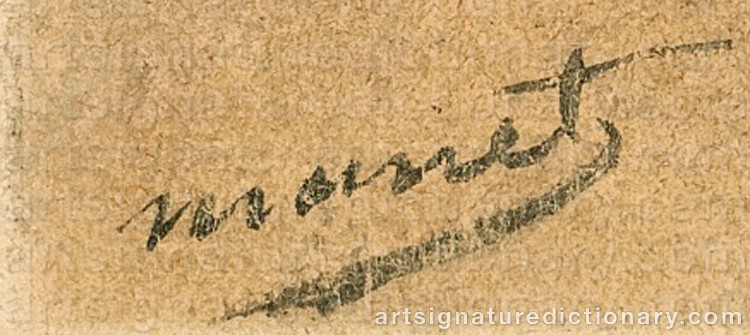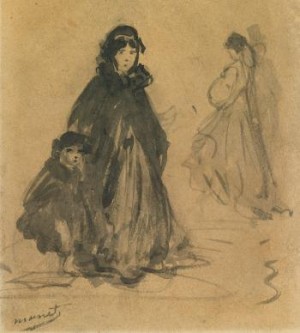 Scène De Rue (femme Et Jeune Fille)
Price USD 50,000 (€46,546) Incl. buyer's premium
Estimated USD 30,000–40,000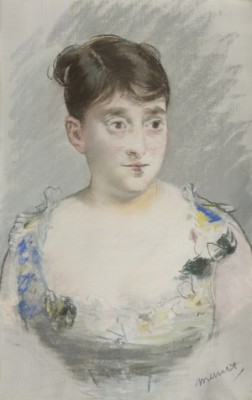 Portrait De Madame Du Paty
(Executed in 1880)
Price USD 0 (€0) Not sold
Estimated USD 700,000–900,000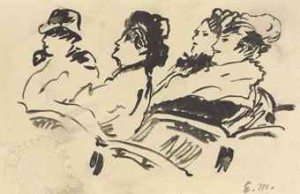 Quatre Personnages Au Théâtre
(1880)
Price USD 100,000 (€87,796) Incl. buyer's premium
Estimated USD 80,000–120,000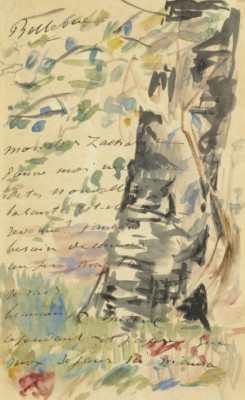 Lettre à Zacharie Astruc
(1880)
Price USD 233,000 (€187,314) Incl. buyer's premium
Estimated USD 100,000–150,000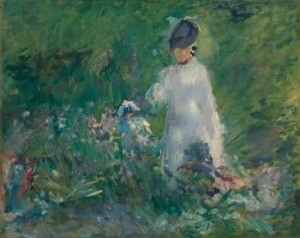 Jeune Femme Dans Les Fleurs
Price GBP 3,330,500 (€4,169,125) Incl. buyer's premium
Estimated GBP 3,000,000–4,000,000