Edward HALD

1883–1980, Sweden
Name
Niels Tove, Edward, HALD
Edward Hald studied at the Artist League school. then for Rodhe in Copenhagen. He exhibited at the Artists\' Association art exhibition \"De Unga\", in Hallin Fine Art in Stockholm. Working at the \"Orrefors glass factory\", as President 1933-1944, then as artistic director. He became a professor 1954.
Represented: National Museum in Stockholm and the Moderna Museet in Stockholm, Gothenburg Museum of Art, and in Växjö and Kalmar museums.

Source: Composed of a variety of sources from the internet.
Edward Hald studerade vid Konstnärsförbundets skola. senare hos Rodhe i Köpenhamn. Han reste till Paris 1908 och blev elev hos Matisse. Han ställde ut på Konstnärsförbundets uställning De Unga, på Hallins Konsthandel i Stockholm. Verksam vid Orrefors glasbruk och som VD 1933-1944, därefter som konstnärlig ledare. Han blev professor 1954.

Representerad:
Nationalmuseum i Stockholm och Moderna Muséet i Stockholm, Göteborgs Konstmuseum, samt i Växjö och Kalmar muséer.

Källa: Sammansatt av olika källor från internet.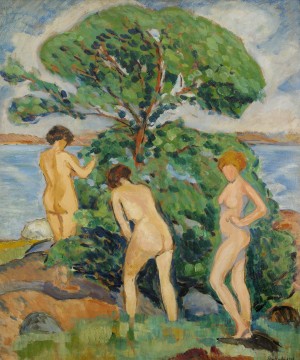 Solbadande Kvinnor - Utö
(1913)
Price SEK 16,000 (€1,864)
Estimated SEK 20,000–25,000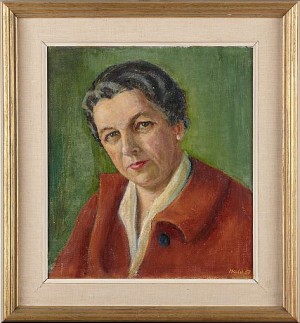 Porträtt Av Elly Hellner
(-57)
Price SEK 950 (€108)
Estimated SEK 2,000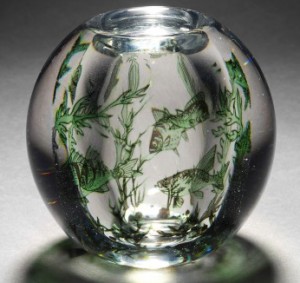 Vas, Graal. "fiskgraal"
(1917)
Price SEK 6,500 (€731)
Estimated SEK 6,000–8,000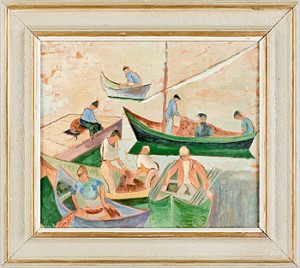 Motiv Från Lofoten
Price SEK 3,025 (€335)
Estimated SEK 2,000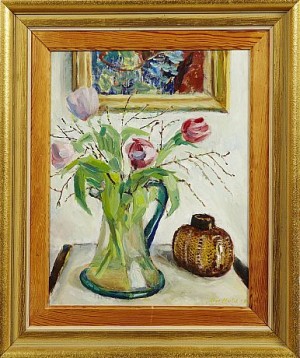 Price SEK 9,000 (€1,006)
Estimated SEK 4,000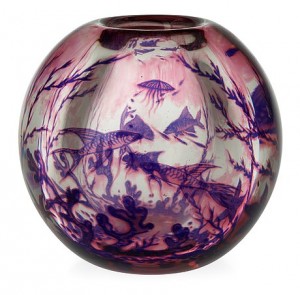 Vas, Fiskgraal, Orrefors
Price SEK 6,000 (€648)
Estimated SEK 4,000–6,000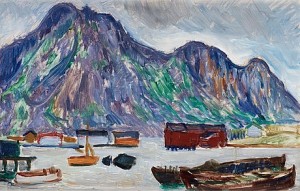 Motiv Från Lofoten
(1911)
Price SEK 6,000 (€652)
Estimated SEK 10,000–12,000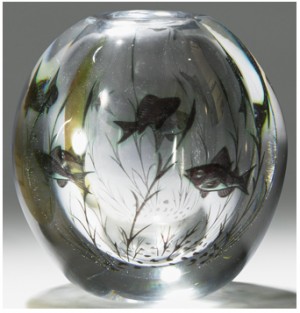 Fiskgraal
Price SEK 4,000 (€382)
Estimated SEK 4,000–5,000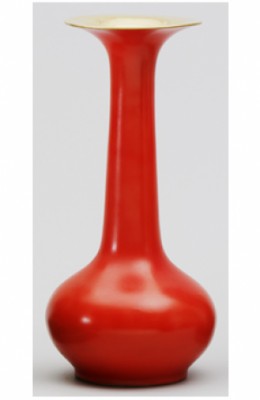 Vase
Price SEK 2,200 (€210)
Estimated SEK 2,000–3,000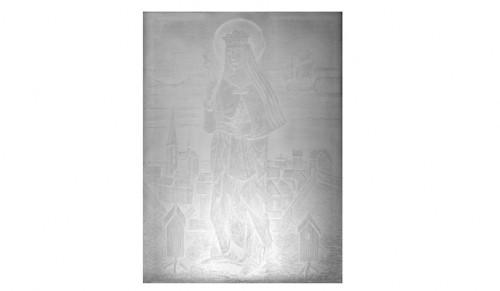 Orrefors Glasbruk. Glasrelief, Blästrad Dekor Föreställande Sankta Apollonia, I Bakgrunden Stadsmotiv
(1954)
Price SEK 2,400 (€235)
Estimated SEK 2,000–3,000