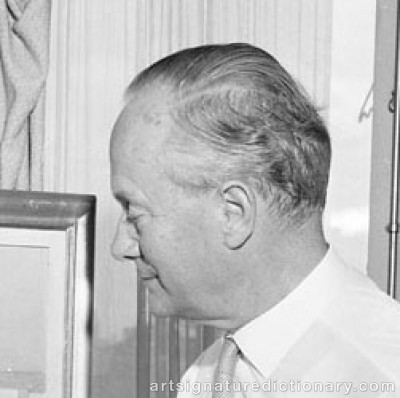 Einar JOLIN

1890–1976, Sweden

Verdict of guilty
0201-K135017-10
Oil on canvas, 100x72 cm, signed Einar Jolin 1916th The painting was up for sale at a major auction house in Stockholm, May 2010. It was cataloged as an original work of Einar Jolin titled "Elegant gentleman with a cigarette." Estimated 100,000 to 125,000 SEK. The painting was observed by a visitor who said that the painting had been sold by an auction house in Norway unsigned. The auction house in Stockholm immediately took away the painting and contacted the police who took the painting seized. The audit found that it was done by Gunnar Tandberg, a Norwegian artist who has also been active in Sweden. At the hearing it emerged that the painting had been owned by several people before it was submitted for sale in Stockholm and that one of these people are dead, hence it has not been possible to determine which of the persons who affixed the signature. (It is common in fraud circuits that witnesses "died" to obstruct the police investigation). The District Court's decision: The painting is not an original work of Einar Jolin, nor signed by him. The signature must be removed, then the painting should be returned to current owners with text on the back: "The false signature has been removed". NOTE. There is considerable risk that the painting once again appear on the market together with an extract of the auction house's catalog where it is depicted as an original work.
Oljemålning på duk, 100x72 cm, signerad Einar Jolin 1916. Målningen var var till salu hos ett stort auktionshus i Stockholm maj 2010. Den var katalogiserad som ett originalverk av Einar Jolin med titel "Elegant herre med cigarett". Utrop 100.000-125.000 kr. Målningen observerades av en besökare som meddelade att målningen tidigare hade sålts av ett auktionshus i Norge och att den då var osignerad. Auktionshuset i Stockholm drog genast tillbaka målningen och kontaktade polis som tog den i beslag för vidare utredning. Vid granskning av målningen framkom det att den var utförd av Gunnar Tandberg, en norsk konstnär som även varit verksam i Sverige. Vid förhör framkom att målningen ägts av ett flertal personer innan den lämnades till försäljning i Stockholm och att en av dessa personer har avlidit, det har därför inte gått att fastställa vem av personerna som påfört signaturen. (Det är vanligt i bedrägerikretsar att en eller flera personer avlidit för att försvåra polisens utredning). Tingsrättens beslut: Målningen är ej ett originalverk av Einar Jolin, ej heller signerad av denne. Signaturen på målningen ska avlägsnas därefter ska målningen återlämnas till nuvarande ägare med text på baksidan att en falsk signatur har avlägsnats. OBS. Risken är stor att målningen återigen dyker upp på marknaden tillsammans med ett utdrag av Auktionshusets katalog där den finns avbildad som ett originalverk.








































Einar Jolin studied at the Artist League school of painting in 1907. He undertook extensive travels to France, Italy, Spain, India, Africa and the Caribbean. In France, he studied at Matisse\'s academy. He painted in a slightly naive style, mainly Stockholm Views on which rests a typical Sunday peace. He was also a distinguished portraitist. In recent Jolin production is elegant still life with oriental porcelain frequent. Einar Jolin paintings are characterized by a flat and composed the simplified drawings.
Einar Jolin växte upp i en borgerlig familj i Stockholm. Jolin började först teckna och gick därefter ett år vid Konstnärsförbundets målarskola 1907. 1908 reste Jolin till Paris för att studera på Matisses akademi (1908–14), där han målade stilleben och modeller men från 1911 även landskap. Han debuterade 1912 med gruppen De åtta och tillhörde en av den svenska modernismens pionjärer. Vissa influenser från Matisse återfinns i hans måleri, men de är ändå mindre påfallande än hos flera av hans studievänner. Einar Jolins måleri, i återhållna och svala färger, utmärks av en sirlig nobless och en ytmässig dekorativitet, som utvecklades ur hans fascination för orientalisk konst. Han målade i lätt naivistisk stil, huvudsakligen Stockholmsvyer över vilka det vilar en karaktäristisk söndagsfrid. Han var också en ansedd porträttör. I Jolins senare produktion är eleganta stilleben med orientaliskt porslin ofta förekommande. Jolin gjorde omfattande resor till Frankrike, Italien, Spanien, Indien, Afrika och Västindien. 1952 gifte han sig med sångerskan Tatjana Angelini-Scheremetiew (f 1923). Einar Jolins målningar utmärks av ett komponerade plant och förenklat måleri. På tiotalet var hans färger som regel starka medan han från mitten av tjugotalet började arbeta med en ljusare palett. På tjugotalet präglades hans bilder av den nya sakligheten och under trettio- och fyrtiotalen sökte han en ökad volymkänsla och använde djärvare färgkombinationer. (CH)
Source: http://www.amells.com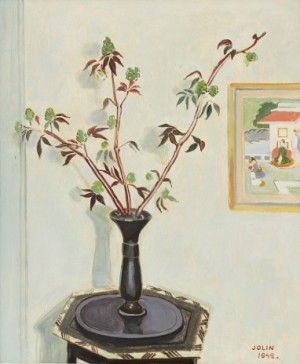 Price SEK 11,000 (€1,188)
Estimated SEK 10,000–12,000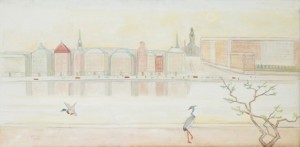 Skeppsbron Och Kungliga Slottet - Panoramavy över Stockholm
(1973)
Price SEK 135,000 (€14,530)
Estimated SEK 80,000–100,000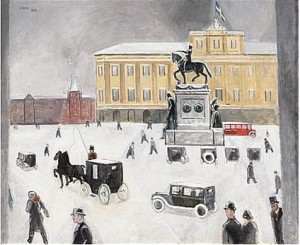 Gustaf Adolfs Torg
(1931)
Price SEK 610,000 (€66,429)
Estimated SEK 300,000–400,000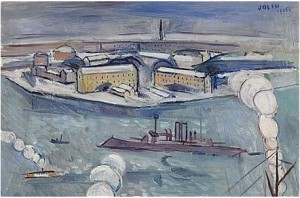 Utsikt Mot Skeppsholmen
(1915)
Price SEK 540,000 (€58,806)
Estimated SEK 400,000–500,000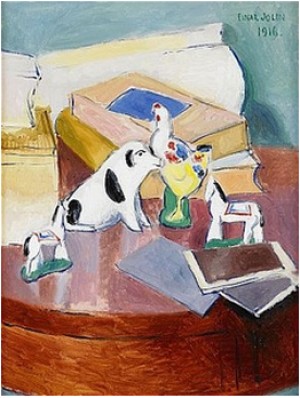 Stilleben Med Böcker Och Figuriner
(1916)
Price SEK 130,000 (€14,157)
Estimated SEK 125,000–150,000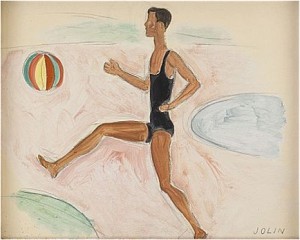 Bollspel På Stranden
Price SEK 15,000 (€1,634)
Estimated SEK 10,000–12,000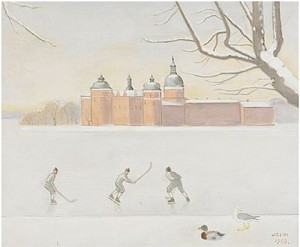 Bandyspelare Vid Gripsholms Slott
(1963)
Price SEK 70,000 (€7,735)
Estimated SEK 35,000–40,000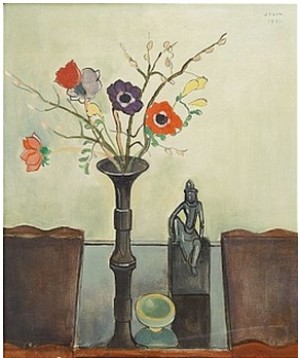 Price SEK 24,000 (€2,652)
Estimated SEK 18,000–20,000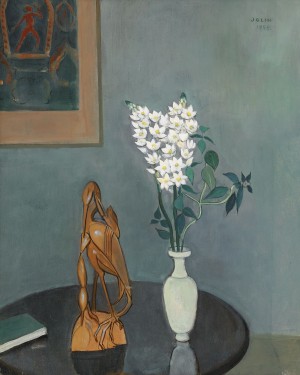 Stilleben Med Blommor
(1955)
Price SEK 22,000 (€2,563)
Estimated SEK 20,000–25,000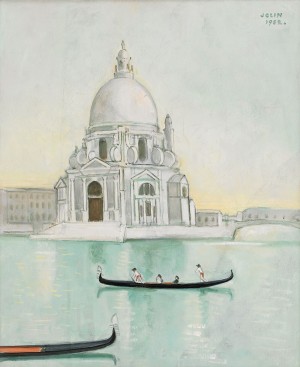 Price SEK 48,000 (€5,592)
Estimated SEK 35,000–40,000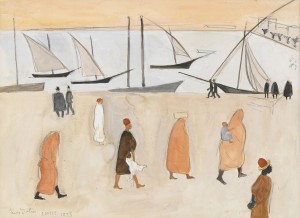 Sousse - Motiv Från Nordafrika
(1923)
Price SEK 19,000 (€2,214)
Estimated SEK 15,000–18,000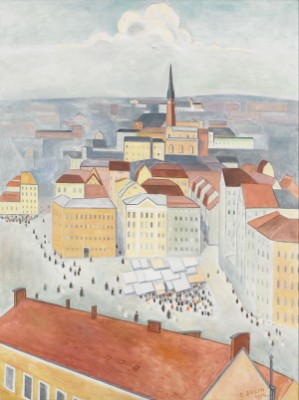 Kornhamnstorg - Stockholm Från Söder
(1914)
Price SEK 1,400,000 (€163,100)
Estimated SEK 800,000–1,000,000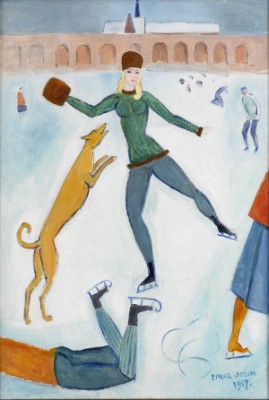 Price SEK 900,000 (€104,850)
Estimated SEK 1,000,000–1,500,000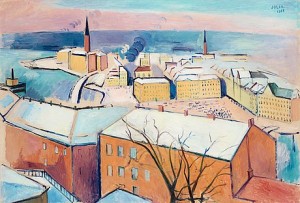 Price SEK 824,332 (€95,952) Incl. buyer's premium
Estimated SEK 700,000–800,000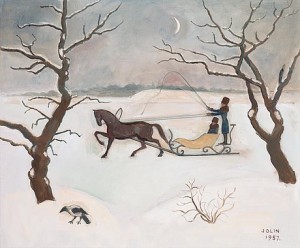 Price SEK 73,950 (€8,608) Incl. buyer's premium
Estimated SEK 20,000–25,000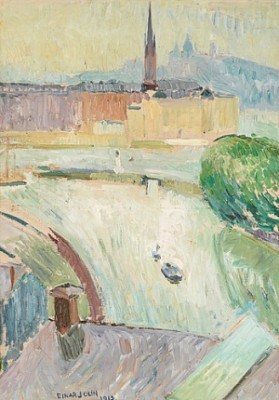 Vy över Riddarholmen
(1912)
Price SEK 38,250 (€4,452) Incl. buyer's premium
Estimated SEK 35,000–40,000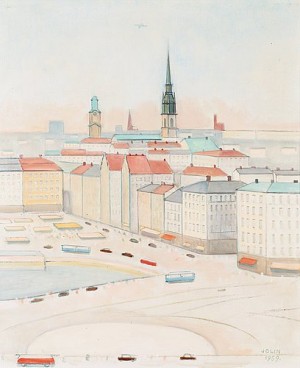 Utsikt över Kornhamnstorg Och Gamla Stan
(1959)
Price SEK 89,250 (€10,389) Incl. buyer's premium
Estimated SEK 20,000–25,000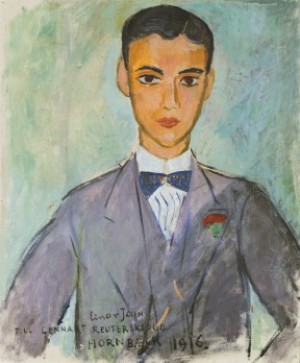 Price SEK 38,000 (€4,271)
Estimated SEK 20,000–25,000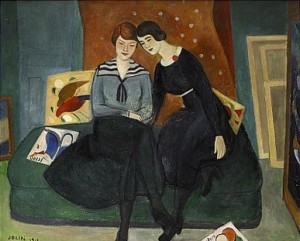 Price SEK 780,000 (€87,672)
Estimated SEK 800,000–1,000,000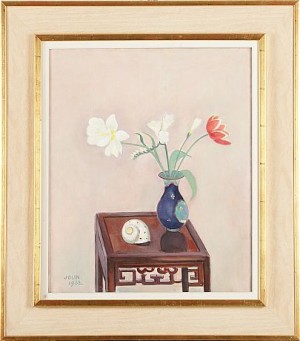 Price SEK 21,000 (€2,373)
Estimated SEK 15,000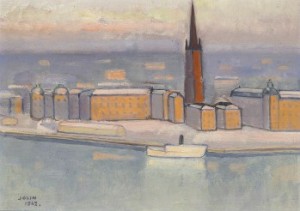 Stockholmsvy över Gamla Stan
(1942)
Price SEK 22,000 (€2,474)
Estimated SEK 15,000–18,000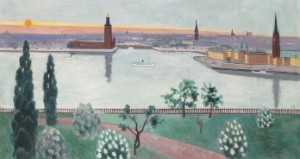 Stockholm - Vy Mot Riddarholmen Och Stadshuset
Price SEK 370,000 (€41,607)
Estimated SEK 120,000–150,000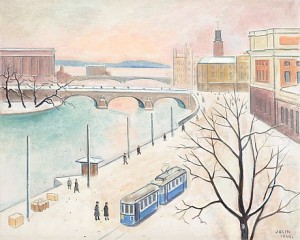 Strömgatan, Vintertid
(1944)
Price SEK 115,000 (€12,271)
Estimated SEK 50,000–60,000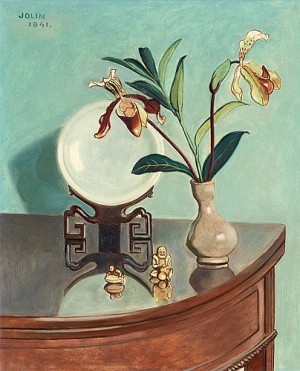 Stilleben Med Orkidéer Och Orientaliska Föremål
(1941)
Price SEK 35,000 (€3,735)
Estimated SEK 25,000–30,000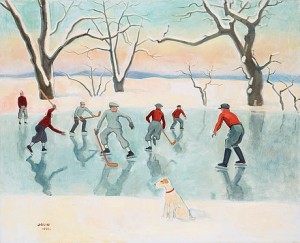 Price SEK 720,000 (€76,824)
Estimated SEK 450,000–500,000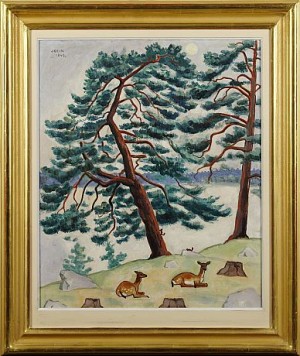 Rådjur Och Ekorrar I Skogsdunge
Price SEK 36,100 (€3,964)
Estimated SEK 10,000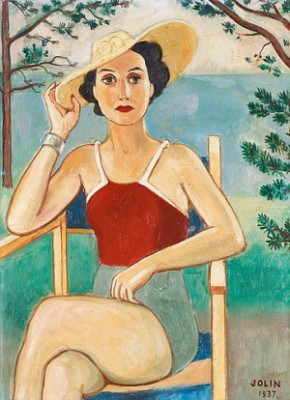 Price SEK 62,000 (€6,696)
Estimated SEK 40,000–60,000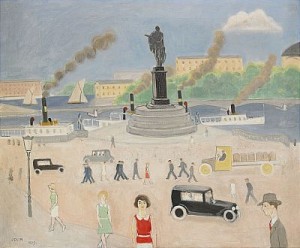 Utsikt Från Slottsbacken Mot Skeppsholmen - Stockholm
(1929)
Price SEK 370,000 (€41,311)
Estimated SEK 350,000–400,000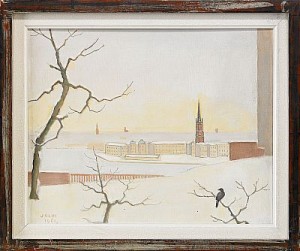 Utsikt Från Ateljén
Price SEK 50,000 (€5,583)
Estimated SEK 30,000–35,000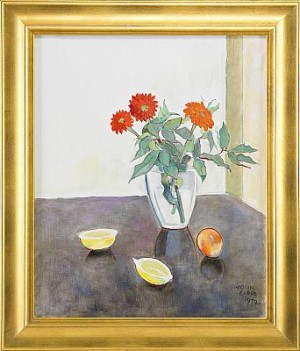 Price SEK 24,000 (€2,680)
Estimated SEK 15,000–18,000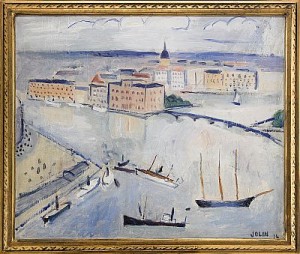 Stockholm - Utsikt Mot Blasieholmen
(-14)
Price SEK 360,000 (€40,194)
Estimated SEK 300,000–400,000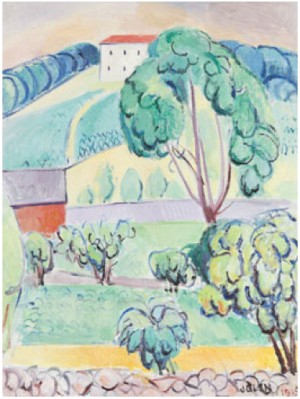 Parklandskap Med Byggnader
(1915)
Price SEK 155,000 (€16,777)
Estimated SEK 150,000–200,000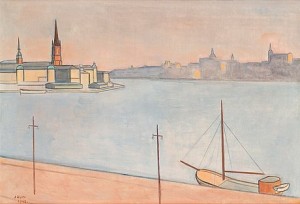 Vy Från Norr Mälarstrand Mot Söder Och Riddarholmen
(1948)
Price SEK 64,000 (€6,951)
Estimated SEK 40,000–50,000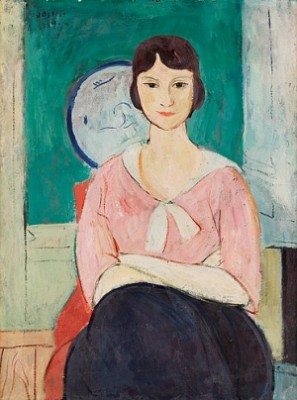 Modell I Rosa Blus
(1919)
Price SEK 285,000 (€30,954)
Estimated SEK 250,000–300,000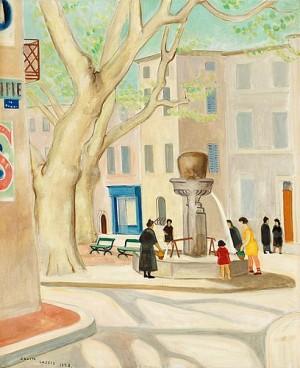 Price SEK 105,000 (€11,404)
Estimated SEK 50,000–70,000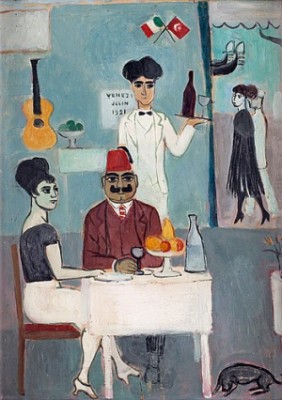 På Restaurang, Venedig
(1921)
Price SEK 150,000 (€16,292)
Estimated SEK 35,000–40,000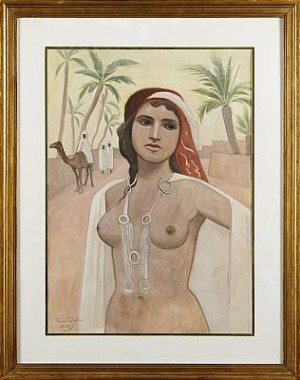 Orientalisk Kvinna
(1934)
Price SEK 7,500 (€809)
Estimated SEK 5,000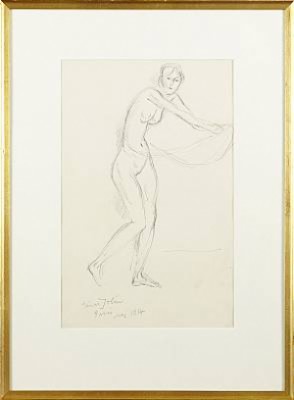 Price SEK 2,300 (€246)
Estimated SEK 2,000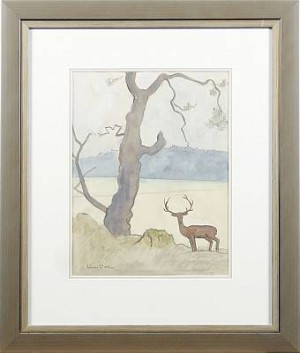 Landskap Med Hjort
Price SEK 6,500 (€690)
Estimated SEK 3,000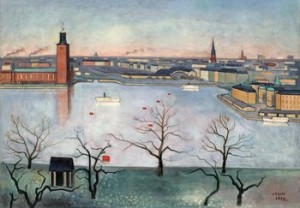 Stockholm Från Söders Höjder
(1938)
Price SEK 300,000 (€31,200)
Estimated SEK 200,000–250,000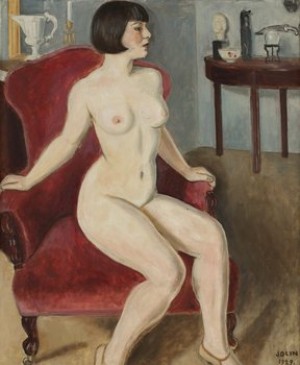 Modell I Röd Fåtölj
(1929)
Price SEK 72,000 (€7,488)
Estimated SEK 40,000–60,000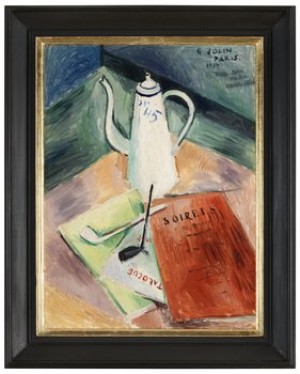 Stilleben Med Kaffekanna Och Pipa
(1914)
Price SEK 150,000 (€15,600)
Estimated SEK 80,000–100,000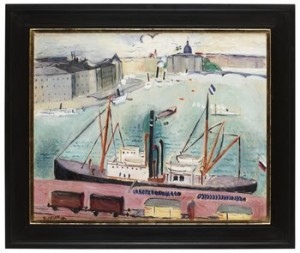 Stadsgården Med Utsikt över Strömmen Och Skeppsbron
(1914)
Price SEK 840,000 (€87,360)
Estimated SEK 600,000–800,000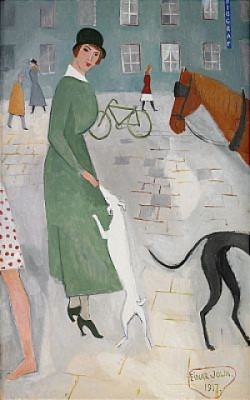 Price SEK 1,500,000 (€156,000)
Estimated SEK 1,500,000–2,000,000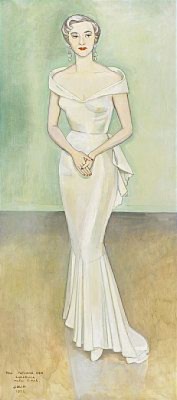 Tatiana I Vitt Aftonklänning
(1951)
Price SEK 80,000 (€8,320)
Estimated SEK 30,000–40,000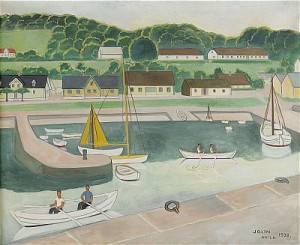 Price SEK 70,000 (€7,280)
Estimated SEK 40,000–50,000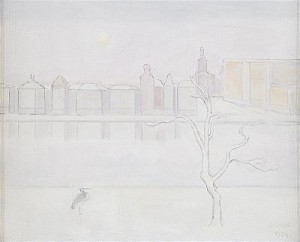 Price SEK 34,000 (€3,536)
Estimated SEK 30,000–35,000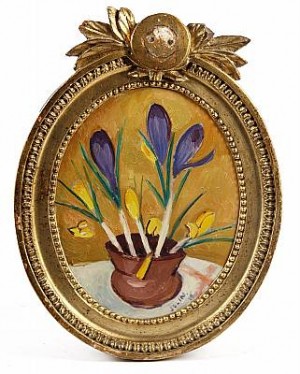 Stilleben Med Krokus I Kruka
(1916)
Price SEK 22,000 (€2,257)
Estimated SEK 8,000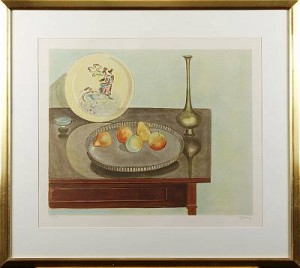 Stilleben Med Frukt Och Vas
Price SEK 1,000 (€100)
Estimated SEK 1,200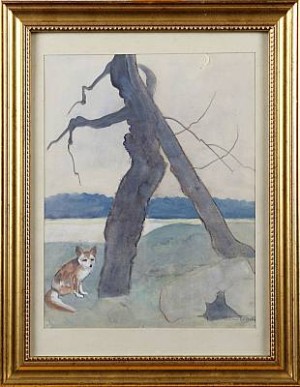 Räv I Månskenslandskap
Price SEK 2,000 (€195)
Estimated SEK 3,000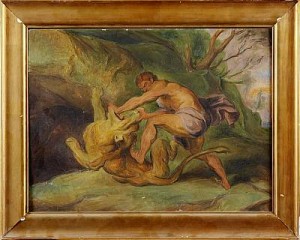 Rubens: Simson Och Lejonet. Copia Efter Rubens
Price SEK 1,500 (€147)
Estimated SEK 2,000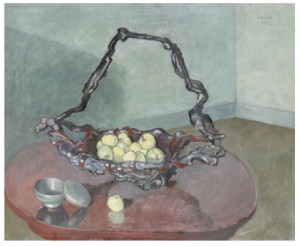 Stilleben Med äpplen I Skål
(1942)
Price SEK 12,000 (€1,147)
Estimated SEK 15,000–18,000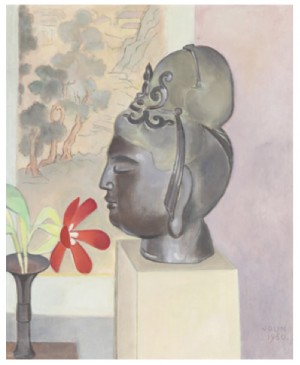 Stilleben Med Buddha-huvud
(1960)
Price SEK 10,000 (€956)
Estimated SEK 12,000–15,000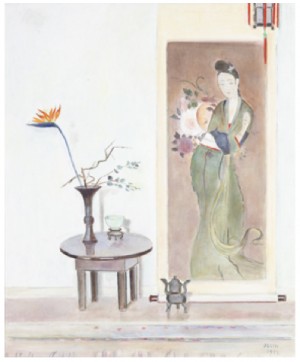 Stilleben Med Kakemon
(1973)
Price SEK 26,000 (€2,486)
Estimated SEK 20,000–25,000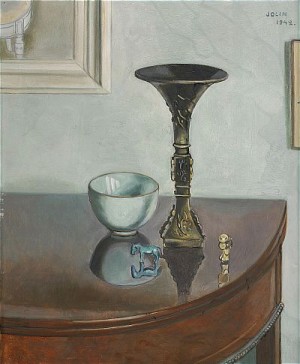 Price SEK 16,000 (€1,571)
Estimated SEK 15,000–20,000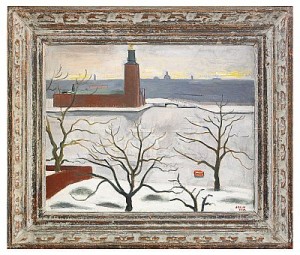 Utsikt Mot Stadshuset - Stockholm
(1939)
Price SEK 46,000 (€4,517)
Estimated SEK 30,000–35,000
Price SEK 24,000 (€2,357)
Estimated SEK 18,000–20,000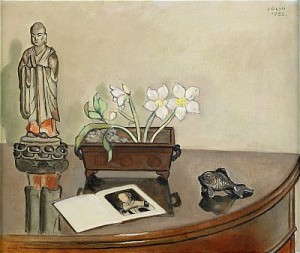 Price SEK 24,000 (€2,357)
Estimated SEK 18,000–20,000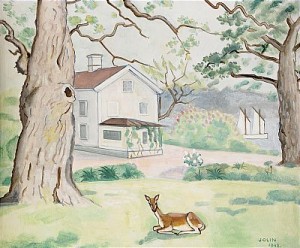 Mitt Sommarställe - Näsängsudden, Mariefred
(1942)
Price SEK 22,000 (€2,160)
Estimated SEK 15,000–20,000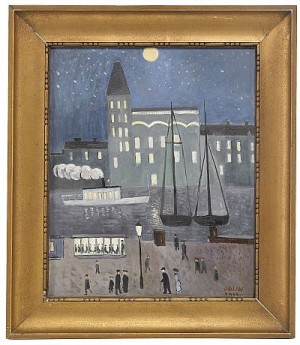 Stockholm I Månsken - Utsikt Mot Strand Hotel
(1919)
Price SEK 640,000 (€62,848)
Estimated SEK 150,000–200,000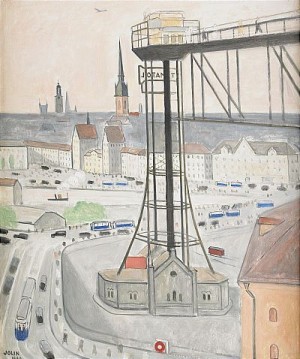 Den Gamla Katarinahissen - Stockholm
(1929)
Price SEK 200,000 (€19,640)
Estimated SEK 100,000–125,000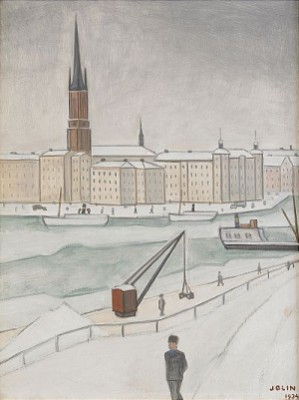 Price SEK 60,000 (€5,892)
Estimated SEK 25,000–30,000
(2 St) Stockholmsmotiv Med Skridskoåkare Och Hästar
Price SEK 1,500 (€146)
Estimated SEK 1,200
Interiör
Price SEK 700 (€68)
Estimated SEK 1,200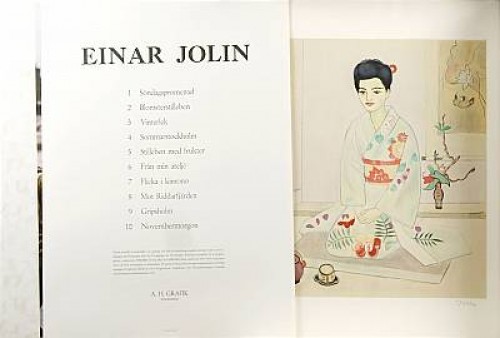 Mapp Med 10 Litografier, 8 Signerade Jolin, 2 St. Stämpelsignerade
Price SEK 11,000 (€1,074)
Estimated SEK 8,000
Stadshuset
Price SEK 800 (€78)
Estimated SEK 1,000
Price SEK 3,700 (€367)
Estimated SEK 1,500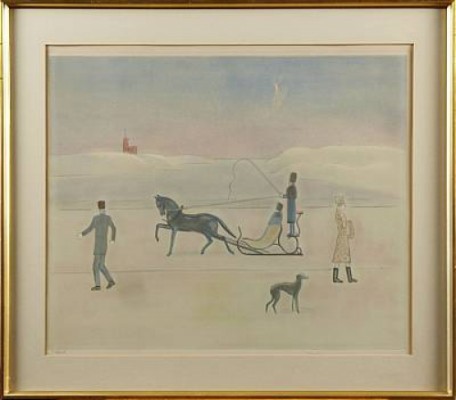 Vintermotiv Med Slädparti
Price SEK 1,500 (€149)
Estimated SEK 1,200
Isprinsessan - Kungsträdgården
Price SEK 1,500 (€149)
Estimated SEK 1,200
Stilleben Med Blommor, Citroner Och Aprikos
(1972)
Price SEK 12,000 (€1,178)
Estimated SEK 12,000–15,000
Stilleben Med Dolk
(1951)
Price SEK 16,500 (€1,619)
Estimated SEK 15,000–20,000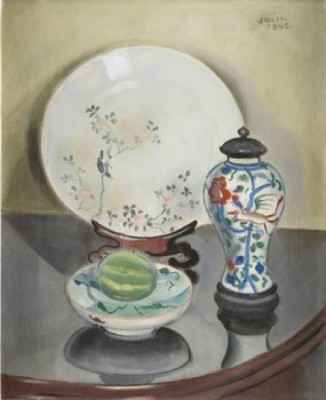 Stilleben Med Kinesiskt Porslin
(1946)
Price SEK 7,500 (€736)
Estimated SEK 6,000–8,000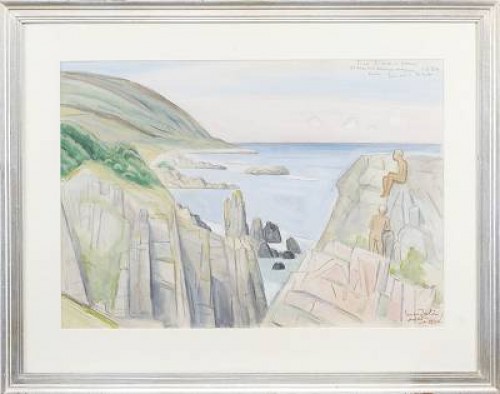 Price SEK 5,000 (€176)
Estimated SEK 7,000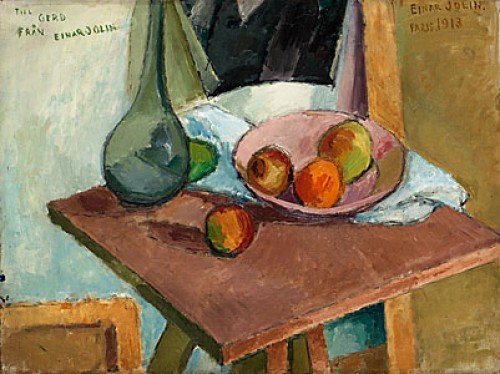 Stilleben Med Frukt Och Glaskaraff
(1913)
Price SEK 0 (€0)
Estimated SEK 125,000–150,000