Einar NERMAN
1888–1983, Sweden
Also known as: EN
Einar Nerman studied at the Artist League of painting school in Stockholm and in Paris at the Académie Colarossi and Henri Matisse, Carl Wilhelm\\\'s school of painting and etching at the Art Academy of Axel Tallberg. He belonged to the Artists\\\' Association \\\"De Unga\\\". He has held several art exhibitions, worked as a cartoonist in the Sunday-Nisse, Figaro. He has painted several portraits of glamorous women in Sweden and the United States.

Source: Art Signature Dictionary
Einar Nerman studerade vid Konstnärsförbundets målarskola i Stockholm och i Paris vid Académie Colarossi samt för Matisse, vid Carl Wilhelmsons målarskola samt Konstakademiens etsningsskola under A. Tallberg. Han tillhörde Konstnärsförbundets De Unga. Han har haft flera konstutställningar, arbetat som skämttecknare i Söndags-Nisse, Figaro. Han har målat flera eleganta damporträtt i Sverige och USA., teaterstjärnor som Greta Garbo, och av kungliga personer, målat många porträtt av Lillprinsen på Haga, som sen blev konung Carl XVI Gustav. Hans stil var linjesäker och elegant. Han har gjort många illustrationer i skämtpressen, julpublikationer, i utländska tidskrifter, till Fredmans epistlar, flera böcker av Selma Lagerlöf, August Blanche, Djurgården. Han tecknade originalet till gossen på Solstickans tändsticksask. Modell till figuren var sonen Tom. Han har gett ut egna karikatyralbum, målat dekorationer i Kastenhof, Stockholm, samt till Dramatiska teatern och till restauranger i New York. Han komponerade även egna visor och tonsatte flera av sin bror Ture Nermans dikter.
Representerad: Nationalmuseum och Moderna Muséet i Stockholm.



Source: Art Signature Dictionary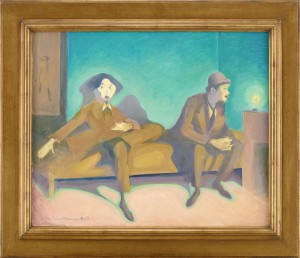 Väntan - Isaac Grünewald Och Einar Jolin I Paris 1909
(1909)
Price SEK 24,000 (€2,568)
Estimated SEK 25,000–30,000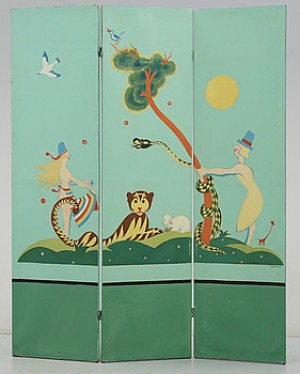 Tredelad Vikskärm Med Djur Och Två Figurer
Price SEK 13,000 (€1,517)
Estimated SEK 5,000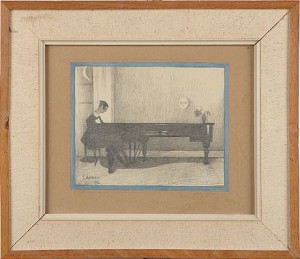 Price SEK 1,500 (€170)
Estimated SEK 1,500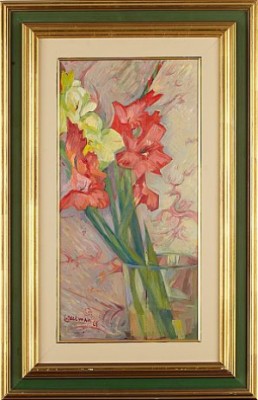 Price SEK 2,000 (€225)
Estimated SEK 2,000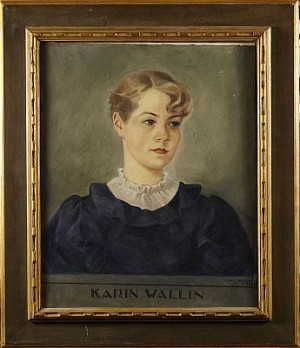 Porträtt Av Karin Wallin
(1936)
Price SEK 1,500 (€167)
Estimated SEK 1,000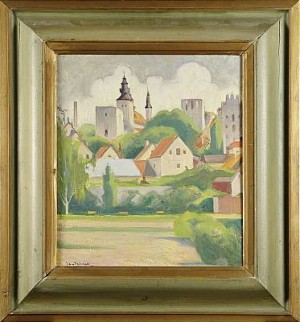 Price SEK 3,500 (€400)
Estimated SEK 3,000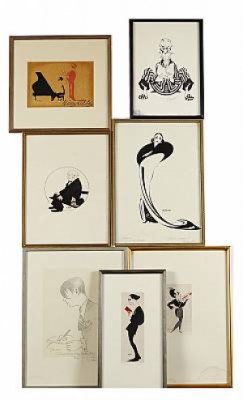 (7 St) Karikatyrer Samt Självporträtt
Price SEK 3,500 (€400)
Estimated SEK 3,000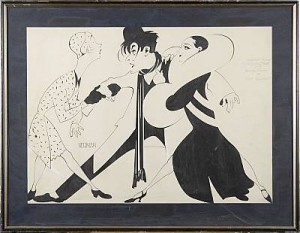 Odd Numbers
Price SEK 2,000 (€206)
Estimated SEK 2,000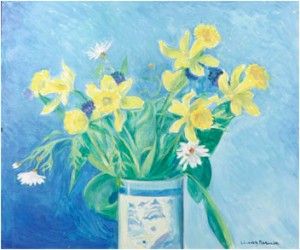 Blomsterstilleben
Price SEK 1,800 (€176)
Estimated SEK 2,000–3,000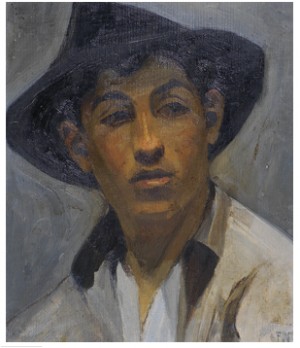 I Slokhatt - Kamratporträtt Av Isaac Grünewald
Price SEK 9,000 (€860)
Estimated SEK 10,000–15,000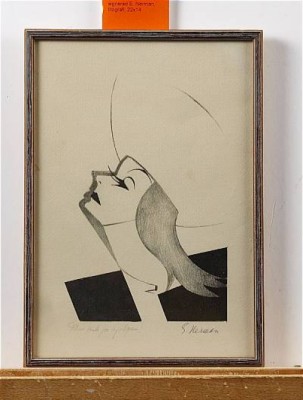 Garbo
Price SEK 950 (€92)
Estimated SEK 1,500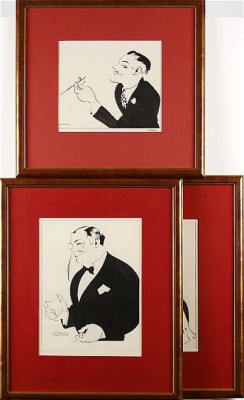 3 St, Karikatyrer, Bl.a. åke Grönberg
Price SEK 2,500 (€249)
Estimated SEK 3,000