Elis RYBERG
1919–1965, Sweden
Elis Ryberg var naivist. Han återgav stadsbilder och figurer i en klar och balanserad färgskala.
Utställningar:
Galerie S:t Paul Stockholm 1967, 1970, 1980, 1981, Nordiska naivister Stockholm 1975, 1976, Galleri Heland Stockholm 1978, 1979, Stockholms stadshus 1975, 1977, Galleri ERA Karlstad 1982, Upper Street Gallery London 1972, Woodstock Gallery London 1973, Galérie Valombreuse Biarritz 1974, Galérie Mouffe Paris 1975, Galérie Municipale Rémiremont 1980, Gallery The Breakers Florida 1976, 1981, Galleri Docent Duk Stockholm 1982, The American Swedish Institute, Minneapolis 1983.
Representerad:
H M Konungens samlingar, Statens Konstråd, Stockholms läns landsting, Karlstads kommun kulturnämnden, Värmlands läns landsting, Olovströms kommun kulturnämnden, Le musée de Rémiremont, Unicef New York & Genève, Hedersomnämnande, Académie de Lutéce Paris, samt på ett flertal offentliga platser i Sverige och utomlands.
Source: Art Signature Dictionary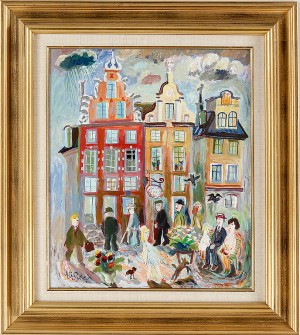 Price SEK 6,600 (€705)
Estimated SEK 5,000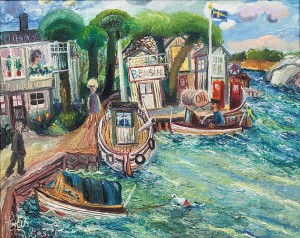 Vaxholm
Price SEK 3,750 (€403)
Estimated SEK 4,000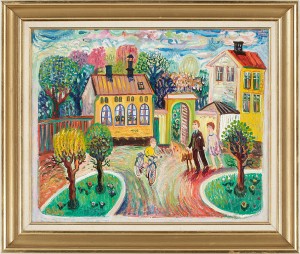 Motiv Från Söder
Price SEK 8,200 (€876)
Estimated SEK 4,000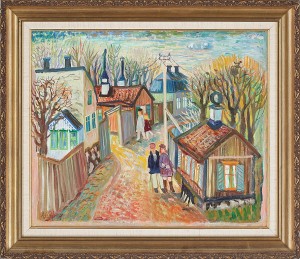 "bergsprängargränd", Södermalm, Stockholm
Price SEK 3,656 (€413)
Estimated SEK 3,000
Mosebacke Torg
Price SEK 1,000 (€96)
Estimated SEK 1,000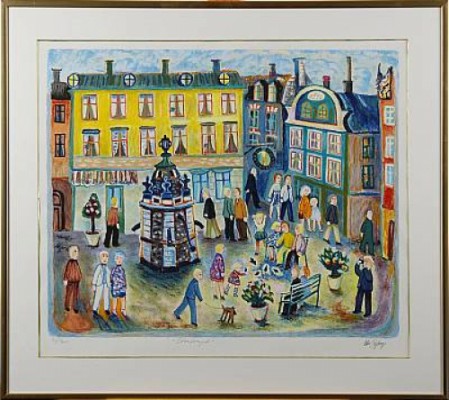 Stortorget
Price SEK 1,000 (€96)
Estimated SEK 1,200
Utsikt Mot Fåfängan
Price SEK 800 (€77)
Estimated SEK 1,200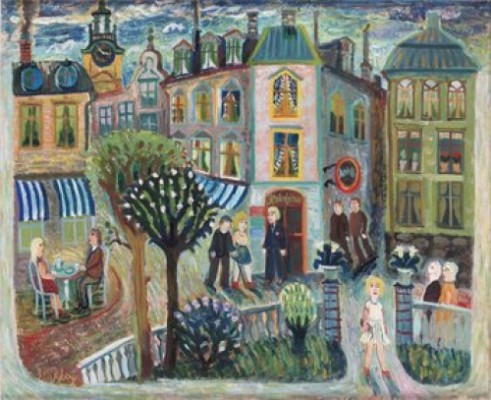 Utsikt Från Riddarhuset
Price SEK 5,200 (€510)
Estimated SEK 4,000–5,000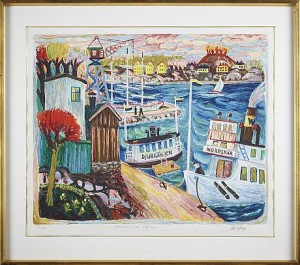 Utsikt Mot Fåfängan
Price SEK 1,600 (€185)
Estimated SEK 1,000