Elisabeth JANSSON
1950, Sweden
Name
Ewa, Elisabeth, JANSSON
Elisabeth Jansson studied at Konstfackskolan 1970-1975 and School of Fine Arts, Stockholm 1975-1980. Colourist. She paints rhythmically in modern manners often with figurative motifs.
Represented: National Museum, Stockholm, Sweden General Art Association, National Public Art, Several county councils in Sweden, the Swedish Parliament.
Elisabeth Jansson studerade på Konstfackskolan 1970-1975 och Konsthögskolan, Stockholm 1975-1980. Kolorist. Hon målar rytmiskt i modernt maner ofta med figurmotiv.

Samlingsutställningar:
Liljevalchs Grafiktriennal 1973, Nationalmuseum, Unga tecknare 1978, Skövde konsthall, porträttutställning 1986, Ekerum, Öland 1996 Ekerum, Öland 1996, Leif Holmer Gallery Ekerum 1996, 1997, Galleri Lundmark Täby 1996, Galleri Lundmark Risberg 1997, Stockholm Art Fair Stockholm 1996 och 1998, Caribe-Suecia Havanna 1997, Porträttutställning Arkitekturhuset Näs 2000.

Separatutställningar:
Galleri Svenska bilder, Stockholm 1983, Galleri Gothia, Linköping, Galleri Lucifer, Skövde 1984, Konstfrämjandet, Stockholm 1985, Galleri Lucidor, Stockholm 1987, Galleri Dianahuset, Norrtälje 1992, Konstnärshuset, Stockholm, Galleri JB, Västerås 1996, Tornby Konsthall, Linköping, Konstfrämjandet, Norrköping 1997 Borlänge konsthall Borlänge 1997, Galleri Remi Östersund 1997, Galleri Bergman Karlstad 1997, Galleri Plantage Göteborg 1998, Odhenkrantz & Koonce Göteborg 2000, Konstform Stockholm 2001.

Representerad:
Nationalmuseum, Stockholm, Sveriges Allmänna Konstförening, Statens Konstråd, Flertal landsting i Sverige, Sveriges Riksdag.

Stipendier:
Stockholms stads kulturstipendium 1980 och 1989. Konstnärsnämnden 1980 och 1992.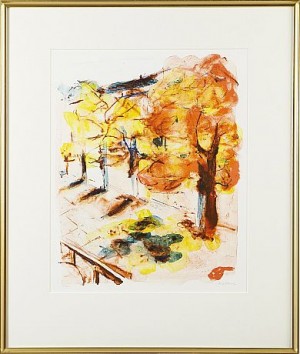 Allé
Price SEK 350 (€39)
Estimated SEK 1,000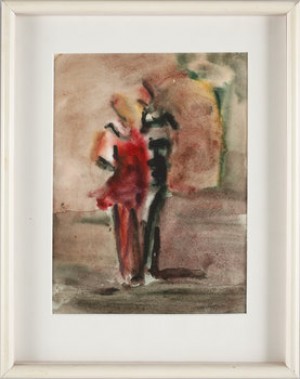 Price SEK 1,300 (€156)
Estimated SEK 1,000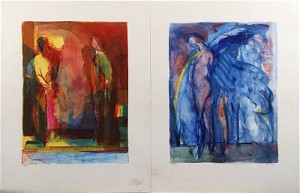 (2) Badet Resp Fågel Blå
Price SEK 1,400 (€144)
Estimated SEK 1,000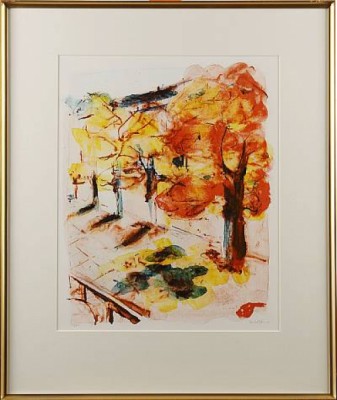 Allé
Price SEK 2,300 (€222)
Estimated SEK 1,000